I've been making my own kombucha for more than a year now. I always thought it would be too hard to make myself, but it turns out it is very easy to make after you get the hang of it. This is my favorite strawberry lemonade kombucha recipe. It's one of my 5 favorite kombucha flavors for beginners.
This post may contain affiliate links.
The process of making kombucha is pretty basic. You can find out how to brew kombucha here.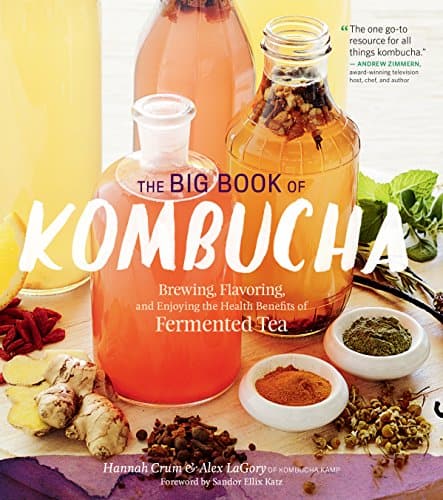 The Big Book of Kombucha: Brewing, Flavoring, and Enjoying the Health Benefits of Fermented Tea
Strawberry Lemonade Kombucha Recipe
1 gallon brewed kombucha
1 lemon, sliced
1-2 cups sliced strawberries
I usually let my kombucha brew for at least 2 weeks before I flavor it. You can brew it for a longer or shorter amount of time, depending on how sour (or vinegar tasting) you want your kombucha to be. I like my kombucha quite sour, so generally let it sit 2-3 weeks.
When the kombucha has brewed to your satisfaction, then it's time to add some flavoring. There are a couple of ways you can do this. It depends on if you want your kombucha to be fizzy or not.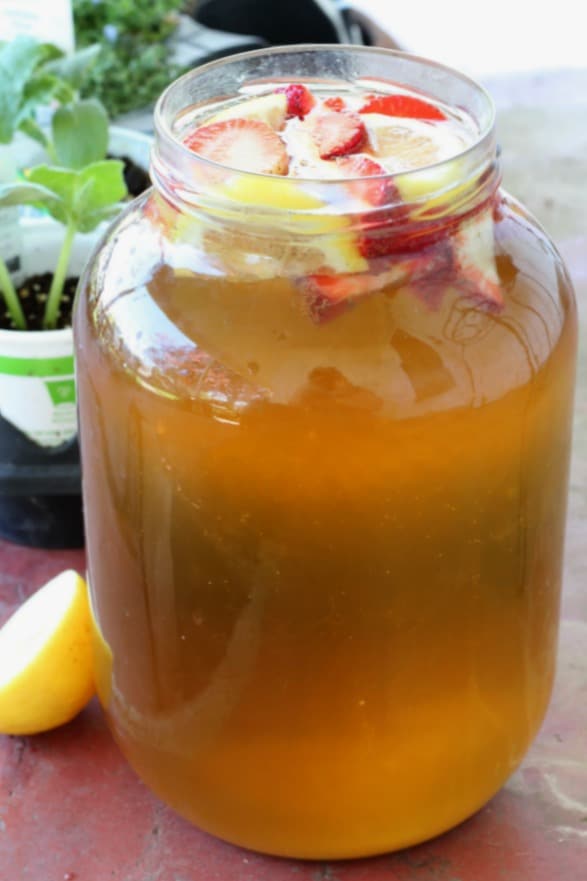 If you want fizzy kombucha, then remove your scoby from the kombucha and place the sliced lemon and sliced strawberries in the top of your gallon jar. Place a tight fitting lid on the jar and let the jar sit on the counter for about another 3 days. Taste and see if the kombucha is as fizzy as you like. If it is not, let it sit another day or two.
If you don't want fizzy kombucha, then place the lemons and strawberries in the jar and then place the jar in the refrigerator for a couple of days. Placing the kombucha in the refrigerator will keep the carbonation from building up in the kombucha. After a couple of days you can drink the kombucha with the fruit still in it, or strain the kombucha through a fine mesh sieve to remove the fruit.
That's it! Flavoring kombucha is so easy. If you haven't tried brewing homemade kombucha yet, then read this to get started. If you need some more ideas for kombucha flavors, then check out this book on Amazon.
Follow my homesteading for beginners board on Pinterest.
Related Articles