I have had a lot of fun trying out new kombucha flavors this summer. In fact, I have three gallons of kombucha brewing at this very moment. This week I tried making lemon ginger kombucha for the first time, and it is amazing. It's also one of my 5 favorite kombucha flavors for beginners.
This post may contain affiliate links.
You probably already know that kombucha has many health benefits, but ginger also has health benefits that are worth considering. Ginger is commonly used as a home remedy for nausea, especially morning sickness. Ginger may also help treat the symptoms of muscle pain, lower blood sugar, and help to naturally treat indigestion.
Kombucha is very easy to make at home. I won't go over the complete process again here, you can read about how to brew kombucha here. Here are the instructions for flavoring your kombucha with a lemon ginger flavor.
Lemon Ginger Kombucha Recipe
Ingredients:
1 gallon kombucha
1/2 cup fresh ginger, sliced
1/4 cup fresh or bottled lemon juice
After you have brewed your kombucha, then is the time to add flavor. It generally takes about 2 weeks to brew a batch of kombucha, depending on how warm it is in your home and how sour (vinegar-y) you like it.
When the kombucha is done brewing, remove the scoby and set it aside for the next batch of kombucha. Pour the kombucha into a beverage dispenser like this kombucha dispenser with a spigot for easy pouring. You may want to pour the kombucha through a fine mesh sieve to remove any bits of scoby that are still floating in the kombucha.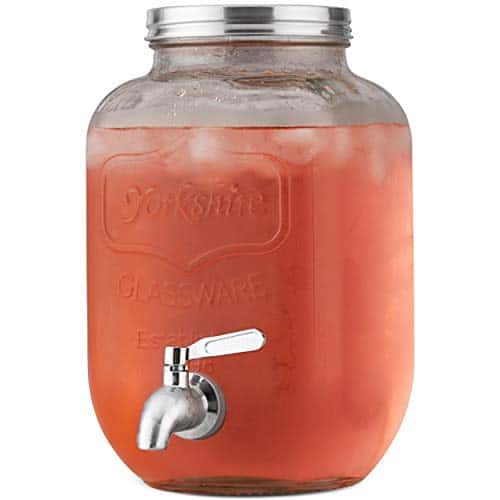 1 Gallon Glass Beverage Dispenser with Metal Spigot – Yorkshire Mason Jar Glassware with Wide Mouth Metal Lid – Great for Iced Tea, Kombucha Fermenting, Juice, Beer, Wine and Liquor
The Big Book of Kombucha: Brewing, Flavoring, and Enjoying the Health Benefits of Fermented Tea
You are then ready to add the flavor. Pour the lemon juice into the kombucha and place the sliced ginger into the kombucha. If you don't want your kombucha to be any more fizzy, then place it in the refrigerator at this point and it will be ready to drink in about 2 days.
If you want your kombucha to be fizzy, then complete the second fermentation process by leaving the kombucha out on the counter for a few days and the kombucha will get more fizzy. Then place the kombucha in the refrigerator to chill. I also like to pour my kombucha into re-usable single serving glass bottles like these for easy serving.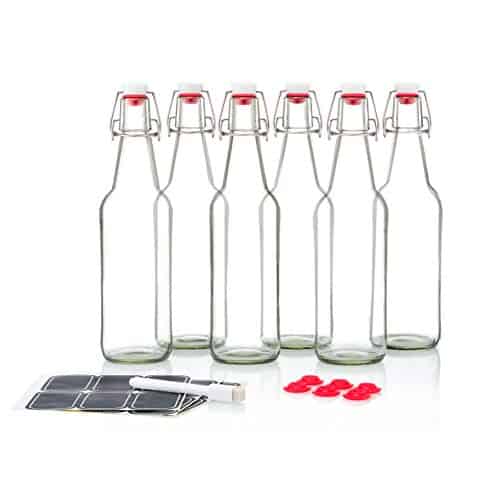 Swing Top Glass Bottles – Flip Top Brewing Bottles For Kombucha, Kefir, Beer – Clear Color – 16oz Size – Set of 6 – Leak Proof Easy Caps, Bonus Gaskets, Chalkboard Labels and Pen – Fast Clean Design
That's it! Flavoring kombucha is really easy once you get the hang of it. I have listed some more kombucha flavoring ideas below. You can also purchase this big book of kombucha flavors from Amazon.
Related Recipes
Follow my non-alcoholic drinks board on Pinterest.