Last year I tried lavender lemonade for the first time. If you haven't tried lavender lemonade before, then you really need to. It's seriously good. Lately I've been trying out a lot of kombucha flavors, and decided to give lavender lemonade kombucha a try. I wasn't disappointed. It is amazing. It's also one of my 5 favorite kombucha flavors for beginners and one of my favorite lavender recipes.
This post may contain affiliate links.
If you have never made homemade kombucha before, it's very easy to make. I won't go over the instructions for making kombucha again here, you can learn about how to make kombucha here.
It takes 2-3 weeks to brew a gallon of kombucha, depending on how warm it is in your house. After the kombucha is brewed to your liking (depending on how sour you like it), remove the scoby, and then you will be ready to add the flavoring.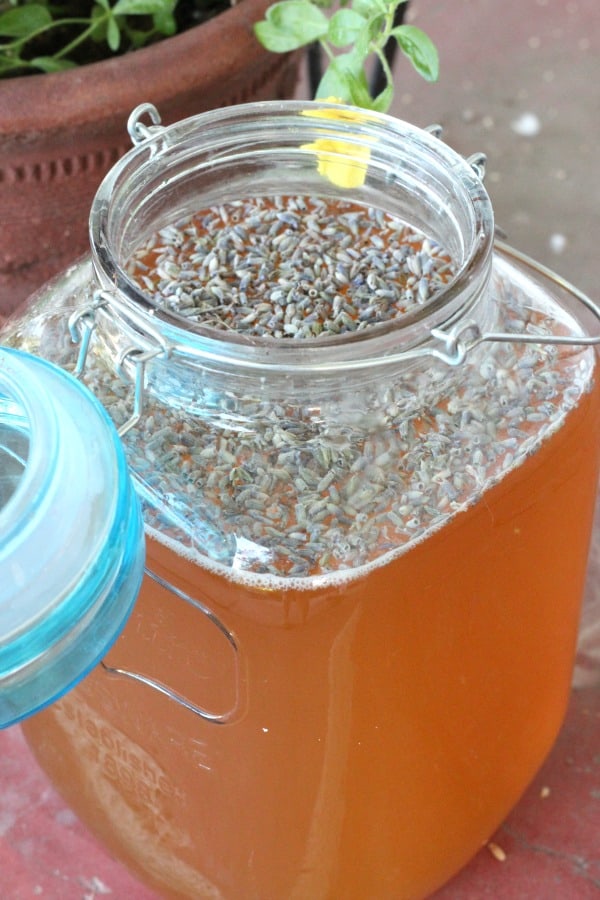 Lavender Lemonade Kombucha
Ingredients:
1 gallon brewed kombucha
1/4 cup honey (optional)
1/2 cup bottled lemon juice
1/2 cup dried lavender
All of these measurements are approximate. You can leave out the extra honey or sugar entirely if you want, I just thought it was a little on the sour side and the honey gave the lemonade just a hint of sweetness.
After you remove the scoby from your jar of kombucha, pour the kombucha into your beverage dispenser (like this one), saving a cup of the kombucha to start your next batch.
Add the honey and lemon juice to the kombucha and stir. Sprinkle the dried lavender on top, the lavender will float on top of the kombucha.
Note: If you don't have access to lavender, you can buy dried lavender from Amazon.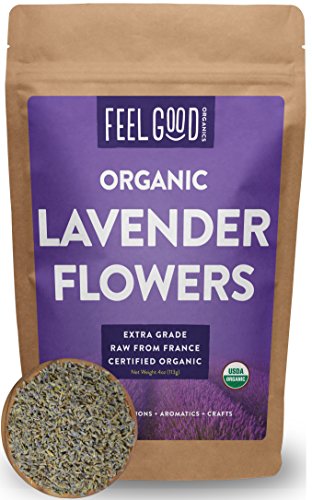 Organic Lavender Flowers Dried – Perfect for Tea, Baking, Lemonade, DIY Beauty, Sachets & Fresh Fragrance – 100% Raw From France – Large 4oz Resealable Bag – by Feel Good Organics

Let the kombucha sit for a day or two on the kitchen counter and then taste it. Mine had a flavor I was happy with the next day. The longer you let it sit out of the refrigerator the fizzier it will get, so if it is fizzy enough for you, you can go ahead and put the kombucha in the refrigerator.
If you want to pour your kombucha into single size serving bottles like these, then strain the kombucha through a fine mesh sieve to remove the dried lavender and use a funnel to pour it in the bottles.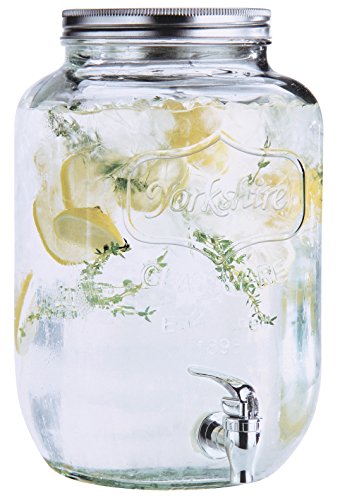 Estilo 2 gallon Glass Single Mason Jar Beverage Drink Dispenser With Leak Free Spigot, Clear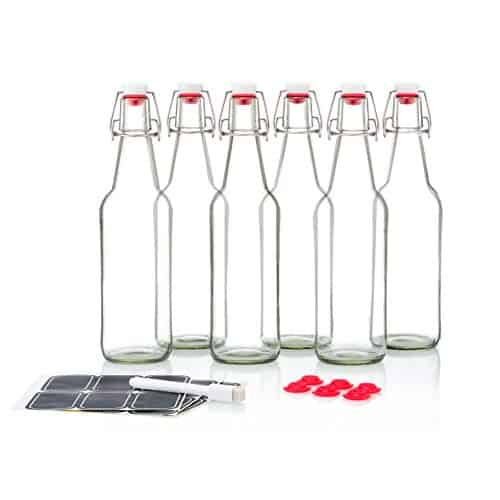 Swing Top Glass Bottles – Flip Top Brewing Bottles For Kombucha, Kefir, Beer – Clear Color – 16oz Size – Set of 6 – Leak Proof Easy Caps, Bonus Gaskets, Chalkboard Labels and Pen – Fast Clean Design

That's it! Flavoring kombucha is really that simple. I have tried a number of different kombucha flavors, you can check out the list below. There is also a great book you can order from Amazon called the Big Book of Kombucha that will tell you everything you need to know about making and flavoring kombucha.
Follow my non-alcoholic drink board on Pinterest.
Related Recipes