I tried a fun new kombucha flavor this week. Now that three people in my house are drinking kombucha, I am brewing at least 3 gallons at a time! I've been trying out lots of new flavors, including this raspberry lime kombucha. It's also one of my 5 favorite kombucha flavors for beginners.
This post may contain affiliate links.
There are many ways to flavor kombucha. You have to brew the kombucha first. I go over how to brew kombucha at home here. After your kombucha is done brewing you can flavor it with many different fruit and herb flavors. I've listed the kombucha flavors I've tried before below.
The easiest way to flavor kombucha is just to add a couple handfuls of whatever you want to flavor it with to the kombucha after it is done brewing. Leave the fruit in it for 3 days or so and then strain the fruit out. Straining it is optional. Sometimes I just leave the fruit in if I know the kombucha will be gone in a few days.
Besides using fresh fruit you can also use simple syrup like this ginger simple syrup to flavor your kombucha. I found adding the syrup made the kombucha too sweet for my liking. I like it better flavoring it with the fresh or frozen fruit without the extra sugar.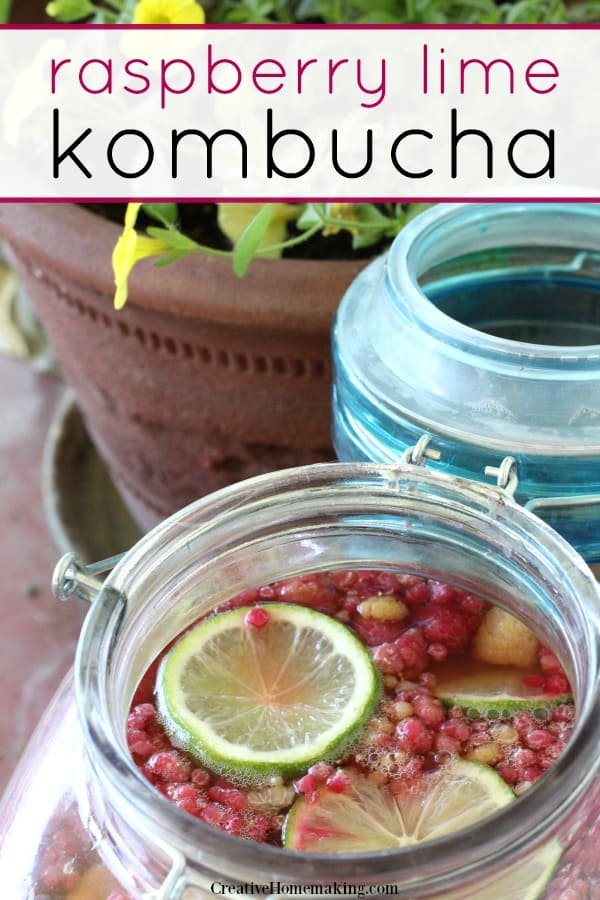 Raspberry Lime Kombucha Recipe
After your kombucha is done brewing, remove the scoby and pour the kombucha into a beverage dispenser. I like this kombucha dispenser with spigot.
For this recipe I added about a cup of frozen raspberries and a sliced lime. For extra lime flavor you can add about 1/2 cup of lime juice. Let the flavors mix for about 3 days before drinking for the best results, although it rarely sits there that long until someone starts drinking it. Feel free to add more or less raspberries or lime juice. You can use fresh or frozen raspberries.
You can leave the kombucha out on the counter while you are infusing the fruit flavors. Just make sure to keep it covered to keep fruit flies away. Not refrigerating the kombucha will also give the kombucha a chance to continue the carbonation process, if you like a little fizz to your kombucha.
If you don't want the kombucha more fizzy, then go ahead and put in the refrigerator. The process of making kombucha fizzy is referred to as the secondary fermentation process. This process is optional. You can make your kombucha as fizzy or non-fizzy as you like.
That's it! Flavoring kombucha is very easy once you get the hang of it. Check out some of these other great kombucha flavors and syrups for flavoring kombucha.
Related Recipes
Follow my homesteading & survivalism board on Pinterest.