How to Can Pulled Pork
This post may contain affiliate links.
After my adventures making pickled asparagus last week, I decided to try something totally different. I found this great recipe for canning pulled pork. It has quickly become one of my favorite recipes for canning meat.
Now that I know where to get good deals on pork, I thought this would be a great item to add to our food storage.
We have a Cash and Carry wholesale grocery store where I can get great deals on pork butt (pork butt is actually the shoulder of the pig!).
The regular price is about $1.17 a pound, and I have found it as low as $.99 a pound. This is a great deal.
The piece of pork that I bought was 16 pounds, so it cost about $20.00. I then used that pork to make 6 quarts of pulled pork, which is 6 meals for a family of four. That comes to slightly more than $3 a meal, not bad!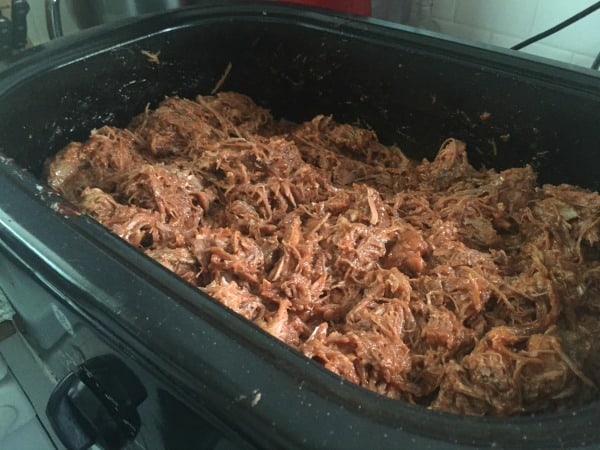 Step by Step Canning Video
New to pressure canning and want to watch me prepare this recipe? This video shows you complete instructions for canning pulled pork.
First you need to cook the pork. I put mine on the rack in my electric turkey roasting pan
(fat side up). I didn't add any water or spices to it.
You need to cook the pork until the internal temperature when measured with a meat thermometer is 170 degrees F.
I cooked it at 300 degrees, and it took approximately 6 hours for my 16 pounds of pork to cook completely. Here are my tips for cooking pork in a crock pot or in the oven.
At this point I didn't have time to finish the pulled pork, so I put all of the cooked pieces of meat in a big pot with a lid and put it in the refrigerator until the next day.
The next day I brought the pork out of the refrigerator, cut/shred the pork into small pieces, and then put the pork into the clean roasting pan.
You can use store-bought barbecue sauce or make your own. I made my own.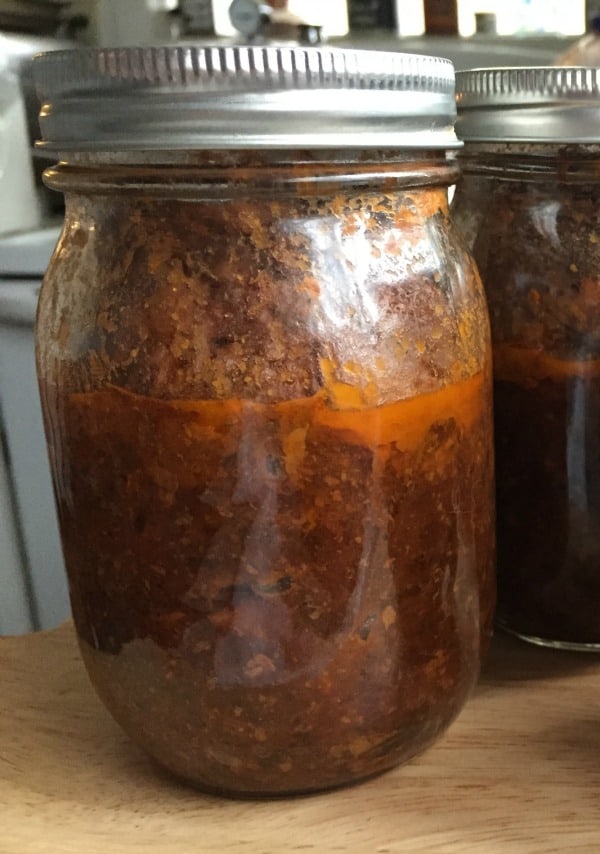 Pulled Pork Recipe
To the pork I added about:
4 c. ketchup
1 c. mustard
1 c. brown sugar
3/4 c. apple cider vinegar
1 1/2 tbsp. garlic powder
1 tbsp. black pepper
3 tbsp. liquid smoke
3 tbsp. Worcestershire sauce
1 1/2 tbsp. lemon juice.
You can add hot sauce if desired. After stirring it all up, adjust seasonings to taste. If necessary, add a little water to get a nice sauce like consistency. A lot of the water will evaporate during the canning process.
When you open the jar later you may need to add a little more water or barbecue sauce before serving.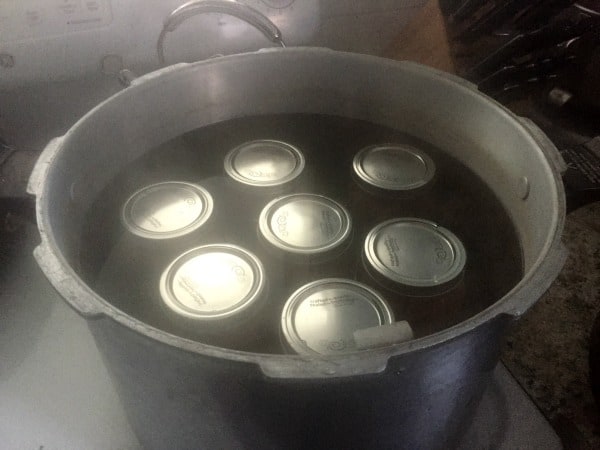 Canning Directions
As the pork mixture is warming up, sterilize glass jars, rings, and lids. Heat the water in your pressure canner.
After the jars are ready, ladle the heated pork mixture into the hot jars, leaving 1 inch head space. Wipe rims of jars with a damp towel and put the lids and rings on the jars.
Process in pressure canner at 10 pounds pressure for 70 minutes (pints) or 90 minutes (quarts).
After pressure has released from canner, remove jars from canner and place on a towel on the kitchen counter until completely cooled.
Make sure jars have sealed by pressing down on the center of each one before storing.
Your canned pulled pork can be stored for a year or more in the pantry.
More Pressure Canning Recipes
Did You Try this Recipe?
Tag @creativehomemaking on Instagram and hashtag it #creativehomemaking
Follow my canning and preserving board on Pinterest.