How to Can Split Pea Soup
This post may contain affiliate links.
I love pressure canning homemade soups. There are so many soups to choose from. I've listed my favorites at the bottom of this page. My family has always loved split pea soup. Split pea soup is an easy soup to process with your pressure canner, so I definitely recommend this recipe if you are looking for a new soup canning recipe to try. This is one of my 6 favorite soup canning recipes for food storage.
Note: This recipe can not be prepared in a boiling water bath canner. Because of the low acidity of this recipe, you must use a pressure canner to prepare this soup.
Step by Step Canning Video
New to pressure canning? Watch this step by step video to see me prepare this split pea soup recipe step by step.
Split Pea Soup Recipe
Ingredients:
2 c. chopped carrots
1 c. chopped celery
1 c. chopped onion
6 garlic cloves, minced
4 c. dried split peas
16 c. chicken broth
2 c. chopped ham
Salt and pepper
Chop carrots, celery, onions, and garlic cloves. This is my favorite vegetable chopper. You can chop vegetables in half the time!
In a large stock pot, saute carrots, celery, and onion until soft, adding a little water if necessary to keep from sticking.
Add garlic, chicken broth, and rinsed split peas. Simmer for 60 minutes.
Add chopped ham, and simmer 20 more minutes.
Fill the sterilized canning jars, leaving 1 inch head space. You can easily measure the head space with this inexpensive canning funnel.
Wipe rims of jars with a clean dish towel and place lids and rings on jars finger tight.
Canning Directions
Place jars in the pressure canner that has about 3 inches in the bottom of the canner.
Bring the canner up to pressure as shown in the step by step video above and process the soup at 11 pounds pressure for 75 minutes for pints and 90 minutes for quarts. Remove jars from canner and let cool until lids seal.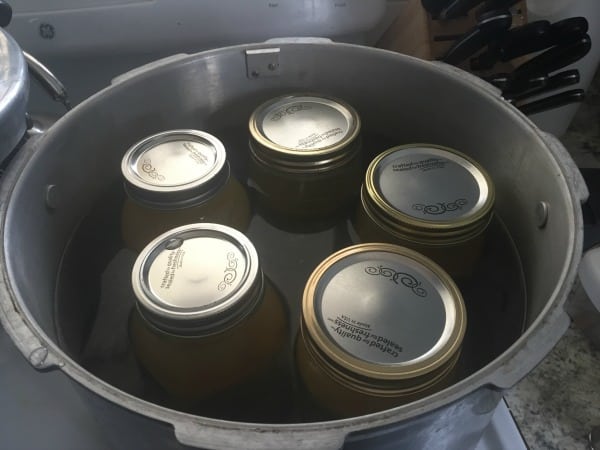 Sealed jars can be stored for 1-2 years. If you have any jars that didn't seal, place them in the refrigerator and eat in the next week.
Yield: 4 quarts or 8 pints
Related Pressure Canning Recipes
Canning Split Pea Soup