Canning Cinnamon Pears
This post may contain affiliate links.
Ever wondered how to can cinnamon pears? I had never heard of them before, until just recently.
This year I was able to get my hands on some free pears, so I decided to can some. My cousin mentioned that she makes "cinnamon pears". I was intrigued…sounds delicious! It turns out they are. (Are you wondering what the secret is to cinnamon pears? It's red hots!)
Related Article: Best Pears for Canning: A Guide to the Juiciest and Most Flavorful Varieties
One of the keys to successfully canning pears, is to do it before they get too ripe. When I picked mine they were still a little green. I let them sit in a box outside for about a week, and then they were perfectly ripe…just starting to soften but still firm.
If you wait until they are too ripe, they will be hard to peel and won't look as nice when you cut them to put them in the canning jars.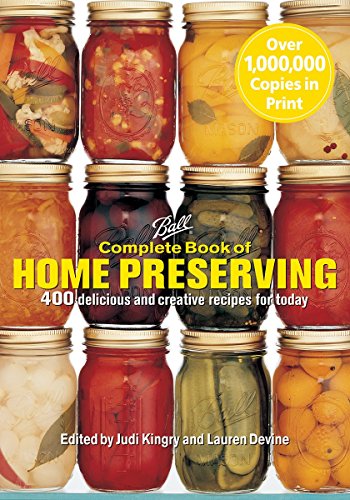 Ball Complete Book of Home Preserving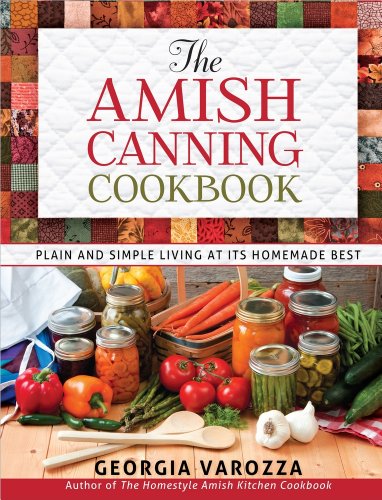 The Amish Canning Cookbook: Plain and Simple Living at Its Homemade Best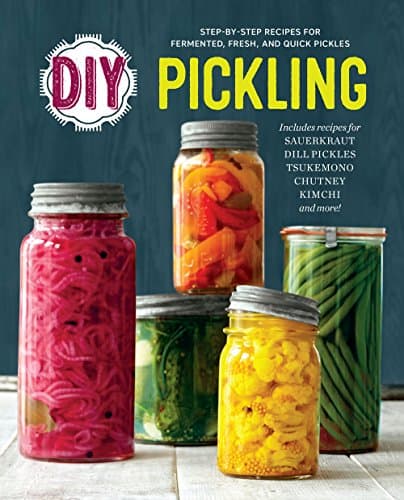 DIY Pickling: Step-By-Step Recipes for Fermented, Fresh, and Quick Pickles

Before you get started, prepare your canning jars, lids, and screw bands. You can easily sanitize them by running them through the "sanitize" cycle in your dishwasher.
Remove the jars and add the pears while the jars are still hot. How many jars you need depends on the size of your pears.
My pears were very small. I packed about 30 small pears into 3 quart sized jars.
Get out your boiling water canner and start the water boiling so it is ready when it is time to process the jars.
New to water bath canning? Watch this video and see me prepare this recipe step by step.
Cinnamon Pears Recipe
Ingredients:
Pears
2 cups cinnamon red hots
5 cups water
1 tbsp + 1 tbsp Fruit Fresh
Now to get started. I learned a neat trick for getting the cores out of the pears. You can use a melon baller to scoop them out!
I laid each pear on its side, cut off the top and bottom of each pear, and then peeled the pears. After I peeled a pear, I cut it in half lengthwise. I then used the melon ball tool to gently "scoop" out the pear core. It worked great!
Pears will brown quickly as you work with them. While you are peeling and cutting them, place the pears you are finished with in a bowl of water that has about a tablespoon of "fruit fresh" added to it. This will prevent your pears from browning while you are working.
After you have peeled and removed the cores from all the pears, it is time to prepare the liquid you will can them in. In a large saucepot, melt 2 cups of cinnamon red hots in 5 cups water. Cook and stir until all the red hots have melted. Add 1 tbsp. fruit fresh and stir until dissolved.
Next add the pears to the pan, cover, and cook 3-5 minutes, stirring several times.
Canning Instructions
Place the pears, cut side down, into the canning jars. Fill with the hot cinnamon liquid. You should have enough liquid for about 4 quart sized jars.
Remove any trapped air bubbles in the jars by placing a long skinny wooden or plastic spatula inside each jar and circling around the edge of the jar. Wipe the top edge of each jar to ensure a good seal.
Place sterilized lids and screw bands on jars tightly. Using tongs, carefully lower jars into canner. Water should be 1-2 inches above tops of jars.
Add additional boiling water if necessary. Process jars in a boiling water canner for 20 minutes. Here is a chart to adjust the processing time for different altitudes.
Your cinnamon pears will store well in a cool, dark place for about a year. Enjoy!
More Canning Recipes
Follow my canning and preserving board on Pinterest.