Lilac Simple Syrup
This post may contain affiliate links.
I love canning homemade simple syrup, and this lilac simple syrup is no exception. It's so easy, and a perfect way to start canning if you haven't already. It's perfect for flavoring iced tea, lilac lemonade, and home brewed kombucha, and it is one of my favorite simple syrups.
The recipe for simple syrup is very basic. You don't even have to can it. I can mine so that I can make a large quantity at one time. When you are working with lilac flowers or rose petals, they don't last very long.
You really need to use them the day you pick them. If you can the syrup you can make a bunch all in one day and then enjoy that fantastic flavor all winter.
To make homemade simple syrup, all you need is equal parts sugar and water, and whatever you are going to use to flavor it. I've used lemon, ginger, vanilla, and lilac flowers to flavor mine so far and they all turned out great.
Related Article: When to Cut Back Lilacs: Tips and Tricks for Pruning Success
This is a basic recipe for simple syrup. The recipe will make about 7 pints of simple syrup, enough to fill up your boiling water canner. You can adjust the amounts of sugar and water, as long as you keep the 1:1 ratio.
This recipe is safe for boiling water canning because the sugar has a high enough acidity to keep you from having to pressure can it.
Make sure that the lilac flowers that you are using have not been sprayed with any pesticides. Any flowers that have been sprayed are not safe to eat.
Note: The color of your lilac simple syrup will vary depending on the color of your lilacs. The syrup I made from my light lavender lilacs made an almost clear syrup.
If you want your syrup to be more lavender colored, you can add one drop of red and one drop of blue food coloring to each jar after you have poured the liquid into the jar (optional).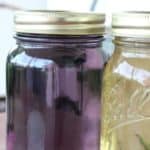 Lilac Syrup Canning Recipe
Easy recipe for canning lilac simple syrup for cocktails, flavored iced tea, flavoring kombucha, and more. Easy canning recipe for beginners.
Ingredients
10

cups

sugar

10

cups

water

6-8

cups

lilac flowers
Instructions
Place sugar and water in a large stock pot. Simmer sugar and water mixture until sugar dissolves. Turn off heat.

Gently remove the lilac flowers from the stems and rinse in a colander like this one to remove any dirt and insects. Place the rinsed lilac flowers in the stock pot. Stir. Let the flowers sit in the dissolved sugar mixture for a couple of hours so that the mixture will absorb the flavor of the flowers.

Pour the mixture through a fine mesh sieve or strainer to remove the flowers from the liquid. Heat liquid up again, until just simmering. Pour the liquid into sterilized pint sized canning jars, leaving 1/2 inch head space. You can easily measure the head space with this inexpensive canning funnel.

Wipe rims of jars with a damp paper towel or dish towel and place sterilized lids and rings on jars.

Place jars in a boiling water canner and make sure you have 1 inch of water above the tops of the jars. Add additional water if necessary. Bring water to a boil and boil for 10 minutes.

Remove jars from canner and place jars on a towel on the kitchen counter to cool. Lids will make a pinging noise when they seal. If in a couple of hours the lid isn't flat and sealed, then place the jar(s) in the refrigerator to use in the next couple of weeks. Sealed jars can be stored in a cool dark place for 1-2 years.
Uses for Lilac Simple Syrup
Make your own sparkling soda by mixing 1 part lilac syrup to 3 parts club soda. I use my Soda Stream machine to make my own sparkling water. It is so much cheaper than buying club soda.
This lilac syrup can be used as a topping on ice cream or yogurt.
Add this lilac syrup to your favorite cocktail.
You can add this lilac syrup to your lemonade or iced tea for a refreshing summer drink.
More Simple Syrup Recipes
Did You Try this Recipe?
Tag @creativehomemaking on Instagram and hashtag it #creativehomemaking