I love this time of year because the weather is just starting to get warm and the flowers are just starting to bloom. Spring is a great time of year to try new recipes using flowers like this recipe for easy dandelion iced tea.
This post may contain affiliate links.
You might wonder why in the world you would want to make dandelion iced tea, but it is really good! Dandelion has a variety of medicinal uses, it is used to treat upset stomach, gas, gallstones, joint pain, eczema, bruises, and it is can also be used as a laxative.
There are many different recipes using dandelions, like this dandelion lemonade, dandelion syrup, and dandelion jelly. Dandelion jelly tastes just like honey!
This easy recipe is for dandelion iced tea. You can make this tea with either regular tea or green tea. I like to use this decaffeinated green tea to make my iced teas and kombucha.
Dandelion Iced Tea Recipe
Ingredients:
8 tea bags
2 cups dandelion flowers
1 cup sugar or honey
This recipe makes 1 gallon of tea. (I use this 1 gallon beverage dispenser). You can cut the recipe in half if necessary. Sugar can be added to taste, or you can leave the sugar out completely.
When you are collecting your dandelions, make sure to pick dandelions that have not been treated with any insecticides or weed killers. We do not spray the dandelions in our yard for this reason. Weed killer applied to dandelions is also harmful to honey bees.
Place your dandelions in a fine mesh strainer and give them a good rinse. Boil some water to make the tea. I LOVE this Pioneer Woman electric tea kettle. It is the one that I use almost every day.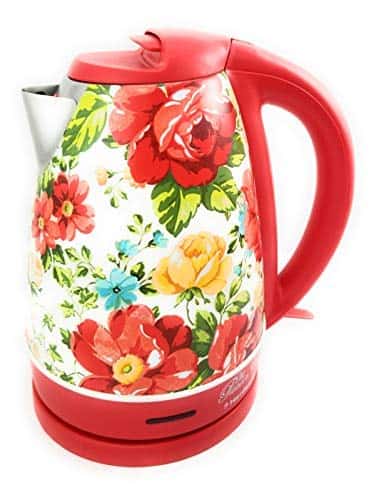 The Pioneer Woman 1.7 Liter Vintage Floral Electric Kettle, Model 40970 by Hamilton Beach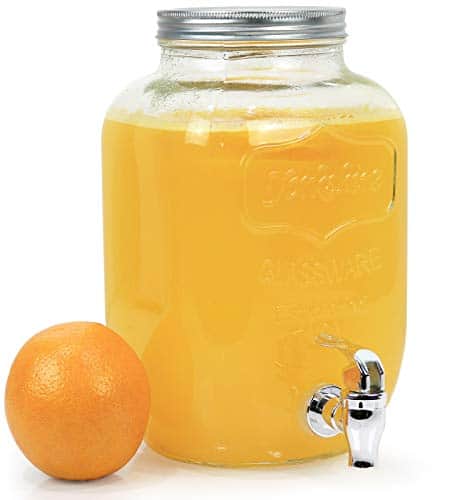 Estilo EST3071 Glass Beverage Drink Dispenser With Leak Free Spigot 1 Gallon Clear
Place the tea bags and dandelions in a gallon container and fill the container about 1/3 way full with boiling water. Let the tea sit for 15-20 minutes. The longer you let is sit, the stronger the tea will be. I found that when I let the dandelions sit in the tea longer than this the tea was too strong for my liking, but it is up to your personal preference.
Remove the tea bags and dandelions from the water, straining out any bits of dandelion through your fine mesh strainer, if necessary. Stir in the sugar or honey until dissolved. Fill the container the rest of the way with water and refrigerate until ready to serve.
Related Recipes
Follow my creative homemaking board on Pinterest.