Hershey's Chocolate Syrup
This post may contain affiliate links.
There are several recipes for homemade Hershey's chocolate syrup floating around on the Internet. Some of them said that they turned out runnier then the store-bought version, so I kept looking for a recipe that would result in a comparable if not better version of the store bought favorite.
Have you ever looked at the ingredients on a bottle of Hershey's syrup? The first TWO ingredients are high fructose corn syrup. And on the front of the bottle it says "genuine chocolate flavor". Nice. Not only is the homemade version much cheaper than the store bought kind, it free of artificial coloring and flavors.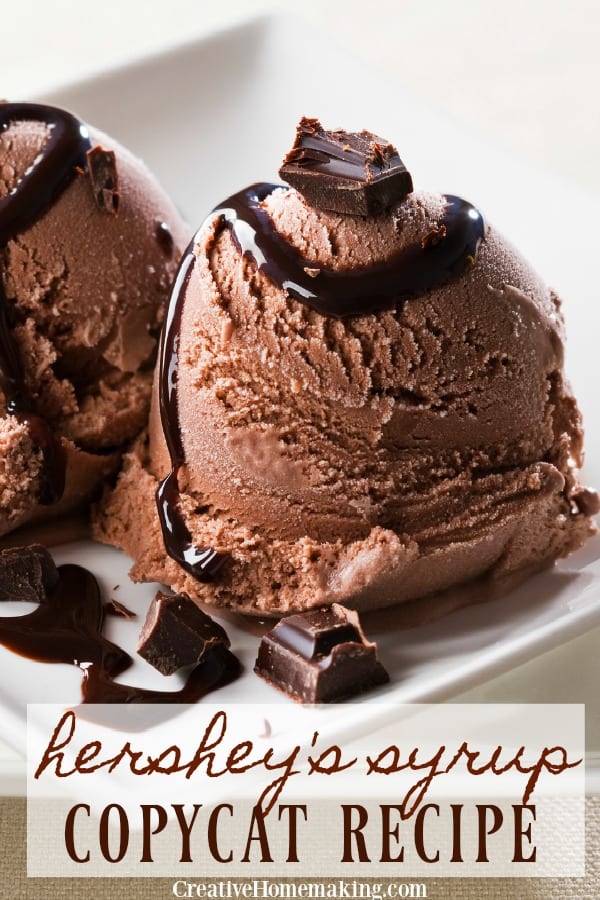 Hershey's Syrup Copycat Recipe
1/2 cup Hershey's baking cocoa
1 cup sugar
1 cup water
Dash of salt
1 tsp. vanilla extract
You can easily double this recipe. A double batch will re-fill one of the large bottles of Hershey's syrup about 3/4 the way full.
Mix together water and cocoa in a sauce pan. Heat and stir until cocoa is dissolved. Add the sugar, and heat until boiling.
Boil for 3 minutes, then remove from heat. Stir in salt and vanilla. Cool. When completely cool you can use a funnel to pour it into an empty Hershey's chocolate syrup bottle or you can also store it in a mason jar. This syrup will store for several months in the refrigerator.
Enjoy with your favorite ice cream or use it to make chocolate milk.
Related Recipes
Follow my sweet treats board on Pinterest.