I'm not a huge fan of pecan pie, but these pecan pie cookies intrigued me. They are so cute! It only took one bite to win me over, they are really good. And if you like pecan pie you'll really love these bite-sized pecan pie treats.
This post may contain affiliate links.
The brown sugar in these cookies give them a lot of flavor. When you make these, make sure to leave yourself enough time to let the dough chill in the refrigerator for a bit. You can also refrigerate it overnight if that works out better for you.
Pecan Pie Cookies
Ingredients:
1 c. brown sugar
3/4 c. butter, softened
1 egg
1 tsp. vanilla extract
2 c. flour
1 tsp. baking powder
1/4 tsp. salt
Filling:
In a mixing bowl mix together brown sugar, butter, egg, and vanilla extract until creamy. In a separate bowl stir together flour, baking powder, and salt.
Mix flour mixture into butter mixture. Beat until well mixed. Chill dough for at least an hour.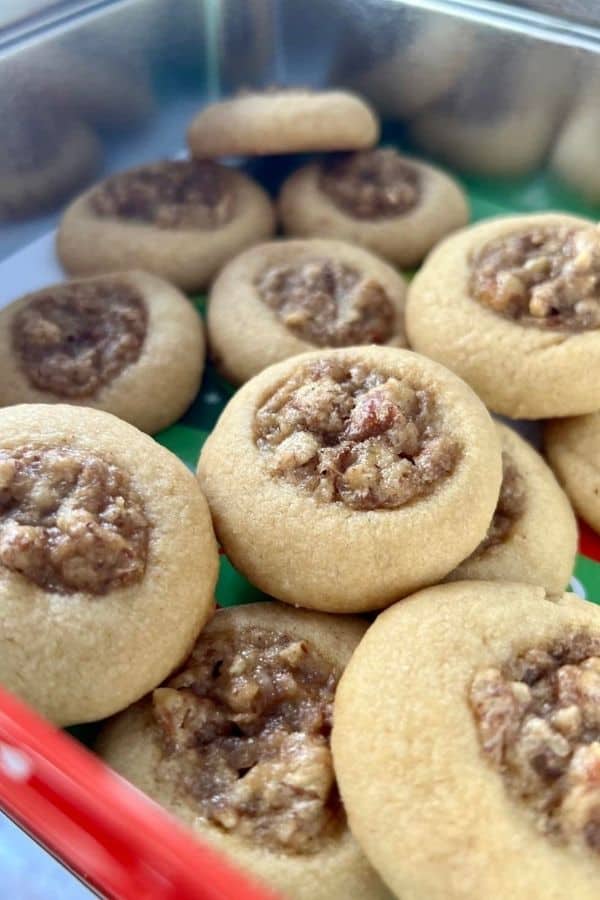 Preheat oven to 350 degrees.
Shape dough into 2 tablespoon balls. Place cookies 2 inches apart on cookie sheets lined with parchment paper or silicone baking mats.
Use your thumb to make an indentation in the center of each cookie.
Prepare the filling. I use a nut chopper like this one to chop the nuts into the right consistency. You want the nuts chopped very finely.
Stir the filling ingredients together. The mixture should be thick, not runny. Add a little more milk if necessary. Place a teaspoon of filling mixture into the center of each cookie.
Bake the cookies for 10-12 minutes, or until cookies are lightly browned. Let cookies cool for a couple minutes before transferring them to wire cooling racks to cool.
These cookies are best when eaten within several days of baking. Store in an airtight container. They can also be transferred to gallon ziploc bags and frozen for up to a month.
Follow my Christmas Recipes & Crafts board on Pinterest.
Related Recipes