My family has always been a big fan of banana bread. I love to make lots of easy quick breads like banana bread and this cranberry orange bread to give away during the Christmas holiday season. This year I decided to try something a little bit different and made this delightful banana bread in a jar. It is so easy to make and will make a wonderful holiday gift for friends and family.
This post may contain affiliate links.
I haven't tried this recipe with other quick breads yet, but I would think you could adapt this recipe to use with one of your other quick bread recipes. It would also be great to bake this cranberry nut bread in these little mason jars. I will be trying out more of these recipes soon, but this banana bread did turn out perfect in the jars.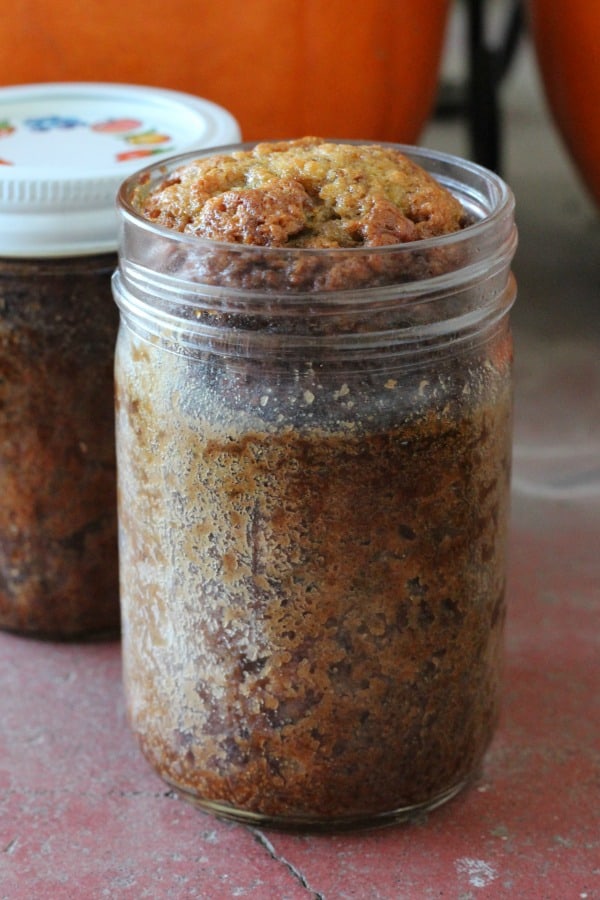 Banana Bread in a Jar Recipe
Ingredients:
2/3 c. shortening or butter
2 c. sugar
4 eggs
2 c. mashed bananas (4 medium bananas)
2/3 c. water
3 1/3 c. flour
1/2 tsp. baking powder
2 tsp. baking soda
1 1/2 tsp. salt
1 tsp. cinnamon
1/2 tsp. ground cloves
2/3 c. chopped walnuts or pecans (optional)
12 half pint mason or canning jars
Just a couple notes before we get started. This recipe makes 12 half-pints of banana bread in a jar, which is a case of mason jars. They are very inexpensive at Walmart, but you can also order them online from Amazon.
If you don't need to make 12 jars of bread, this recipe makes 2 regular loaves of banana bread. I used this recipe to bake one loaf of bread and then 6 mason jars of bread, so that is also an option.
A note on the bananas: you can just mash up 4 very ripe bananas and this recipe will turn out great. My secret for the best banana bread, however, is saving overripe bananas by throwing them in the freezer when I am getting ready to throw them away because no one ate them.
They will turn black in the freezer. When you take them out and de-thaw them they will turn to mush. That's what you want, and those mushy yucky looking bananas make the BEST banana bread.
Baking Directions
Preheat oven to 325 degrees. Grease the bottoms of your mason jars with a little butter or shortening.
In a large mixing bowl, beat together shortening or butter and sugar until well mixed. Beat in the eggs, mashed bananas, and water, until light and fluffy.
In a separate medium sized bowl, stir together flour, baking powder, baking soda, salt, cinnamon, and cloves. Pour the flour mixture into the banana mixture, stirring until just combined.
Stir in the chopped nuts (optional).
Pour the batter into the mason jars, filling them only half full. Wipe off the tops of the jars.
Place the jars on a cookie sheet and place the cookie sheet in the oven. Bake for 40-45 minutes or until a toothpick inserted in the center of the jar comes out clean. Remove jars from the oven.
Run a table knife around the insides of the jars to loosen the bread. After the bread cools it will pop right out of the jars.
COSMOS 4 Different Colors Decorative Mason Jars Lids for Mason Jars Canning Drinking Jars, Pack of 8 Pcs

Ball Mason 8oz Quilted Jelly Jars with Lids and Bands, Set of 12

Packaging for Gift Giving
If you are not going to be giving the jars away right away, you can "seal" them by placing a sterilized canning jar lid and ring on them while the bread is still hot. The lids and rings came with the jars if you purchased a case of jars.
If you place the lids and rings on the jars, the jars will seal as the bread cools off. Please note, however, that doing this does NOT make these jars shelf stable.
Even though the jars have sealed, they will start to get moldy sometime in the next week unless you place them in the refrigerator. The lids and rings are just a neat way to package them when giving them as gifts.
If you are re-using old mason jars you can also buy these pretty decorative canning jar lids which would also beautifully decorate these jars for gift giving. And these lids can be re-used.
These jars can also be frozen for a couple of months in the freezer if you want to get ahead of the holiday season and make them ahead of time. Enjoy!
Related Recipes
Follow my baking and fall recipes boards on Pinterest.