I love baking Christmas cookies for the holidays. I have been trying out some new cookie recipes this year. These maraschino cherry shortbread cookies take a little more time because you need to let the dough sit over night, but they are totally worth the extra effort. Overall, they are easy to make and are very pretty too. The maraschino cherries give these cookies a nice cherry flavor.
This post may contain affiliate links.
Maraschino Cherry Shortbread Cookies
Ingredients:
1 c. butter, softened
1/2 c. powdered sugar
2 tsp. vanilla extract
2 c. flour
1/2 tsp. salt
3/4 c. maraschino cherries, chopped
2/3 c. chocolate chips
Mix butter until creamy. Blend in powdered sugar and vanilla extract.
In a separate bowl, mix together flour and salt. Sift the flour first if it didn't come pre-sifted.
Blend the flour mixture into the butter mixture. Stir in maraschino cherries and chocolate chips.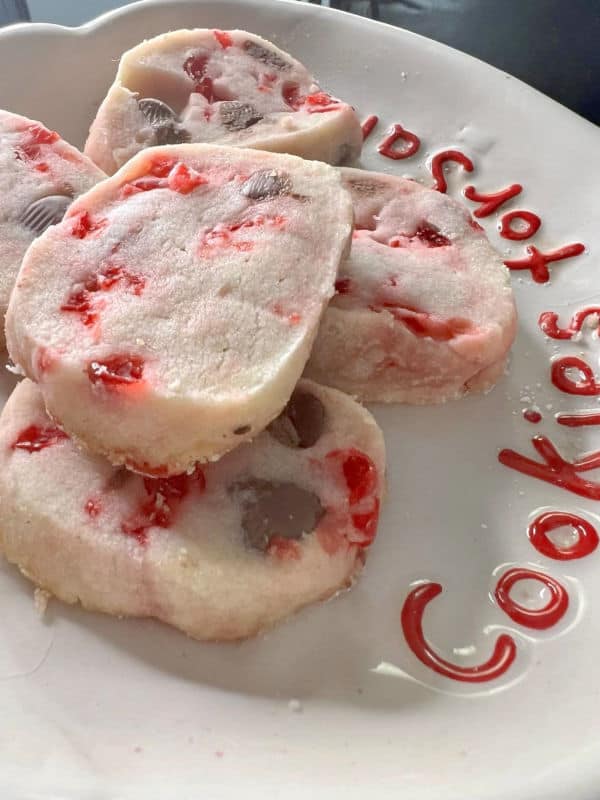 Place the dough onto a sheet of plastic cling wrap. Shape the dough into a long log about 2 inches in diameter. Wrap the log in the cling wrap, making sure to press out any small air bubbles in the dough so you don't end up with any holes in the middle of your cookies.
Refrigerate the log of dough for a couple of hours or overnight.
When you are ready to prepare the cookies, preheat the oven to 325 degrees.
Cut the log into slices approximately 1/2 inch thick.
Place the cookies onto a cookie sheet lined with parchment paper or silicone baking mats. Arrange cookies about 2 inches apart.
It's always a good idea to do a test cookie or two before you bake a whole cookie sheet full. And make sure you bake the cookies fairly soon after you remove the dough from the refrigerator or the cookies will spread too thin when they are baking. If the dough gets left out too long, just place it back in the refrigerator again to let the dough harden again.
Bake the cookies for 15 minutes, or until cookies are lightly browned on the bottom. Transfer cookies to wire cooling racks to cool.
Follow my Christmas Recipes and Crafts board on Pinterest.
Related Recipes