I'm almost done with my Christmas baking this year. I still need to make some of my favorite cranberry orange pound cake, but I also decided to try this recipe I found for cranberry orange swirl cookies.
This post may contain affiliate links.
My son tasted them, and he said that they taste like bite sized pieces of cranberry orange bread. They really do! These cookies take a little time to make but they aren't hard to make.
You'll definitely want to start them at least a day in advance because they need to be refrigerated twice before baking so that the cookies will hold their shape.
These cookies do freeze well if you want to make them ahead of time and freeze them for up to a month before serving.
Cranberry Orange Swirl Cookies
Ingredients:
1 cup butter (room temperature)
1 1/2 cups sugar
1/2 tsp. vanilla extract
2 eggs
1 tbsp. zested orange peel
3 c. flour
1/4 tsp. salt
1/2 tsp. baking powder
Filling:
1 cup fresh cranberries
1/4 c. sugar
1 tbsp. zested orange peel
If you've never zested an orange before, you can get a handy zesting tool like this one to remove zest (peel) from your orange.
In a large mixing bowl, mix together butter and sugar until light and fluffy.
Mix in vanilla extract, eggs, and orange peel. Mix in flour, salt, and baking powder.
Divide the dough into two equal portions and form into two balls. Wrap each ball with cling wrap and refrigerate for at least an hour or overnight.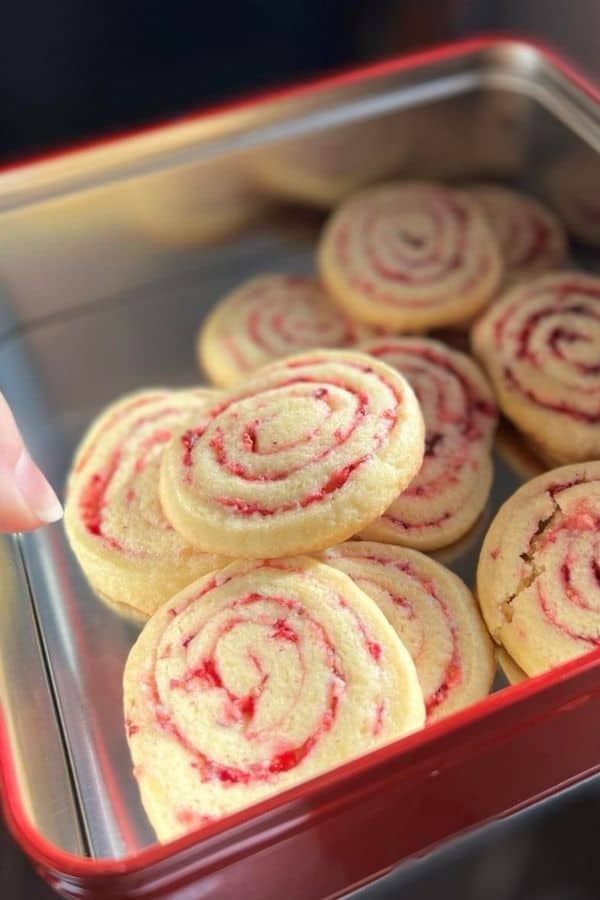 Remove dough from refrigerator and prepare filling.
Chop the cranberries very finely and mix with sugar and zested orange peel. I chopped my cranberries in just a few seconds with my food processor.
With a rolling pin, roll each ball of dough into a rectangle that is 10″ x 14″. Use a sharp knife to trim off any jagged edges.
Spoon out half of the chopped cranberry mixture onto each rectangle. Spread the cranberry mixture out, leaving 1/2 inch of dough around the edges.
Carefully roll each piece of dough into the shape of a log. Wrap each log in a piece of cling wrap and refrigerate for two hours. Make sure the logs are on a flat surface in the refrigerator so that they don't lose their shape.
Remove logs of dough from the refrigerator, and preheat the oven to 375 degrees.
Use a sharp knife to cut the logs into 1/4-inch slices, then place the cookies on cookie sheets lined with parchment paper or silicone baking mats.
Bake for 10-12 minutes, or until the bottoms of the cookies are lightly browned.
Remove the cookies from the baking sheets and cool on wire baking racks.
Makes about 3 dozen cookies.
These cookies are really pretty, and tasty too!
Follow my Christmas recipes and crafts board on Pinterest.
Related Recipes