These peppermint meltaway cookies are a delicious old-fashioned peppermint cookie recipe that is great for Christmas gift giving. Store them in the freezer and give them as gifts during the holidays. They really do melt in your mouth!
This post may contain affiliate links.
Peppermint Meltaway Cookies
Ingredients:
1 c. butter, softened
1/2 c. powdered sugar
1/2 tsp. peppermint extract
1 1/4 c. flour
1/2 c. cornstarch
Frosting:
Beat together butter, powdered sugar, and peppermint extract. In a separate bowl mix together flour and cornstarch. Stir the flour mixture into the butter mixture.
Refrigerate cookie dough for 30-60 minutes to chill the dough.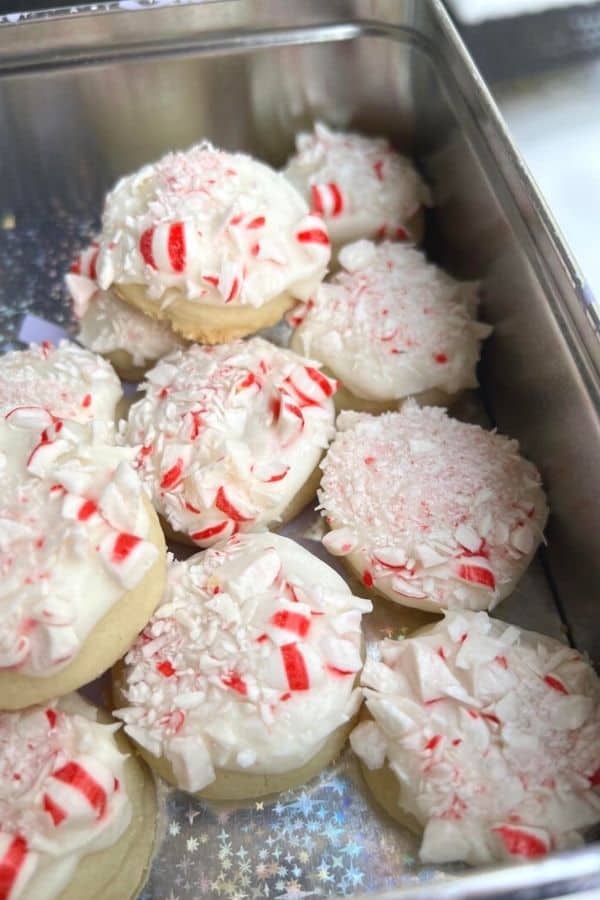 Preheat oven to 350 degrees.
Remove cookie dough from the refrigerator and roll the dough into 1-inch balls. Place 2 inches apart on ungreased baking sheets.
Bake for about 10 minutes, or until the bottoms of the cookies are lightly browned.
Place the cookies on wire baking racks to cool.
While the cookies are cooling, make the frosting. Mix together the softened butter, milk, peppermint extract, and powdered sugar.
Spread frosting on cookies and then sprinkle crushed peppermints on top. You can use peppermint candies or candy canes. I placed the candies in a gallon sized ziploc bag and crushed them with a rolling pin.
You can either sprinkle the peppermint candies on top of the cookies or spread the candies on a plate and dip the tops of the cookies into the candies.
The frosting will set after a couple of hours so that you can store them without them sticking together. To freeze these cookies, arrange them in a gallon sized ziploc bag in a single layer and place them in the freezer until you are ready to serve them.
Makes about 2 1/2 dozen cookies.
Follow my Christmas board on Pinterest.
Related Recipes