I have been wanting to make homemade cinnamon rolls for a long time but it always seemed so hard. Making homemade bread is so intimidating. I decided to give it a try, however, and my family loved my homemade cinnamon rolls. What's great about these is you can make a double batch and freeze one of them for later.

This post may contain affiliate links.
New to baking and want to watch me prepare this recipe? Click on the video below and watch me make these cinnamon rolls step by step.
Cinnamon Roll Recipe
Dough Ingredients:
1/4-ounce package (2 1/4 tsp.) yeast
1/2 cup warm water
1/2 cup scalded milk
1/4 cup sugar
1/3 cup butter, melted
1 teaspoon salt
1 egg
3 1/2 to 4 cups all-purpose flour
Dissolve the yeast in the warm water for about 5 minutes. This can be really warm tap water. You want it to be really warm, but not too warm that you can't touch it or the water will kill the yeast.
In another bowl, mix together the scalded milk, sugar, melted butter, salt, and egg. Add 2 cups of the flour and stir until smooth.
Add yeast mixture and remaining flour until dough is not sticky and easy to knead. Knead by hand for 5 minutes.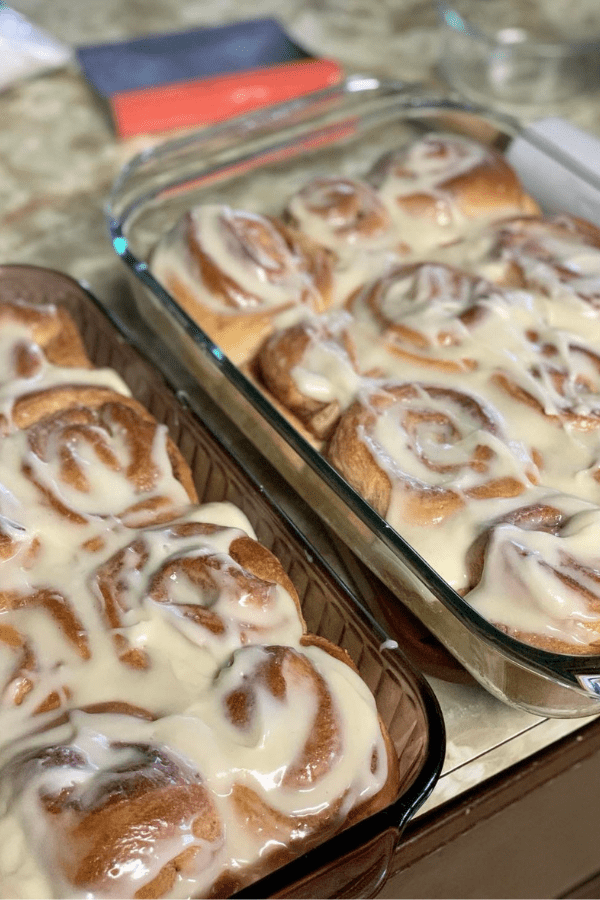 You can also use a stand mixer with a dough hook for this step. I have a KitchenAid stand mixer
and I love it.
Place the kneaded dough in a large greased bowl and let it rise until it has doubled in size, approximately 1 hour.
After the dough has risen, punch it down to get the air out of it and then roll it out with a rolling pin on a floured surface.
Roll it into the shape of a 15 x 9 inch rectangle. Brush 1/2 cup melted butter on the dough.
Mix together 3/4 cup sugar and 2 tablespoons cinnamon and sprinkle on top of the dough.
Starting at one of the short ends of the dough, roll up the dough into a "log" and seal the ends with a little melted butter. Slice the cinnamon rolls into 12 equal portions. I cut my log in half and then cut each half into 6. I use a pastry cutter like this one to cut the dough into equal slices.
If you want to freeze these for later, you can place the cinnamon rolls on a cookie sheet and place them in the freezer until they have hardened.
Then transfer them to a ziploc freezer bag and store in the freezer until you are ready to use them.
If you are going to bake them right away, place them into a greased 13x9x2-inch baking dish. Let them rise again for about 30 minutes, until they have doubled in size.
Bake them at 350 degrees for 30 minutes or until lightly browned.
While they are still hot, prepare the frosting.
Frosting Ingredients:
4 tablespoons butter, softened
2 ounces cream cheese, softened
1 1/2 cups powdered sugar
2 tablespoons warm water
1 teaspoon vanilla extract
Mix frosting together and spread over hot cinnamon rolls. Enjoy!
Related Baking Recipes
Follow my Sweet Treats board on Pinterest.