I'm always looking for good cookies to make for Christmas. I love making cookies during the holiday season and giving them away to friends and family.
This post may contain affiliate links.
A friend recently shared this almond joy cookie recipe with me, and it's definitely a keeper. All of the goodness of Almond Joy candy, with just 4 ingredients!
The batch I made disappeared quickly with three teenagers in our house. But I will be definitely be making them again for Christmas.
Almond Joy Cookies Recipe
Ingredients:
1 14-ounce bag sweetened flake coconut
1 14-ounce can sweetened condensed milk
2/3 cups almonds, chopped
2 cups semi-sweet or milk chocolate chocolate chips
Preheat oven to 325 degrees. Line cookie sheets with parchment paper or silicone baking mats to keep the cookies from sticking to your cookie sheets.
In a large mixing bowl, mix together coconut, sweetened condensed milk, chopped almonds, and chocolate chips. You can use either mini chocolate chips or regular sized ones for this recipe.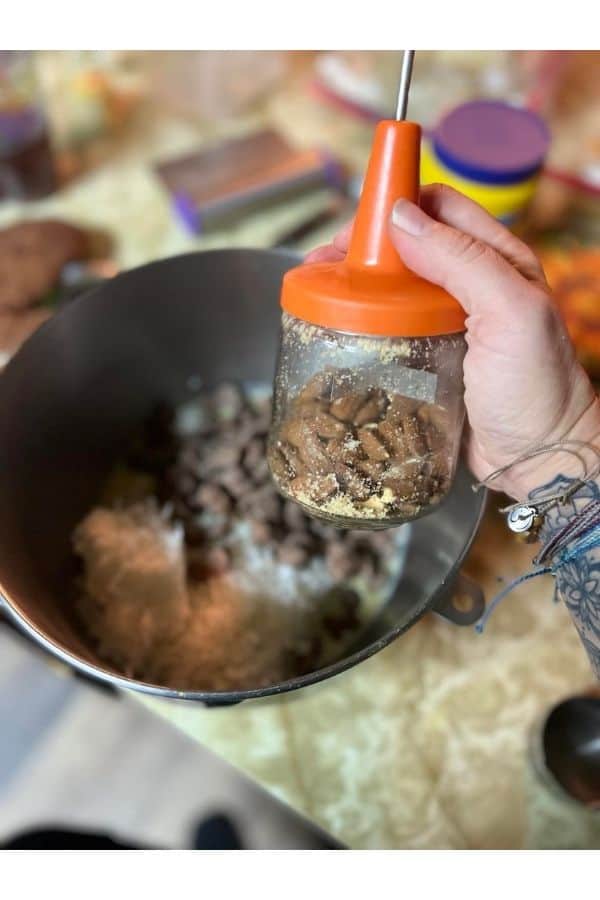 I use a nut chopper like this one to easily chop nuts for making cookies and for my other baking recipes. It chops up the nuts in just a minute or two, with no mess and easy clean up!
Scoop the cookie mixture into small balls. You can use either your hands or this cookie scoop (if you're like me and like uniformed sized cookies. This cookie scoop makes it easy!).
Place balls on cookie sheet about 2 inches apart. Lightly wet hands with water and form each cookie into a round ball, then flatten the top of each cookie with the palm of your hand. Wetting your hand will help your hand not stick to the cookies.
Bake cookies for 12-14 minutes or until the edges of the coconut pieces are starting to turn golden brown. Let cookies sit on cookie sheet for a couple of minutes to cool then transfer to wax paper or wire cooling racks to cool completely.
Makes about 2 dozen cookies.
Follow my Christmas Recipes & Crafts board on Pinterest.
Related Recipes