Easy Mexican Rice with Salsa
I've been searching for a good easy mexican rice recipe for a long time, and I think I've finally found it! There are a number of different ways to make "authentic mexican rice" but I like this easy recipe that uses salsa to flavor the rice.
This post may contain affiliate links.
I also love that this recipe uses long grained rice. I am a big fan of instant rice when trying to cook up dinner in a hurry, but for this recipe the long grained rice really makes a big difference. And the recipe is so easy to prepare that it doesn't even seem to matter that it just takes a little more time to cook.
I am always looking for recipes to use my canned foods, and for this recipe you can used canned chicken broth and canned salsa, if you have them. If not, then just substitute store bought salsa and chicken broth.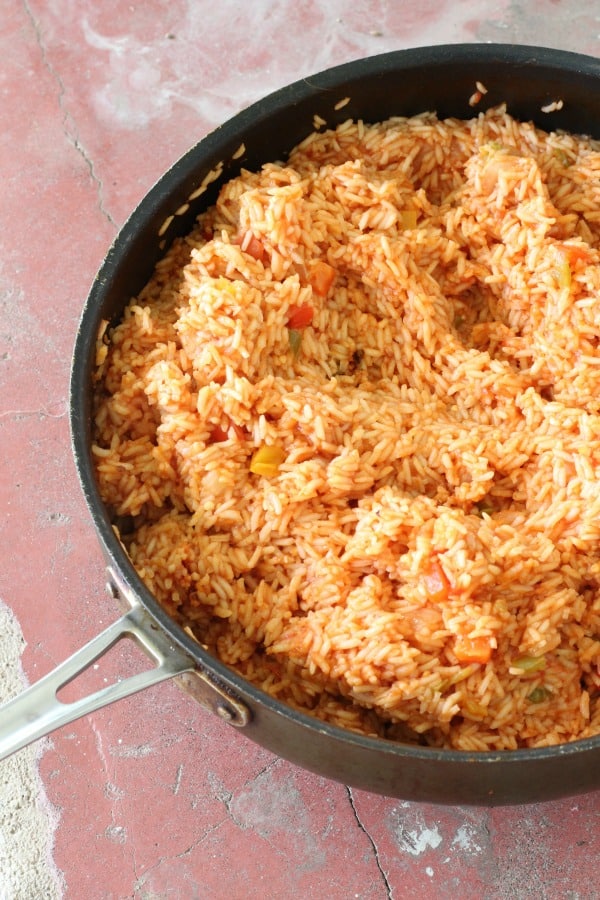 Mexican Rice Recipe
2 cups (1 pint) chicken broth
3 tbsp. vegetable oil
1 1/2 cups long grained rice
2 cups (1 pint) medium salsa
1/4 tsp. cumin
1 tsp. salt
Note: This recipe serves about 6 people. If you are wanting to make spanish rice for a crowd, then just double this recipe. When I doubled the recipe I used 1 quart chicken broth and 1 quart salsa. A doubled recipe will still fit into a large skillet.
Heat the vegetable oil in a large skillet. Place the uncooked rice in the skillet and cook the rice for 10 minutes or until golden brown. Stir in the salsa, chicken broth, cumin, and salt.
Cover the skillet with a lid and simmer for about 30 minutes, stirring occasionally, until the rice has absorbed all of the liquid.
Enjoy this easy mexican rice with your favorite mexican dish. This easy side dish is easy to make and delicious. It's also great heated up for leftovers.
Related Recipes
Follow my favorite recipes board on Pinterest.