I love fall and all the recipes I get to prepare during the fall season every year. There are so many pear canning recipes to choose from. One of my family's favorites are these cinnamon pears. This year I decided to try this ginger pear jam and it is AMAZING.
This post may contain affiliate links.
I tried making pear butter and cranberry pear jam last year, and they were both wonderful too. The cranberry and pear jam is fun to give away as a gift during the holidays. I was excited to try this new recipe because I was curious how the ginger would taste with the pear. Oh my goodness it is so good. I can't wait to stir a little into my yogurt I eat for breakfast.
There are several different ways to prepare homemade jams. One way is to use pectin (did you know you can buy pectin in BULK now!?). Another way to make jam is to just cook the jam down until it thickens on its own. This method works particularly well with apples and pears, which contain a lot of natural pectin.
For this recipe, you will not be using pectin. You will be cooking the jam to thicken it. I found that it didn't take very much time at all to prepare it this way.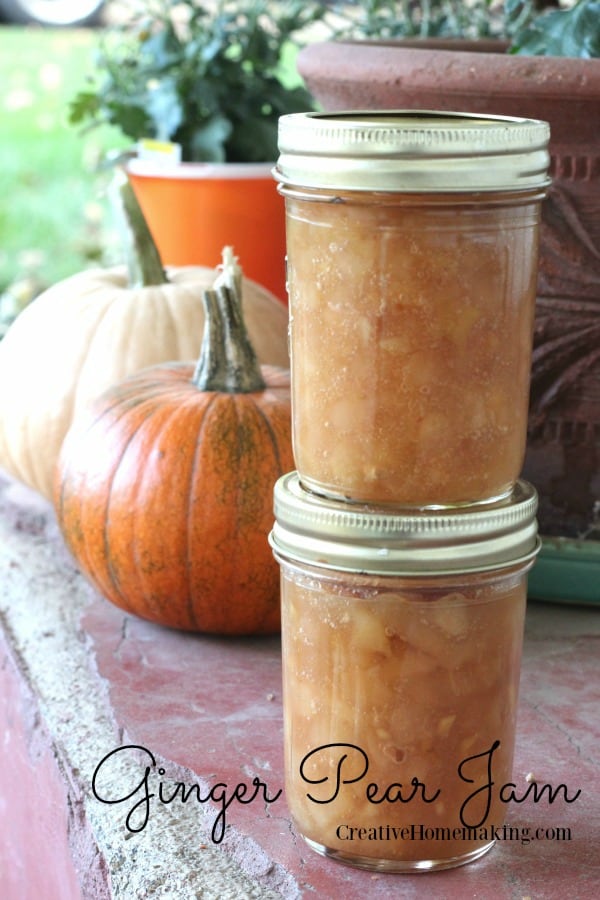 Pear Ginger Jam
Ingredients:
3 lbs pears (approx. 6-7 medium sized pears)
1 tablespoon fresh ginger, peeled and grated
1 cup light brown sugar
1/4 cup bottled lemon juice
Feel free to double this recipe if you like. This is a small batch canning recipe. It will make approximately 2 half pints or 1 pint of ginger pear jam. I only had a handful of pears on hand, so I decided to make the small batch.
Peel and core your pears and chop them into small cubes. I used my handy vegetable chopper to quickly cut them into perfect little cubes.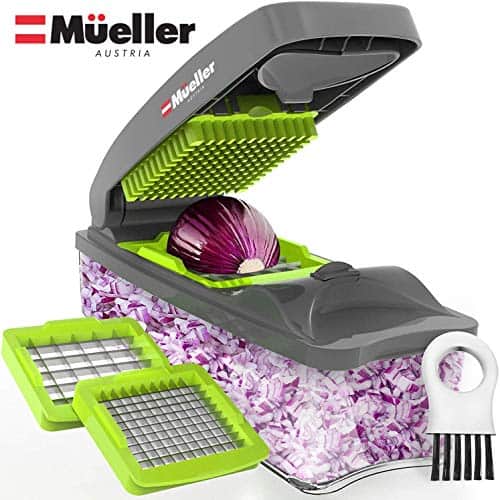 Mueller Onion Chopper Pro Vegetable Chopper – Strongest – NO MORE TEARS 30% Heavier Duty Multi Vegetable-Fruit-Cheese-Onion Chopper-Dicer-Kitchen Cutter

In a large stock pot, combine the pears, ginger, sugar, and lemon juice. Bring the pear mixture to a boil over medium heat. The jam will thicken fairly quickly, in 10-15 minutes or so.
It is up to you as to the consistency of your finished jam. If you want a smooth jam, use an immersion blender to blend up the pears a bit, creating a smoother jam. If you like the pear cubes (I decided I liked the chunkiness of the jam), then just leave the pears as is.
When the jam is thickened to your liking, it is ready to pour into your prepared jars. Keep in mind that the jam will thicken slightly after processing.
Canning Directions
Pour the jam into sterilized canning jars, leaving 1/4 inch headspace. You can easily measure the headspace with this inexpensive canning funnel.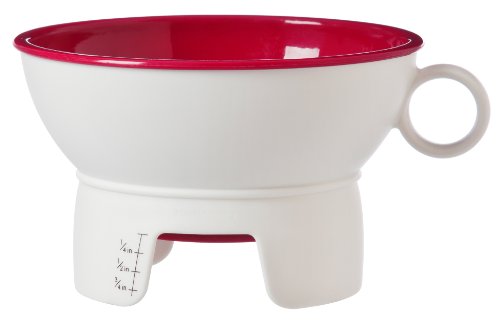 Prepworks by Progressive Canning Funnel for Regular and Wide Mouth Jars

Wipe the rims of the jars with a damp towel or paper towel and place the sterilized lids and rings on the jars finger tight.
Place the jars in your boiling water canner and make sure there is 1-2 inches of water covering the jars. Bring the water to a boil and process the jars for 10 minutes. Remove the jars from the canner and place on a towel on the kitchen counter to cool.
Test the seals by pressing down in the center of each lid. If the lid is sealed it will be flat and not give way when you press on it. If you have any jars that did not seal you can either re-process them with new lids or just place them in the refrigerator to eat in the next couple of weeks.
Sealed jars can be stored in a dark pantry for 1-2 years.
Enjoy!
Follow my canning and preserving board on Pinterest
Related Recipes