I'm always looking for fun Christmas treats to make for my kids and to serve at holiday get together's. And the easier they are to make the better! These brownie Christmas trees are super easy to make.
This post may contain affiliate links.
You can have them made and decorated in less than two hours. They are an easy quick dessert for last minute holiday classroom parties.
Brownie Christmas Trees
Supplies Needed:
1 box brownie mix*
One container green icing
1 box candy canes
Sprinkles
*I know some of you will be freaking out about me suggesting to use a brownie mix from the store instead of making homemade brownies.
The point of this recipe is to be a super quick last minute recipe, so it's fine to use the box mix if you are short on time. My favorite way to make brownies is with this inexpensive brownie mix you can make from scratch. It's still as easy as making it from the store bought box, and it is the same as making it from scratch.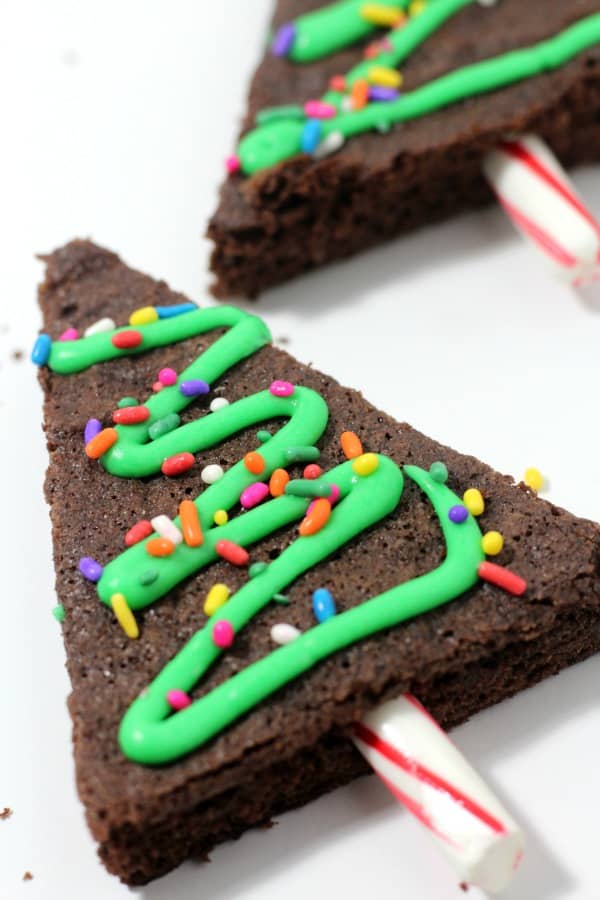 Prepare and bake the brownie mix as directed on the package. Bake the brownies on a cookie sheet with sides instead of in a regular baking pan. This will make your brownies thinner than normal.
Bake the brownies for at least 5 minutes less than normal since they are not as thick. Keep checking them while they are baking to make sure they are not overdone.
After you remove the brownies from the oven, cut the brownies into the shapes of triangles. I decided to freehand them instead of using a pattern and just cut the triangles with a sharp knife. I liked that they didn't all look exactly the same.
Cut the candy canes into approximately 2-inch lengths. You should be able to get at least two peppermint "tree trunks" out of one candy cane.
While the Christmas brownie trees are still warm, gently press a candy cane trunk into the base of each tree. You may need to place a little icing on the end of the candy cane to get it to stick inside the tree.
Let the brownie trees cool completely before finishing the decorating. When the brownie trees are cool, decorate them with the icing and sprinkles using the photos as a guide.
You can pipe the icing in a thin line by placing the icing in a ziploc bag and trimming a corner of the bag so that the icing can come out the corner of the bag in a thin line.
Related Recipes
Follow my Christmas Recipes and Crafts board on Pinterest.