If you like the Hershey's chocolate kiss cookies that a lot of people like to make for the holidays, then you will love these candy cane kiss cookies. They are a fun treat to make for holiday cookie exchanges.
This post may contain affiliate links.
The chocolate kiss cookies are normally made with a peanut butter cookie dough, but this cookie dough is more like a sugar cookie dough. They are easy to make, and delicious!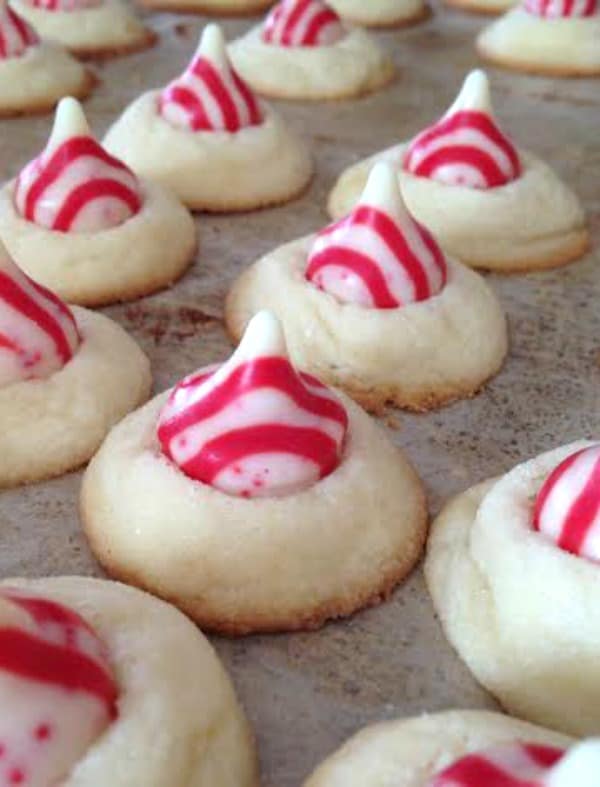 Candy Cane Kiss Cookies
Ingredients:
1 1/2 c. powdered sugar
1 1/4 c. butter, softened
1 tsp. peppermint extract
1 tsp. vanilla extract
1 egg
3 c. flour
1 tsp. baking powder
1/2 tsp. salt
1 bag candy cane Kisses
Preheat the oven to 350 degrees. Have your kids help you unwrap the bag of candy cane kisses.
Combine the butter, powdered sugar, peppermint extract, vanilla extract, and egg. Beat until mixture is creamy, approximately 2 to 3 minutes.
In a separate bowl, stir together flour, baking powder, and salt. Add the dry mixture to the wet mixture and beat until the mixture is well blended.
The mixture will be a little bit crumbly, but that is okay. If you want you can chop up a few of the peppermint kisses and stir in them in the dough.
I decided not to do that so that I would have more kisses to put on top of the cookies, but if you want to add some to the dough, stir in about 1/2 cup.
Roll the dough into 1 inch balls and roll them in granulated sugar. Bake for 10 to 12 minutes or just until the cookies are set.
Immediately after you remove the cookies from the oven, transfer them on to waxed paper. While the cookies are still hot, press a peppermint kiss into the center of each cookie.
Let the cookies sit undisturbed until the candies harden again. They will get soft but will harden again as they cool.
Follow my Christmas board on Pinterest.
Related Recipes