I love the large bakery style blueberry muffins that you can buy at Costco and Winco, and I have always wanted to find a recipe to make the same muffins at home. Most of the muffin recipes I've tried have not resulted in the large round dome shaped tops that the bakery style muffins are known for, but I never gave up on my search, because I always knew it was possible to make old fashioned blueberry muffins with crumble topping at home.
This post may contain affiliate links.
I recently tried a new recipe that didn't disappoint. The muffins turned out big with nice round tops. The crumble topping just added to their nice appearance, and they tasted amazing. I am really happy with how these blueberry muffins turned out, and they are every bit as good as muffins from a bakery.
You can use fresh or frozen blueberries for this recipe, but I wouldn't recommend using frozen blueberries that have been thawed or they will be too soft. I used frozen blueberries for this recipe and they worked great.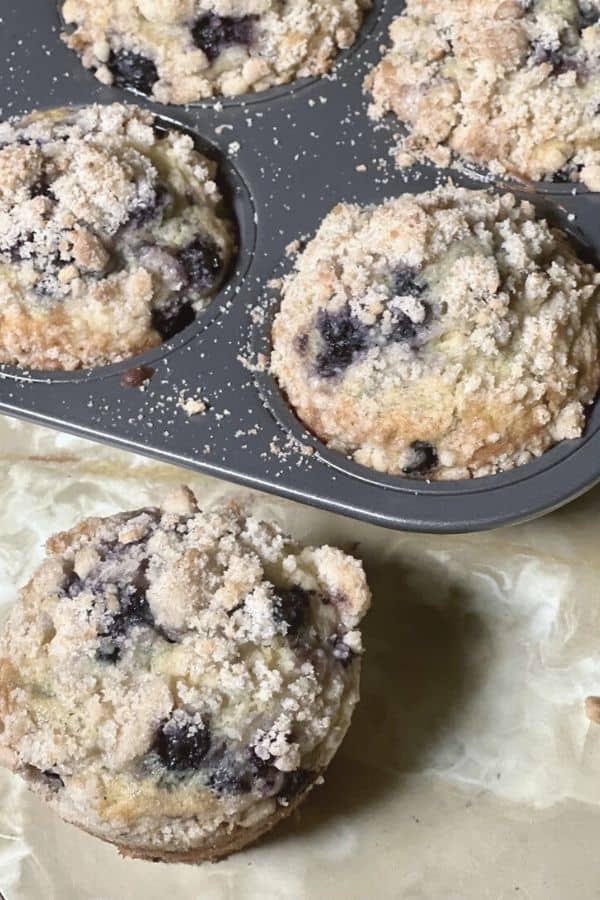 Best Blueberry Muffins with Streusel Topping
Ingredients:
2 c. flour
2 tsp. baking powder
1/2 tsp. salt
1/4 c. butter, melted
1/4 c. vegetable oil
3/4 c. sugar
2 eggs
1 tsp. vanilla extract
3/4 c. milk
2 c. blueberries (fresh or frozen)
Streusel Topping:
2/3 c. flour
1/3 c. sugar
1/8 tsp. salt
1/4 c. butter, melted
Note: You can easily double this recipe. One recipe makes about 8 large blueberry muffins. A double recipe will make about 16 large muffins. This is my favorite muffin tin for making jumbo sized blueberry muffins.
Preheat your oven to 375 degrees. Line your muffin tins with paper muffin liners or give them a quick coating of cooking spray. I greased mine with a thin coating of vegetable oil.
Related Recipe: 6 Easy and Delicious Blueberry Recipes to Try Today!
Mix together flour, baking powder, and salt in a medium sized bowl and set aside. In a larger bowl, mix together melted butter, vegetable oil, and sugar with a spoon or fork until smooth. Add the eggs, milk, and vanilla extract and stir until combined.
Add the flour mixture to the egg mixture, and stir until the mixture is just combined. Don't over stir. Gently stir in fresh or frozen blueberries.
Spoon the muffin mixture into the prepared muffin tins, filling each tin 3/4 full. I added a couple of blueberries to the top of each muffin.
How to a Make Muffin Crumble Topping
If you've never made a crumb topping before, you might be wondering what you put on top of the muffins before baking. Make the crumble topping is easy. Just stir together the remaining sugar, flour, salt, and melted butter.
Sprinkle about 1 tbsp. of the streusel topping on each muffin. You can't really add too much. Some of it will bake into the muffin during the baking process.
Bake muffins for about 25 minutes, or until lightly browned. Let the muffins cool almost completely in the pans before removing them to complete cooling on wire baking racks. I tried to take mine out while they were still a little too warm and they stuck a little to the bottoms of the muffin tins. If they are more on the cool side, you will have better luck removing them from the pan.
How to Store Blueberry Muffins
You have lots of storage options for your muffins. They will keep well at room temperature in a covered muffin storage container for a couple of days. They will store in the refrigerator for about a week, and you can freeze them for a couple of months.
If you're looking for the best bakery style blueberry muffins with crumble topping, you don't need to look any further. If you try this recipe I know that you won't be disappointed!
Follow my Creative Homemaking board on Pinterest.
Related Recipes