It's blackberry season! I love going to pick wild blackberries every August. There are lots of places to go pick blackberries around where we live. If you are lucky enough to get your hands on some fresh blackberries, you will definitely want to give these blackberry muffins a try. They are really good! Moist and tender, just like muffins should be.
This post may contain affiliate links.
Blackberry Muffins Recipe
Ingredients:
1/2 cup butter or margarine, softened
1 1/4 cups sugar
2 large eggs
2 cups flour
2 tsp. baking powder
1/2 tsp. salt
1/2 cup milk
2 cups blackberries (fresh or frozen)
Preheat oven to 375 degrees.
In a large bowl, cream together butter or margarine and sugar. Add the eggs one at a time, beating after you add each egg.
In a separate small bowl, mix together flour, baking powder, and salt.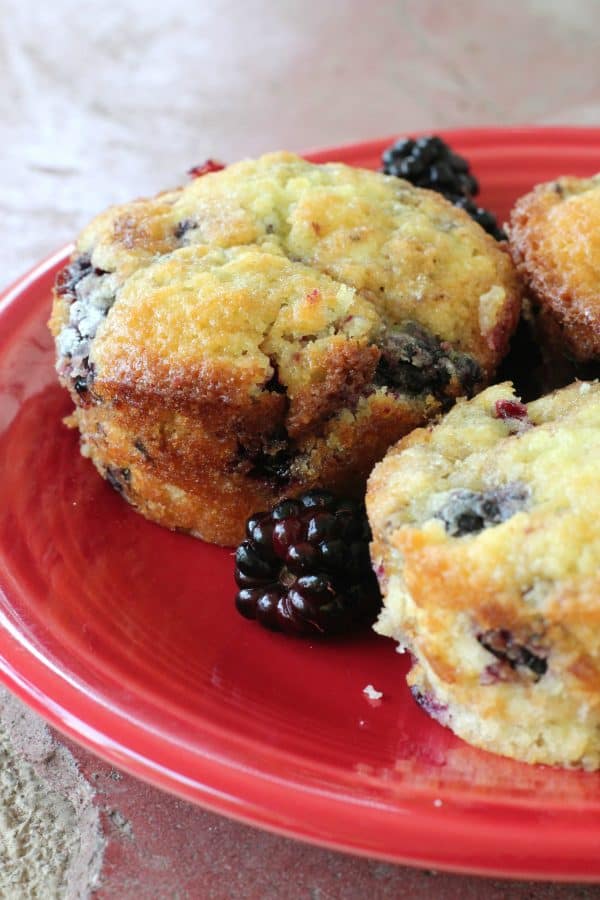 Add the flour mixture to the butter mixture alternately with the milk. Stir until just barely moistened. Do not over mix.
Gently stir in blackberries. If the blackberries are really soft coat them with flour first so they won't get blended up as easily in the batter.
Pour the batter into greased or paper lined muffin tins, filling the tins 2/3 full.
Bake for 20 minutes, or until toothpick comes out clean. Let muffins cool in muffin tin for at least 5 minutes before removing them from the pan.
These muffins freeze well, so if you have a bunch of blackberries, make up a bunch of these muffins and freeze them for later.
Follow my breads and rolls board on Pinterest.
Related Recipes: