How to Can Beef Stew
This post may contain affiliate links.
My family really likes canned beef stew. Beef stew is one of those recipes that you're not quite sure if your family is going to like the canned version vs. the store bought version. I was a little skeptical about canning beef stew at first, but I was hoping my family would at least try it. It turns out canning beef stew is really easy, I should have tried it sooner!
My family were good sports, and it turned out they loved it! This canned beef stew recipe is definitely now on my list of go-to canning recipes.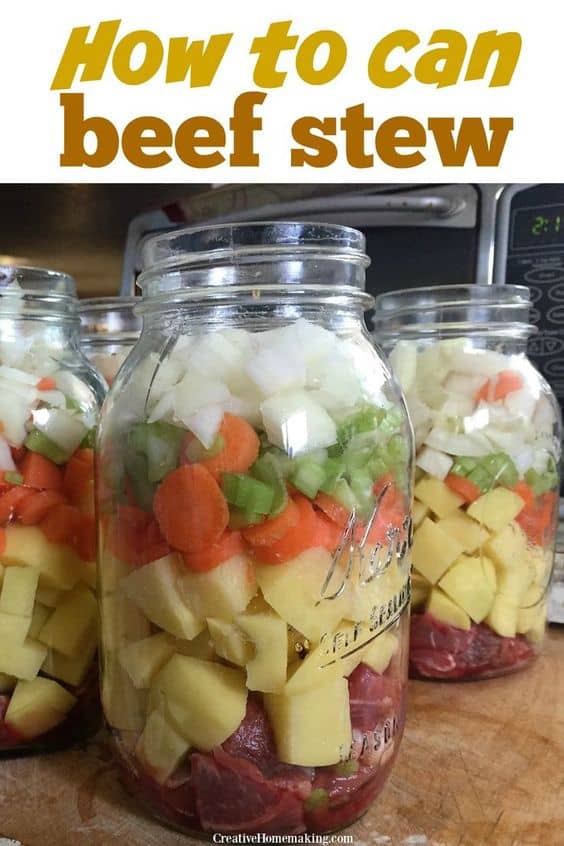 If you are new to pressure canning, beef stew is one of the easiest things for you to learn how to can.
Note: You cannot can beef stew without a pressure canner. Because meat is a low acid food it MUST be pressure canned.
Canning Beef Stew Video
Unsure how to use your pressure canner? Watch as I prepare this beef stew recipe step by step.
A lot of recipes require a lot of preparation and cooking prior to canning, but for this recipe you put all of the ingredients in the jar raw (even the meat!), and then all of the ingredients are cooked in the jars during the pressure canning process.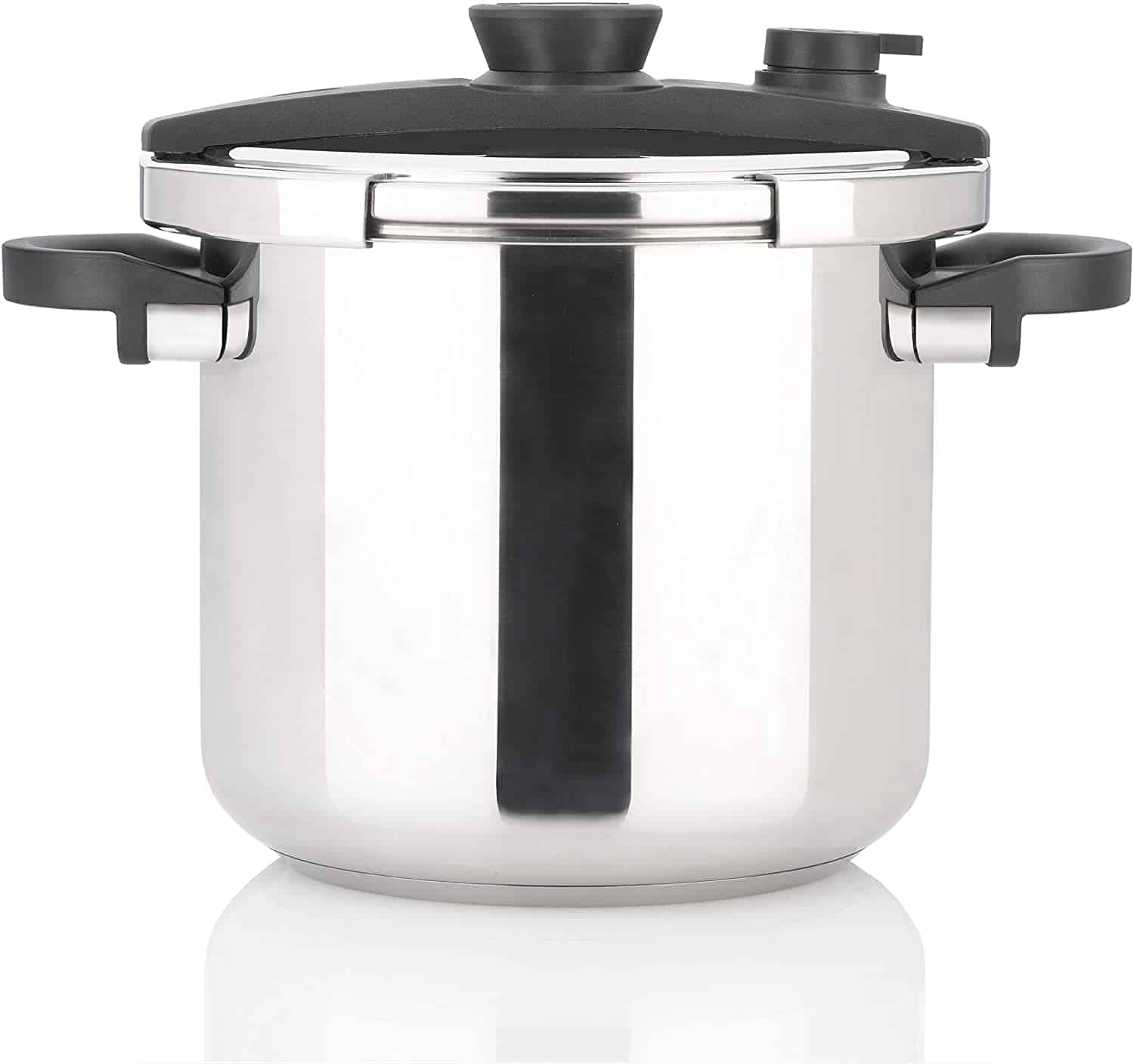 Zavor EZLock 10 Quart Stove-top Pressure Cooker & Canner with Dual Pressure Settings, Universal Locking Mechanism, Recipe Book and Steamer Basket

If you have never eaten meat cooked in a pressure canner before, it is amazing! It's very tender and FULL of flavor, and you won't want to eat beef stew any other way again.
If you follow this following recipe step by step, your beef stew will turn out perfect every time. If you just got your pressure canner or are thinking about buying one and still not sure how to use it, let me walk you through the entire process step by step.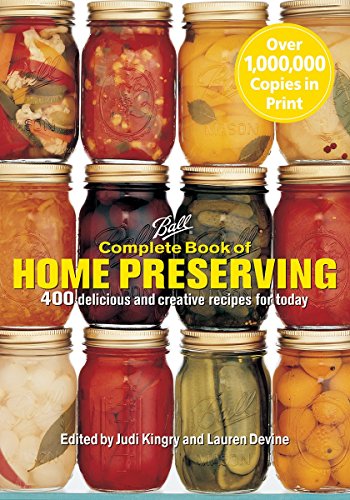 Ball Complete Book of Home Preserving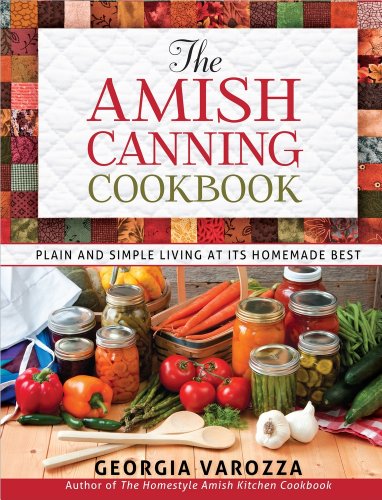 The Amish Canning Cookbook: Plain and Simple Living at Its Homemade Best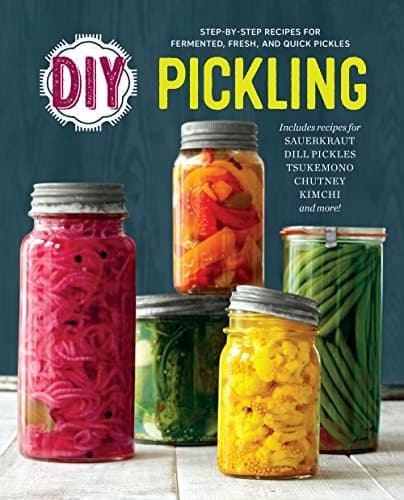 DIY Pickling: Step-By-Step Recipes for Fermented, Fresh, and Quick Pickles

Beef Stew Canning Recipe
Ingredients:
Roast or stew meat
Potatoes
Carrots
Onions
Celery
You don't have to use exact measurements for this recipe. One 3-lb. chuck roast will be enough meat for about 6 quarts of beef stew. For 6 quarts you will need approximately 2 onions, 6 stalks celery, 1 carrot, and 1-2 potatoes per jar.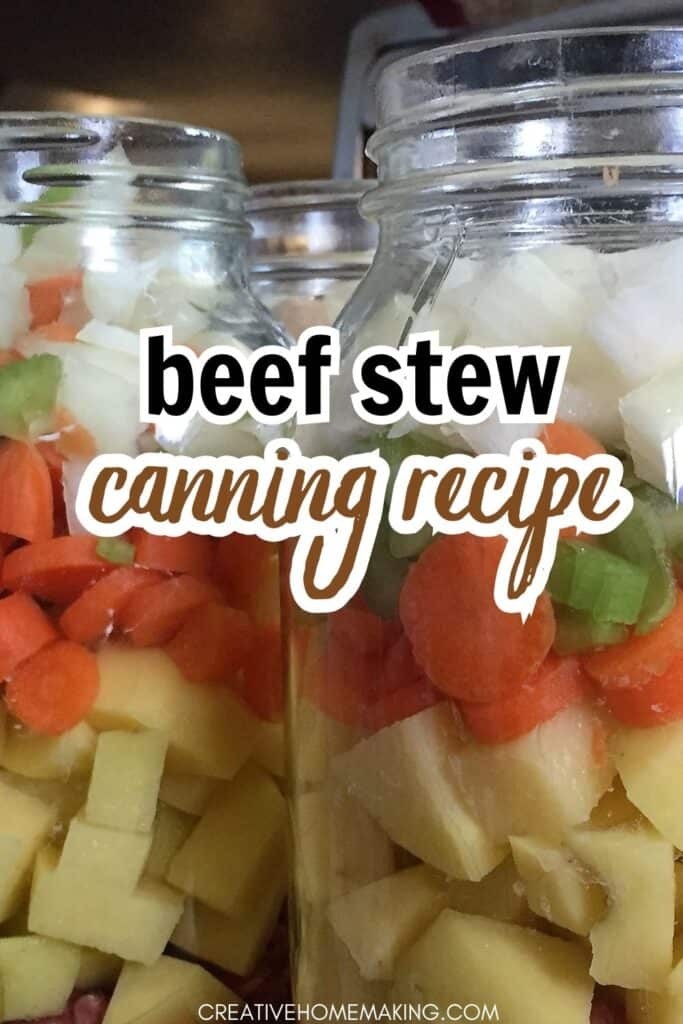 Sterilize your canning jars, lids, and rings. I sterilize mine by running them through the rinse cycle on my dishwasher. Just leave them in the dishwasher until you are ready to use them.
Prepare the beef bouillon by adding about 4 tbsp. of bouillon powder to 12 cups water (you need about 2 c. per quart canning jar). Heat to boiling.
Chop carrots, celery, and onions, and then peel and chop the potatoes.
Canning Instructions
Place 1 tsp. salt into each sterilized canning jar. Layer beef, potatoes, carrots, onions, and celery in canning jars. Add heated bouillon, leaving 1 inch head space. You can easily measure the head space with this inexpensive canning funnel.
If you don't have enough bouillon to fill all the jars, just add a little hot water to make up the difference.
Wipe rims of jars with damp paper towel or dish towel, and then place the rings and lids on the canning jars.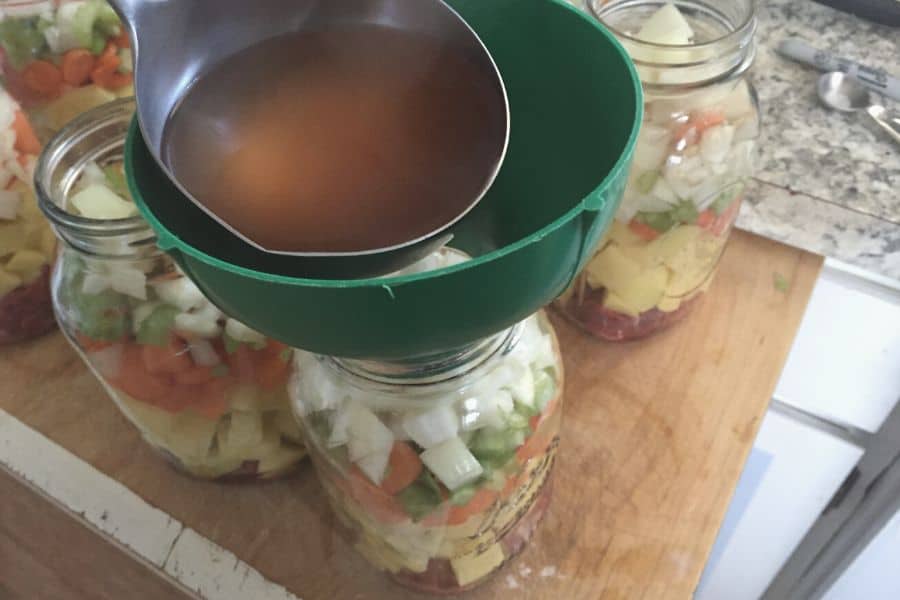 Some people ask how long it takes to pressure can meat. Because meat is a low acid food, it takes close to the longest for it to process compared to other foods, so you can count on it taking up to 1 1/2 hours to process in the pressure canner.
Fill the pressure canner with 2-3 inches of water and place the jars in the pressure canner, and then secure the lid on the canner.
Heat the water in the canner until steam starts escaping through the vent pipe. Then place the pressure regulator on the vent pipe. The pressure will slowly start building in the pressure canner.
When the canner reaches 10 pounds of pressure, process the jars in at 10 pounds pressure for 75 minutes for pints or 90 minutes for quarts. When timer goes off turn off the heat on the stove.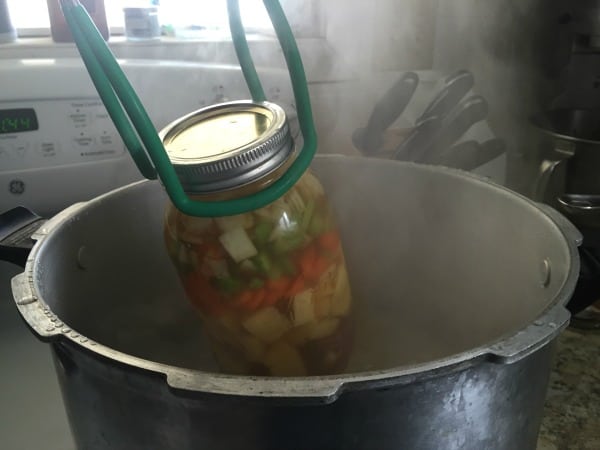 After the pressure has been completely released from the canner, remove the lid from the canner. Remove jars from canner and place on a towel on the kitchen counter to cool. It will take hours for the jars to cool completely, so let them sit until they are completely cooled off.
Shelf Life of Canned Beef Stew
Make sure lids are sealed before storing in the pantry. If you have any jars that didn't seal, place them in the refrigerator and eat them in the next week. Sealed jars can be safely stored 1-2 years.
To serve, you can eat as-is or to thicken the stew, remove some of the liquid from the stew and add a couple tablespoons of cornstarch. Stir, then add back to stew to thicken it (the cornstarch is added after canning because cornstarch is not safe to can).
If you live about 1,000 feet in elevation, download this altitude adjustment chart to find out how much extra pressure you need to use to can this recipe.
Related Pressure Canning Recipes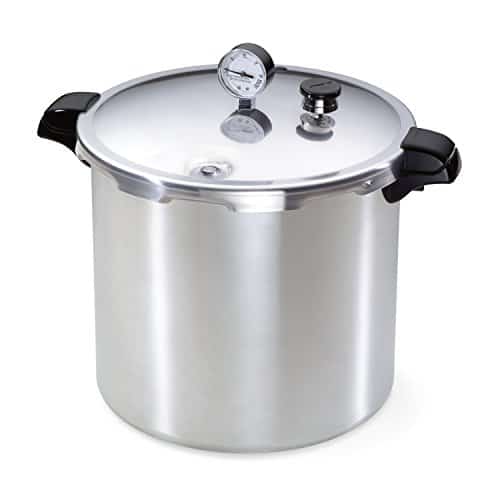 Presto 01781 23-Quart Pressure Canner and Cooker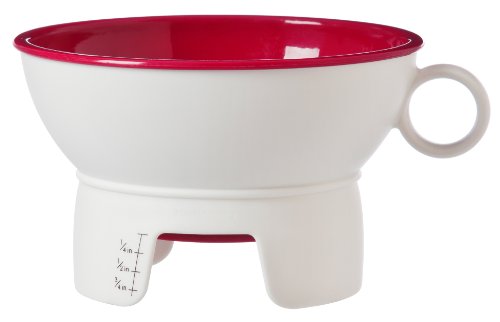 Prepworks by Progressive Canning Funnel for Regular and Wide Mouth Jars

Follow my Favorite Recipes and Canning and Preserving boards on Pinterest.