Chinese Plum Sauce
This post may contain affiliate links.
I love plums. I look forward to picking wild plums when we go camping every fall. I've tried lots of different plum canning recipes, but one can only eat so much plum jam. In fact, I've made like four different types of plum jam! This year I decided to try something different and tried canning Asian plum sauce. I was a little skeptical at first.
I was skeptical because I don't know a lot about Asian cooking and cuisine, and I did not know that plum sauce is A THING. And when I looked at the ingredients, I was confused, because it has onions, and garlic, and hot peppers in it. That doesn't sound like plum sauce at all to me (I'm envisioning applesauce).
But I decided to try making it anyway just to see what all the fuss was about, and I was NOT DISAPPOINTED. Plum sauce is amazing. The secret ingredient, in my opinion, is the ginger. I can't wait to try this with my chicken and chow mein or pork egg rolls.
I liked this recipe so much that it's now one of my top favorite plum canning recipes.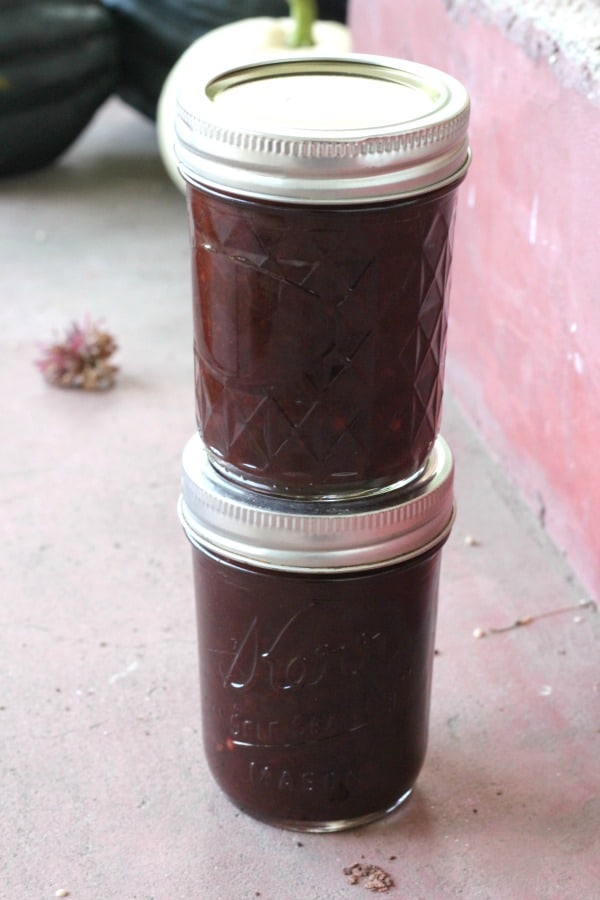 Plum Sauce Recipe
Ingredients:
2 c. light brown sugar
1 c. sugar
1 c. apple cider vinegar
3/4 c. onions, finely chopped
2 tbsp. chopped jalapeno peppers
2 tbsp. mustard seeds
1 tbsp. salt
2 cloves garlic, finely chopped
1 tbsp. ginger root, peeled and chopped
10 c. plums. pitted and finely chopped
When you are preparing this recipe you can use a sharp knife to chop up the onions, peppers, and plums, but I always use this vegetable chopper. It chops fruits and vegetables in seconds and saves me A LOT of time while I am cooking.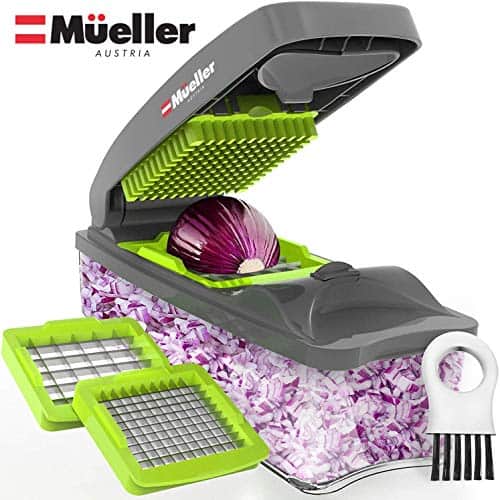 Mueller Onion Chopper Pro Vegetable Chopper – Strongest – NO MORE TEARS 30% Heavier Duty Multi Vegetable-Fruit-Cheese-Onion Chopper-Dicer-Kitchen Cutter

In a large sauce pan or stock pot, mix together brown sugar, sugar, cider vinegar, onion, jalapenos, mustard seeds, salt, garlic, and ginger root.
Bring the mixture to a boil over high heat, stirring constantly. Add the chopped plums and bring the mixture back to a boil. Reduce heat and stir occasionally, until the mixture is thick and syrup like. This will take almost 2 hours.
There is no science to this, you are cooking down the sauce until it is the consistency that you like.
Canning Directions
While the sauce is cooking, sterilize your canning jars, lids, and rings. This recipe makes approximately 4 pints or 8 half pints of plum sauce.
Ladle the hot plum sauce into the sterilized canning jars, leaving 1/2 inch headspace. You can easily measure the headspace with this inexpensive canning funnel.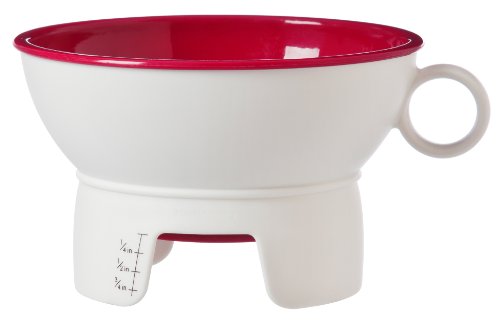 Prepworks by Progressive Canning Funnel for Regular and Wide Mouth Jars

Wipe the rims of the jars clean with a damp paper towel or dish towel. Place the lids and rings on the jars finger tight.
Place the jars in your boiling water canner, making sure that the jars are covered with 1-2 inches of water. Bring the water to a boil and process the jars for 20 minutes.
Remove the jars from the canner and place them on a towel on the kitchen counter to cool. If you have any jars that did not seal, either re-process them with new lids or place them in the refrigerator to eat within a week or two.
Sealed jars can be stored in the pantry for 1-2 years.
Uses for Plum Sauce
Serve plum sauce with your favorite stir fry, roasted pork, or chicken wings. It can be used as a dipping sauce for egg rolls, wontons, and spring rolls. You can also use it to baste chicken and pork as you cook them.
Follow my canning and preserving board on Pinterest.
Related Recipes