New to baking and don't know where to start? These no-knead dinner rolls are about as easy as you can get. No kneading necessary!
This post may contain affiliate links.
There are a lot of different ways to make dinner rolls. These are different because you don't have to knead them. You literally just mix all the ingredients together and let the yeast do its thing.
You will, however, have to set aside about 2 1/2 hours to make these: 30 minutes for prep time, 1 hours and 30 minutes for total rising time, and 30 minutes for baking.
No Knead Rolls Recipe
Ingredients:
2 c. warm water
2 packages active dry yeast
1/4 c. sugar
4 tbsp. butter, melted
2 large eggs, lightly beaten
1 1/2 tsp. salt
6 c. flour
Place warm water in large mixing bowl. Water can be hot tap water. You don't want it lukewarm, but you don't want it boiling either. Sprinkle the yeast on the water and let it set until the yeast is bubbly, about 5 minutes.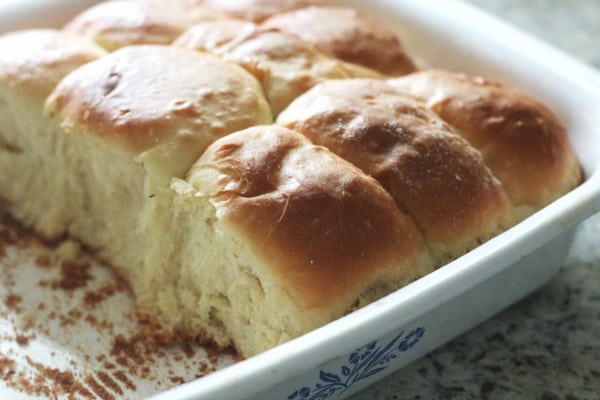 Add sugar, melted butter, eggs, and salt. Stir to combine.
Add flour, stir until the mixture becomes a sticky dough. Brush the top of the dough with butter and cover with plastic wrap. Place in a warm area for 1 hour, until dough has doubled in size.
Remove dough from bowl and place on a floured surface. Shape dough into the form of a log and cut it into 18 equal pieces.
Related Article: No Knead Dill Rye Bread
Flatten each piece of dough and then fold edges to the bottom, forming a round ball of dough. Place balls in greased 13x9x2-inch baking pan, smooth side of dough facing up.
Cover pan with plastic wrap and let rise for 30 minutes.
Preheat oven to 400 degrees. Brush rolls with melted butter. Bake for 35 minutes, until golden brown. Cover rolls with foil during the last 15 minutes of baking to prevent over-browning.
Related Dinner Roll Recipes
Follow my favorite recipes board on Pinterest.