My family really enjoys Hawaiian rolls, and I finally found a great recipe to try. I have never made homemade rolls before, but this recipe was really easy, and the rolls turned out great! Another great thing about these is that you can freeze them and then bake them later.
This post may contain affiliate links.
Hawaiian Sweet Roll Recipe
Ingredients:
1/4 c. milk
1/4 c. butter, melted
1/3 c. brown sugar
2 1/4 tsp. active dry yeast (1 packet)
1 can crushed pineapple
2 eggs, beaten
4 c. bread flour*
1 tsp. salt
*Note: You can use all purpose flour or bread flour for this recipe, but you will find that bread flour will give you a better end product because it is specifically made for making homemade breads and rolls.
You will find that yeast is a lot more inexpensive in bulk packages then in the smaller envelopes. Just store the yeast in the freezer until you need it, and it will keep much longer than the expiration date on the package. You can purchase bulk yeast from Amazon.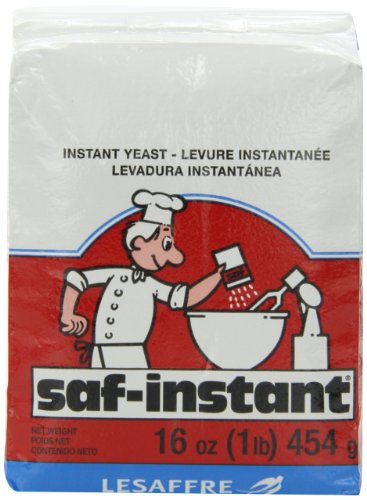 Saf Instant Yeast, 1 Pound Pouch

Butter a large mixing bowl and set aside.
Heat milk to 110 degrees. The milk should be very warm to the touch but not boiling hot. If the milk is too hot it will kill the yeast.
Place the heated milk, melted butter, brown sugar, and yeast into a mixer that has a dough hook. I used my Kitchen Aid mixer and it worked great. Mix ingredients until well combined. Let the yeast mixture set for about 7 minutes, or until yeast begins to bubble.
Drain the crushed pineapple. Measure 2/3 c. pineapple juice and 1/3 c. crushed pineapple. You won't need the rest of the can of pineapple for this recipe. Add the pineapple juice, crushed pineapple, and beaten egg to yeast mixture. Stir.
Add 4 cups flour and salt. Knead dough in the mixing bowl with the dough hook on medium-low until the flour is incorporated into the dough.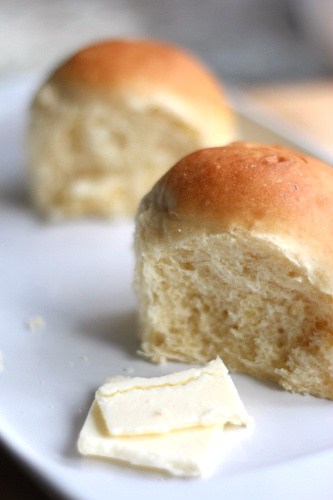 Mix on medium speed until the dough is soft but not sticky. This will take about 5 minutes. If at this point it is still sticky, add a little flour until the dough becomes soft and smooth.
Remove the dough from the mixing bowl and place it in the buttered mixing bowl. Set the bowl in your oven (turned off) until the dough doubles in size (about 1 1/2 hours). Remove the bowl from the oven.
You will need to butter two pans, a 13x9x2-inch baking dish, and a 8-inch round cake pan. Remove the dough from the bowl and divide it in half. Divide each half into eight equal pieces. You should have 16 pieces all together.
Next form each piece of dough into a smooth ball. You can do this by gently pulling the edges around the ball and pinching the bottom of it together. This makes the top of the ball round and smooth (the key to perfect looking rolls).
Place twelve of the rolls in the 13x9x2-inch baking dish and the remaining four rolls in the cake pan. Cover the rolls with plastic wrap and let them sit until they double in size, 45 minutes to 1 hour.
If you are not going to serve the rolls that day, before letting them raise for the second time you can place them in the refrigerator for as long as 2 days. Just remove them from the refrigerator and allow them to double in size before baking. You can also freeze the rolls.
Just place the balls you just made on a cookie sheet and place in the freezer. After the rolls are frozen, put them in a freezer bag. When you are ready to bake them just set them in the baking pan and let them double in size before baking.
When you are ready to bake them, preheat the oven to 350 degrees. Bake the rolls for 20-25 minutes, or until golden brown. Remove the rolls from the oven and brush them with melted butter. Cool before serving.
These rolls are really, really good. I like the idea of freezing them ahead of time so I can only bake as many as we will need. If there aren't very many leftovers, I won't feel like I need to eat them all!
Related Dinner Roll Recipes
Follow my Favorite Recipes board on Pinterest.