When the weather gets cooler, I love making quick breads like cranberry orange bread. I have seen a couple of versions of this apple fritter bread, but I was trying to find one that I liked.
This post may contain affiliate links.
This recipe is a little tricky in that you have to let the bread cool down all of the way before you add the frosting and slice it. This bread is very moist because of all of the apples in it, and it will fall apart if you're not careful. But don't let that scare you, it is definitely worth the effort!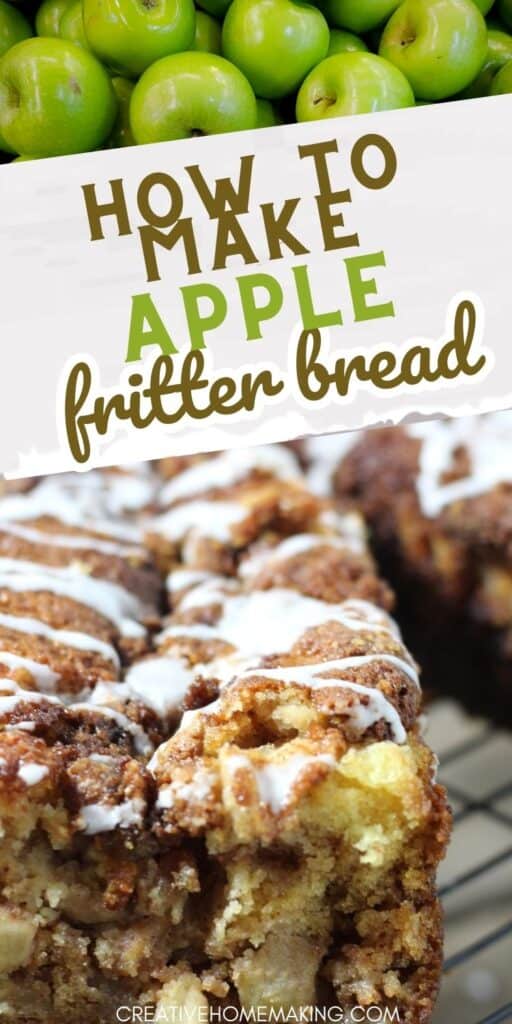 Apple Fritter Bread Recipe
Ingredients:
1/3 c. brown sugar
2 tsp. ground cinnamon
2 medium Granny Smith apples, peeled and chopped
1/2 c. (1 cube) butter, room temperature
2/3 c. granulated sugar
2 eggs
1 1/2 tsp. pure vanilla extract
1 1/2 c. flour
1 3/4 tsp. baking soda
1/2 c. + 1 tbsp. milk
1/2 c. powdered sugar
Directions:
Preheat oven to 350 degrees. Grease the bottom of a loaf pan with butter or cooking spray and set aside. In a small bowl combine brown sugar with 1 tsp. cinnamon. In another bowl, stir together the peeled, chopped apples and the other teaspoon of cinnamon.
Related Article: 8 Delicious Fall Desserts: Indulge in the Flavors of Fall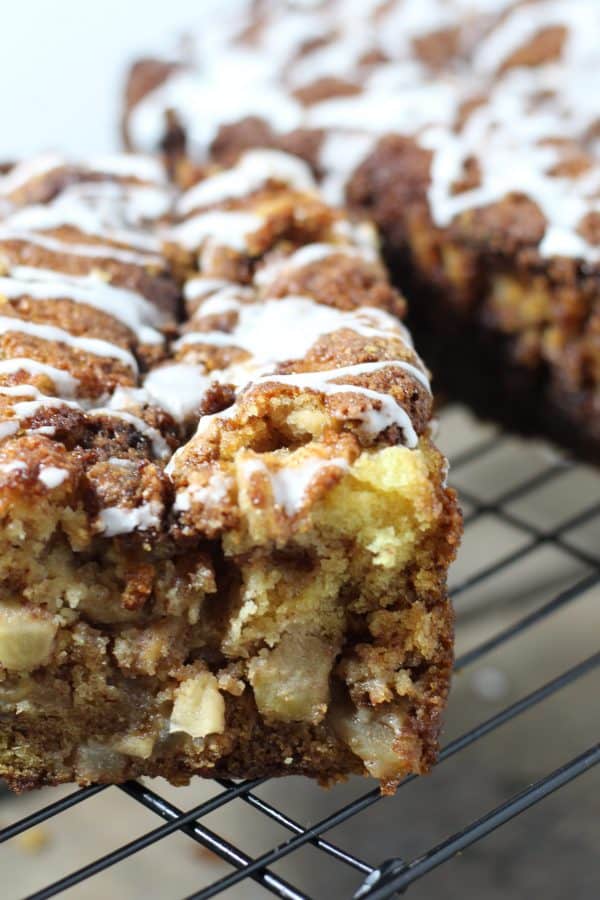 Beat together the butter and granulated sugar. Beat in the eggs. Add vanilla extract.
Stir the milk, baking soda, and flour into the egg mixture.
Pour half of the batter into the greased loaf pan. Place half of the apples on top of the batter, and place half of the brown sugar mixture on top of the apples. Gently press the apples into the batter with the palm of your hand.
Related Article: 6 Apple Recipes to Satisfy Your Fall Cravings
Pour the remaining batter over the apples. Place the remaining apples and brown sugar mixture on top of the batter, and again gently press the apples into the batter.
Bake for 50-60 minutes, until toothpick comes out clean. Let bread cool in pan for 15 minutes, before removing it from the pan. Let it cool completely on a wire rack. After bread has cooled, drizzle frosting on top.
Prepare frosting by stirring together 1/2 c. powdered sugar and 1 tbsp. milk. Make sure the bread is cooled completely first, or the frosting will melt on the bread.
Like this recipe? Try my recipe for cranberry orange pound cake.
Related Recipes
Follow my Fall and Thanksgiving board on Pinterest.