Until not very long ago, I didn't even know that pull apart bread was a thing! I've had monkey bread before, in all its cinnamon glory, but I didn't know you could make all different kinds of pull apart breads. This garlic pull apart bread is very easy to make, and makes a great addition to any home cooked meal.
This post may contain affiliate links.
Pull Apart Garlic Bread Recipe
Ingredients:
1 c. warm water
2 tbsp. sugar
2 tsp. active dry yeast
1 c. milk
2 tbsp. unsalted butter, softened
2 1/2 tsp. salt
6 c. flour
Topping:
8 tbsp. butter, melted
1/4 c. fresh parsley, finely chopped (or 4 tsp. dried)
2 tbsp. fresh oregano (or 1 tsp. dried oregano)
4 cloves garlic, minced
2 tsp. salt
*Save yourself money by stocking up on bulk yeast! I always buy my yeast in bulk and store it in the freezer. It will last for a year or more in the freezer. Just take it out when you need it.
Place warm water in a mixing bowl. Water should be very warm (hot tap water) but not boiling. The temperature should be between 110-115 degrees F. Sprinkle yeast and sugar on top of water. Let sit 5 to 10 minutes, until yeast looks foamy.
Mix in softened butter, milk, salt, and 3 c. flour. Stir in rest of flour. Using dough hook on a stand mixer, knead for 7 to 10 minutes. If you don't have a mixer, you can knead it by hand. I use a KitchenAid stand mixer for making homemade breads and rolls.
Related Article: The Best Way to Freeze Bread
Divide dough into two equal portions (this recipe makes 2 loaves bread).
Mix melted butter, parsley, oregano, garlic, and salt in a small bowl.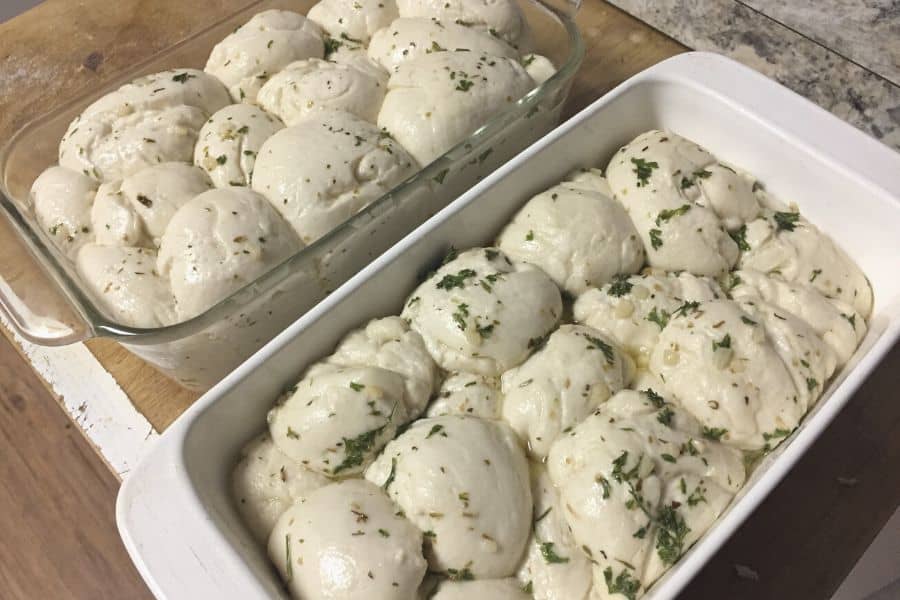 With a sharp knife, cut dough into approximately 1 inch pieces. Form each piece into the shape of a ball. Dip each ball into the melted butter mixture and then divide the balls between two greased loaf pans. Cover loaf pans with plastic wrap and let rise for 1 hour.
Preheat oven to 350 degrees. Bake for 30 minutes, until golden brown. Sprinkle with salt before serving.
The second loaf can be wrapped and in foil and frozen for another meal.
Related Dinner Roll Recipes
Follow my favorite recipes board on Pinterest.