Easy Fudge Recipe
This post may contain affiliate links.
As Christmas gets closer, I am looking for quick easy holiday dessert recipes. The fun of spending hours in the kitchen baking new delicious desserts is definitely wearing off (I did make these amazing Kentucky Bourbon Balls last week though). I am looking for some easy treats like this three ingredient fudge that I can make quickly and at the last minute.
I was a little skeptical at first whether it was really that easy to make. It definitely IS easy, there is no question about that. I know there are a lot of different fudge recipes out there, and they vary in quality and taste.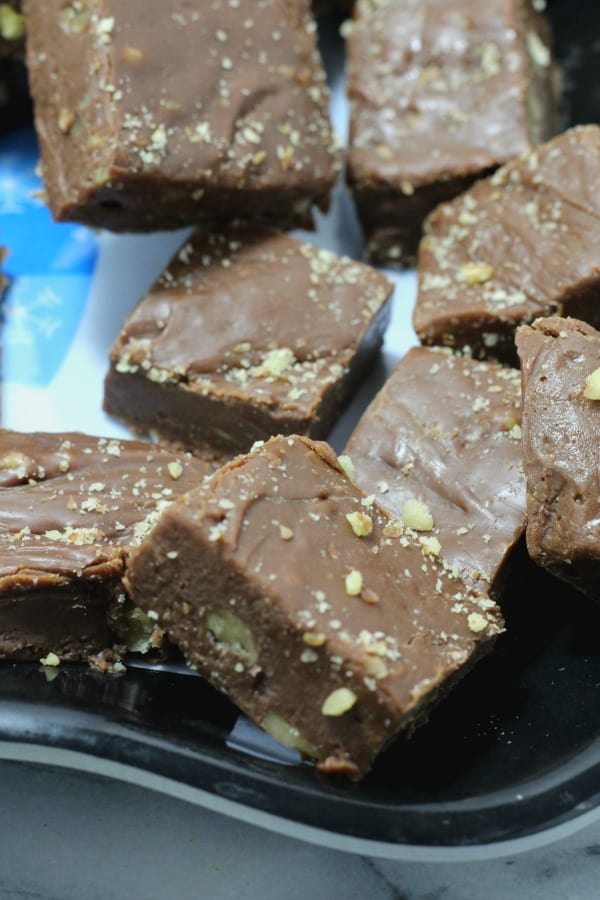 This definitely is not a gourmet fudge, but if you are looking for a quick and easy candy to make to give as a Christmas treat, then I think you will be happy with this fudge recipe. I've included the basic fudge recipe below.
Ingredients:
1 package chocolate chips
1 can sweetened condensed milk
1/2 cup chopped walnuts* (optional)
I chop my nuts with a nut grinder like this one. After you try one of these you will never go back to chopping nuts by hand again!
There are a couple of different ways you can prepare this recipe. The easiest way is in the microwave.
Just pour the chocolate chips and sweetened condensed milk into a large microwave safe bowl and microwave on high for 1 minute.
Remove the bowl from the microwave and stir until chocolate chips are completely melted. Stir in nuts (reserve a few to sprinkle on the top of the fudge).
Instead of melting the chocolate chips in the microwave, you can also melt them in a double boiler. Placing them in a bowl over a pan of boiling water also works.
After the chocolate chips are melted, stir in the nuts and quickly pour the fudge into a 8×8 pan (I used a similar sized casserole dish). If you place aluminum foil in the bottom of the pan first it will be easier to get the fudge out later.
Spread the fudge in the prepared pan with a spatula. Sprinkle extra nuts on top. You can also sprinkle crushed candy canes or peppermint candies on top for a more festive Christmas fudge.
Place the dish in the refrigerator overnight. The next day your fudge should have hardened so that you can cut it. Lift the edges of the aluminum foil to remove the fudge from the pan.
Cut into squares. Enjoy!
Related Holiday Recipes
Follow my holiday recipes board on Pinterest.