I am not the world's best candy maker, so I am always looking for good, easy candy recipes. Most of them require you to use a candy thermometer. While candy thermometers can be helpful, I found a wonderful English Toffee recipe that does not require a candy thermometer, and it turned out perfectly. And what's even better? It only has four ingredients!
This post may contain affiliate links.
English Toffee
Ingredients:
1 c. nuts, chopped
3/4 c. brown sugar, packed
1/2 c. butter
1/2 c. chocolate chips
For the nuts, you can use the nuts of your choice. I chose chopped almonds because I am picky about what nuts I eat, and almonds are my favorite. You can also use walnuts or pecans.
Grease an 8×8-inch baking dish with a little butter. This recipe doesn't make a lot of toffee, so I just made 5-6 batches of it. You can also use a round cake pan or a pie plate in the place of the baking dish.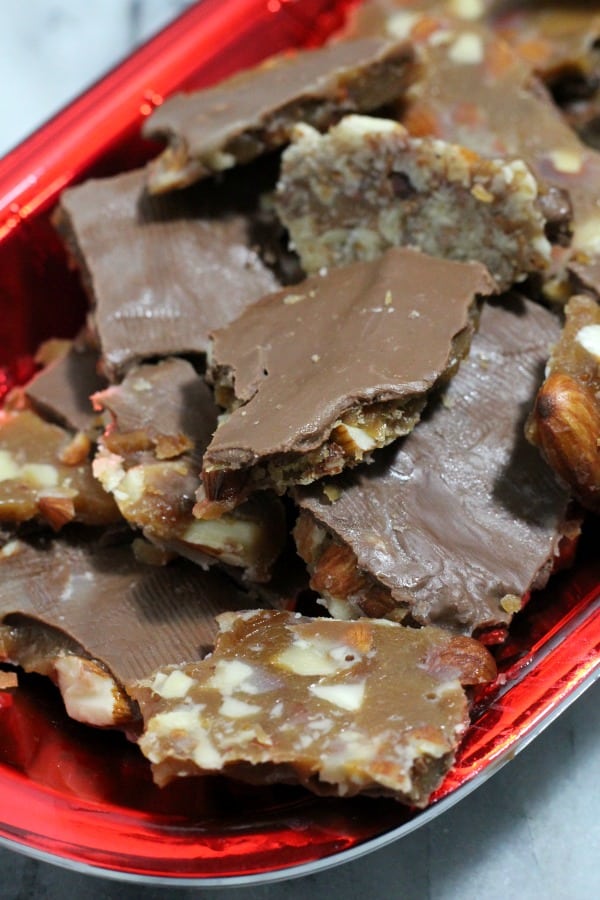 Spread the chopped nuts evenly across the bottom of the greased baking dish.
In a small saucepan, melt the brown sugar and butter on medium heat and boil for 7 minutes. This step is very important.
Don't try to do anything else while you are preparing this recipe or you will burn the butter and have to start over. Ask me how I know.
Set the timer for 7 minutes the second the mixture starts to boil and it will turn out perfectly every time.
Remove the pan from the heat and pour the mixture into the greased baking dish. Sprinkle the chocolate chips on top.
Let them sit for a few minutes to soften and then spread them out with a knife.
Place the toffee in the refrigerator until it hardens. Break into small pieces.
This toffee is a great gift to give to family and friends, and a real treat. There's nothing like homemade candy!
(By the way, I have nothing against candy thermometers, but mine is not working and I need to get a new one. I was really excited I got this recipe to work without it!)
Follow my Christmas board on Pinterest.
More Holiday Candy Recipes