I love making homemade candy and cookies to give away during the holiday season. Some of my favorites are this old-fashioned divinity and this homemade English toffee. I also love this three-ingredient fudge. This year I decided to try making microwave peanut brittle. It is super easy to make and will be a great addition to my holiday treat bags.
This post may contain affiliate links.
Microwave Peanut Brittle Recipe
1 c. sugar
1/2 c. light corn syrup
1 c. unsalted peanuts
1/4 tsp. salt
1 tbsp. butter
1 tsp. vanilla extract
1 tsp. baking soda
This recipe is very easy to make if you follow the directions exactly. You will want to do a test run with your microwave to see if your microwave is more powerful than what this recipe calls for.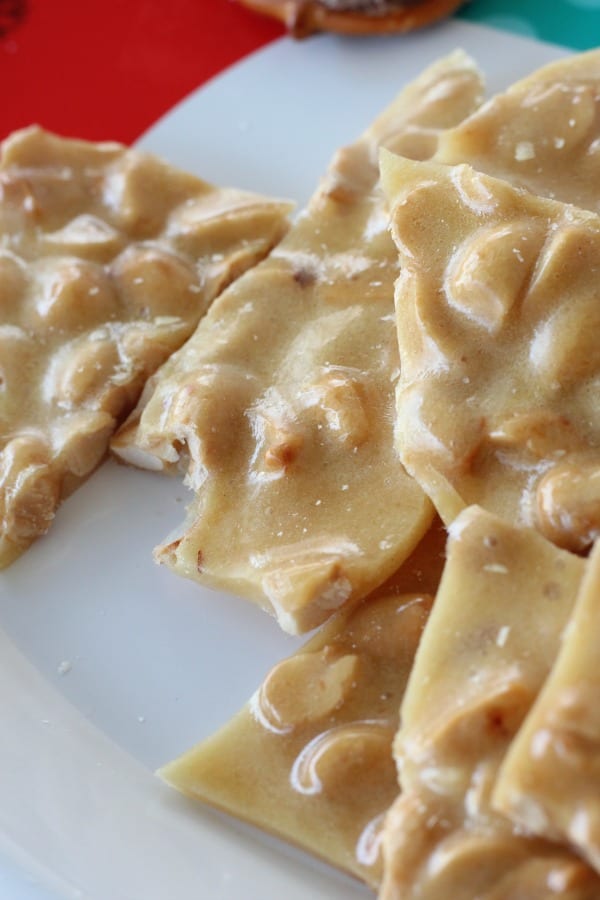 The original recipe said to run your microwave on 100% power, but I had to kick mine down a notch to be running at 90% power. I think this recipe was developed with an older microwave in mind. If your microwave is less than about 3 years old I would definitely run it at 90% power.
The nice thing about this recipe is that you can tell when the peanut brittle is done. Your butter and corn syrup mixture will go from being white in color to a golden brown. If you take the bowl out of the microwave when the mixture is a nice light golden brown, it will turn out perfect. Definitely keep a close eye on it!
Butter a cookie sheet. In a large microwavable mixing bowl, stir together sugar and corn syrup. Microwave for 4 minutes.
Stir in the peanuts and salt, and microwave for 3 1/2 minutes.
Mix in the butter and vanilla extract, and stir until butter is melted. Microwave for 1 1/2 minutes.
Remove the bowl from the microwave and stir in the baking soda. Pour the peanut brittle mixture onto the greased baking sheet, spreading slightly with a spatula if necessary. The peanut brittle will flatten as it cools.
Let the peanut brittle cool to room temperature, then break it into pieces.
Follow my holiday recipes board on Pinterest.
Related Recipes