If you love the sweet, chewy taste of raisins, you may be surprised to learn that you can make your own at home using a dehydrator. Making raisins with a dehydrator is a simple and easy process that requires just a few basic ingredients and a little bit of time. By dehydrating your own grapes, you can enjoy the rich, fruity flavor of raisins in your favorite recipes or as a healthy snack. In this article, we'll walk you through the steps of making raisins with a dehydrator, so you can enjoy this delicious treat any time of year.
This post may contain affiliate links.
What to Do With Homegrown Grapes
Every fall I stock up our pantry with homemade grape juice and grape jelly, but I have often wondered how to make raisins with my dehydrator. Last year I decided to try making homemade raisins for the first time, and I'm currently busy making them again this year.
Related Article: Best Grapes for Red Wine: A Friendly Guide to Top Varieties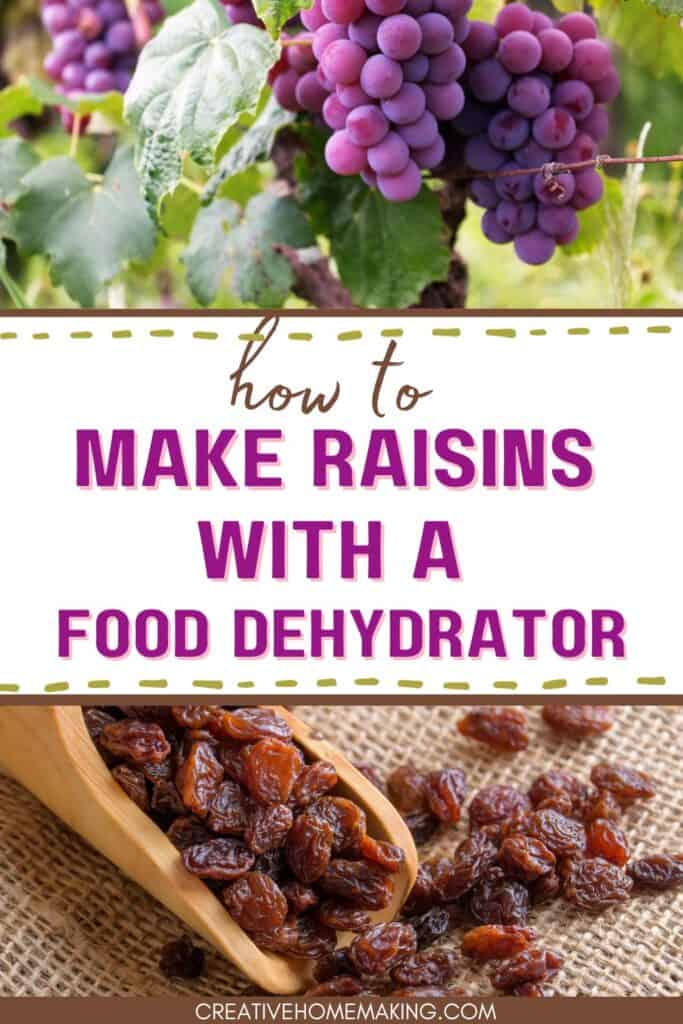 How Do You Make Raisins from Fresh Grapes?
Raisins are just dried grapes. If you wonder how raisins are made, you just need to place your homegrown grapes in a food dehydrator and let them dry for a day or two until they shrivel up into little raisins.
You can make raisins from any kind of grapes, but it is best to use seedless grapes. You can use green or purple grapes. If you are looking for raisins like the ones you buy at the grocery store, then you want to use purple grapes. Green grapes will result in nice looking golden raisins.
To prepare your grapes for the food dehydrator, you just need to remove the stems and give them a good rinse in a colander. If the grapes are large, you might want to cut them in half. If they are small you can dehydrate them as is.
How to Make Raisins in a Dehydrator
It is easiest to dry grapes by drying them in a food dehydrator. If you are not going to be drying large amounts of raisins, you can easily get by with a small food dehydrator like the Nesco Snackmaster Pro.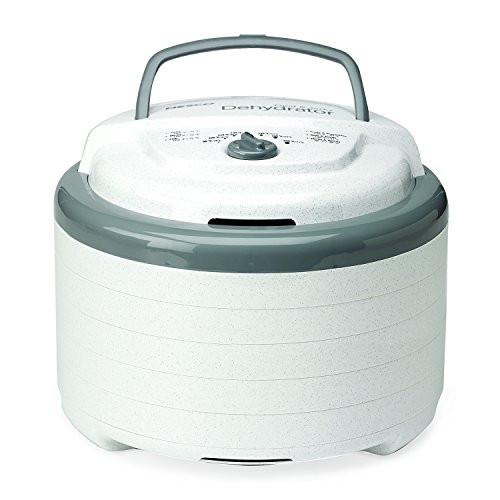 NESCO FD-75A, Snackmaster Pro Food Dehydrator, Gray

If you are a wanna be homesteader like myself, then you are going to want a big heavy duty dehydrator like this Excalibur food dehydrator that has nine drying racks. I have had mine for several years and LOVE it. I use it all of the time.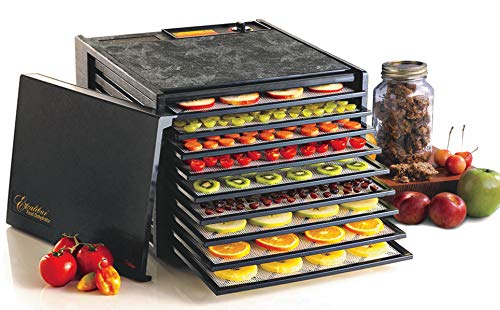 Excalibur 3900B 9-Tray Electric Food Dehydrator with Adjustable Thermostat Accurate Temperature Control Faster and Efficient Drying Includes Guide to Dehydration Made in USA, 9-Tray, Black

How to Dehydrate Grapes
After you have washed the grapes, arrange them on the trays in your food dehydrator. You can place quite a few grapes on one tray. It is okay if they are touching one another.
If your dehydrator has a temperature setting, set it for about 135 degrees.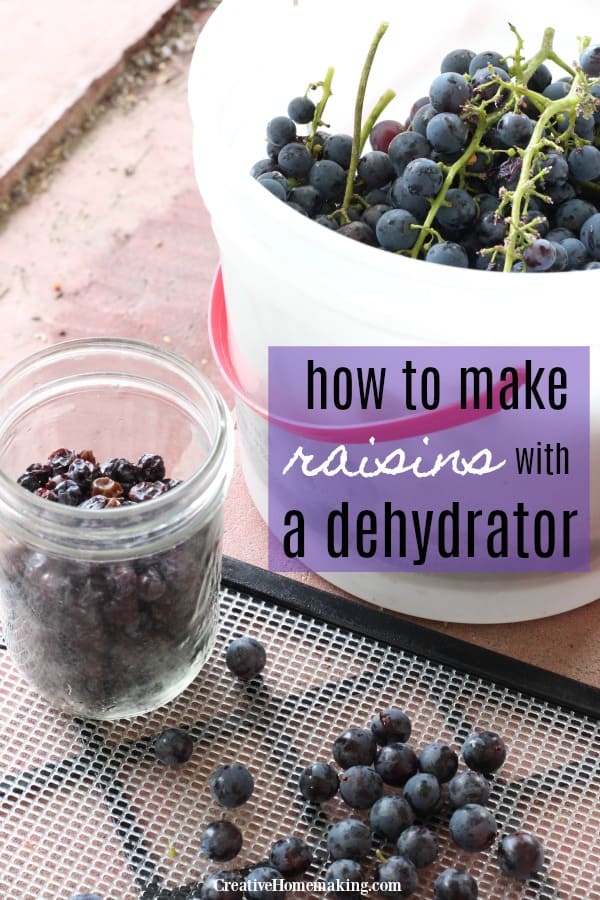 How Long Do You Dehydrate Grapes?
It takes grapes 24 to 48 hours to dry properly and turn into nice plump little raisins. Start checking them after 24 hours and remove the ones that are done. The smaller ones will be done first. It will take up to 48 hours for larger grapes.
If you are using a food dehydrator like mine with multiple trays, you can just take out trays that are done and put in new trays of grapes as they finish drying. In this way you can leave your dehydrator running for several days if you have a lot of grapes to dry. Just keep replacing the trays with new grapes.
How Long Do Homemade Raisins Last?
Homemade raisins, like any raisins, will eventually dry out if you don't use them in a reasonable amount of time.
I like to store my raisins in canning jars with lids. They generally will last 6 months to a year. You can place an oxygen absorber in the jar to help keep them fresh.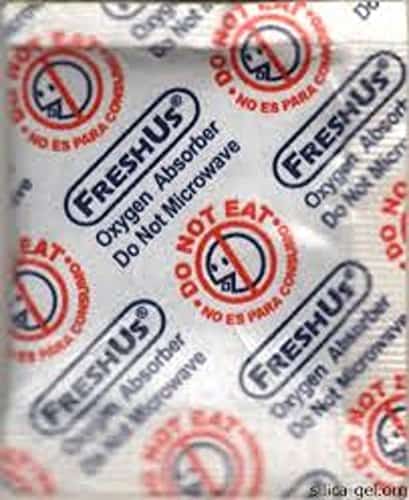 500cc Oxygen Absorbers – Packs of (10) Scavengers (10) (100 Total Absorbers)

Related Recipes
Making raisins with a dehydrator is a simple and rewarding process that anyone can do at home. By following these easy steps and using your own homegrown grapes, you can create delicious, healthy raisins that are perfect for snacking or adding to your favorite recipes. With a little bit of patience and a good dehydrator, you can enjoy the rich, fruity flavor of homemade raisins all year round.
Follow my canning and preserving board on Pinterest.