How to Freeze Stewed Tomatoes
This post may contain affiliate links.
I was really looking forward to growing a lot of fresh tomatoes in my garden this year so that I could freeze them for cooking this winter. Unfortunately, my tomatoes did horribly this year.
I got a few here and there, and I did manage to get enough cherry tomatoes to make homemade sun-dried tomatoes, but I ended up buying a box of big, beautiful tomatoes at our local farmer's market so that I was able to freeze tomatoes after all.
Related Article: Canning Diced Tomatoes
There are a number of ways you can freeze tomatoes, but I wanted to freeze stewed tomatoes because that is what I am most likely to use in soups, stews, and casseroles during the winter.
If you find canning time consuming or intimidating, then you will love how easy it is to freeze tomatoes. Anyone can do it!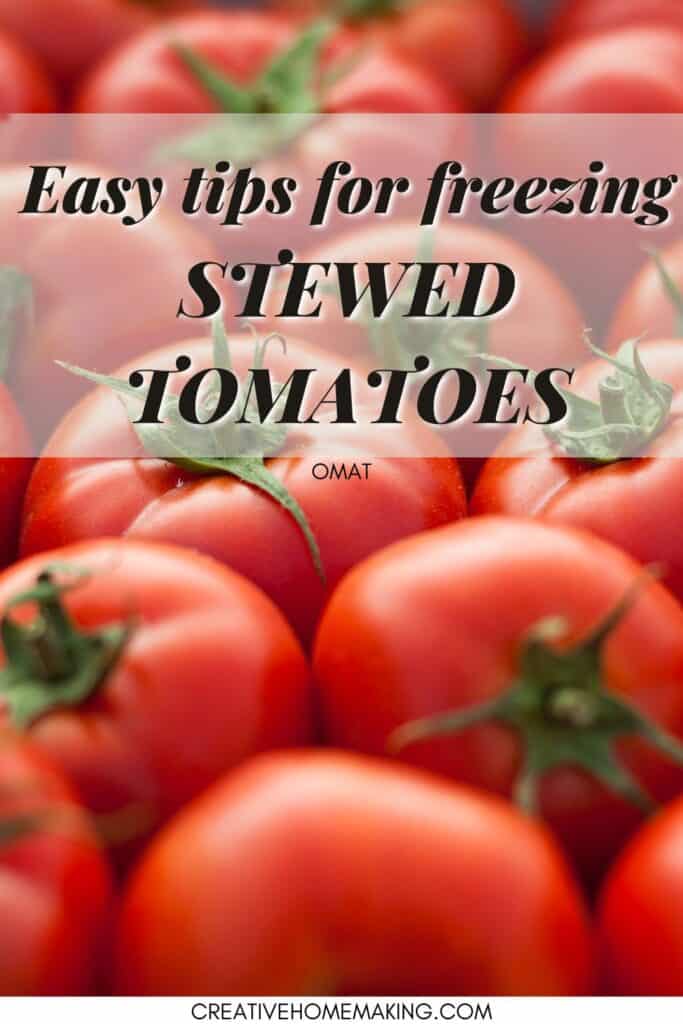 How to Prepare Tomatoes for Freezing
First you need to peel the tomatoes (I didn't but this is a matter of preference). To peel them, dunk each tomato into boiling water for 1 minute and then immediately place in a bowl of ice cold water. The peels will slide right off.
You will need a large sauce pan to stew the tomatoes. Since I had a whole box of tomatoes to prepare, I used my turkey roasting pan, which worked great.
Related Article: Grow Big Tomatoes in Pots: Tips and Tricks for a Bountiful Harvest
Chop the tomatoes and place them in the pan. You won't need to add any water to the pan because as the tomatoes cook they will release plenty of water so that the tomatoes won't stick to the pan.
You can either freeze the tomatoes plain, or you can add other vegetables to them such as chopped onion, bell peppers, or garlic. Adding these ingredients now will save time when you are preparing meals later, if you know what you are going to be preparing with the tomatoes. I added lots of onions to mine.
Related Article: How to Blanch Broccoli: A Step-by-Step Guide
Cook the tomatoes for an hour or so until they soften. You can mash them with a potato masher if you want to break down the larger chunks of tomatoes.
Let the mixture cool completely and then pour into quart sized freezer bags. I placed 3 cups in each freezer bag because that is how much I normally use in most recipes. You can also use freezer containers such as these great 8 oz. freezer containers
from Amazon.
Place freezer bags flat in the freezer in a single layer until frozen. After they are frozen, you can stack them on top of each other to free up freezer space.
Follow my canning and preserving board on Pinterest.
Related Articles