DIY Tomato Plant Food
This post may contain affiliate links.
I love growing tomatoes in my garden every year. They are a must for canning my homemade salsa. Over the years I have learned some tips for growing tomatoes. Here is the best natural fertilizer for tomatoes.
See Today's List of Best Organic Garden Fertilizers

Using Epsom Salt to Fertilize Tomatoes
Many people wonder if epsom salt is a good fertilizer for tomatoes? In fact, many gardeners do use epsom salt as a homemade fertilizer for both tomato and bell pepper plants.
Epsom salt contains magnesium and sulfur, which are both very beneficial to tomatoes and bell peppers. The magnesium helps seeds to germinate, and also helps the plant in fruit production, which is very important during growing season.
Related Article: Why Are the Bottoms of My Tomatoes Black? Causes and Solutions
Most garden soil lacks in magnesium due to soil depletion, that is why you will often see the leaves on your tomato plants turning yellow during the summer. Applying a fertilizer that includes epsom salt will help the plants with that magnesium deficiency.
To make your own fertilizer, fill an empty gallon milk container with water and add 1 tablespoon of epsom salt to it. Pour the mixture into a clean empty spray bottle and spray on your tomato plants. Apply this DIY fertilizer for tomato plants every 2 weeks during growing season.
You can find epsom salt in your local drugstore, or you can also order it very inexpensively online from Amazon.
Using Compost to Fertilize Tomatoes
If you like to make your own compost by saving kitchen scraps, you can use your compost to naturally fertilize your tomato plants. I like to use this DIY composter, but you can also find small kitchen composters inexpensively on Amazon.
Work the compost into the soil around the base of your plants monthly during growing season.
Related Article: Grow Big Tomatoes in Pots: Tips and Tricks for a Bountiful Harvest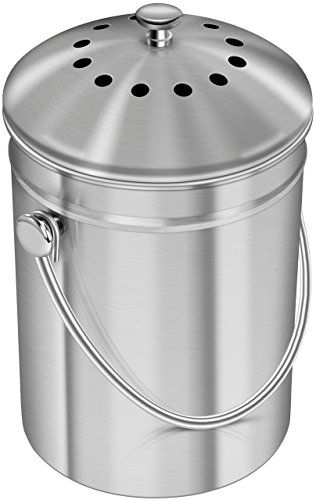 Utopia Kitchen Stainless Steel Compost Bin for Kitchen Countertop – 1.3 Gallon Compost Bucket Kitchen Pail Compost with Lid – Includes 1 Spare Charcoal Filter

Using Fish Emulsion to Fertilize Tomatoes
Fish fertilizer is also a great natural fertilizer for tomatoes. You learn to make your own fish fertilizer, but fish fertilizer is very inexpensive and you can order it online from Amazon and have it delivered to your door in a day or two.
Fish fertilizer aids in plant growth, helps to rebuild the soil, and offers higher production yields. You just mix it with water and spray it on your plants, apply it directly to the soil around the plants, or using a drip system.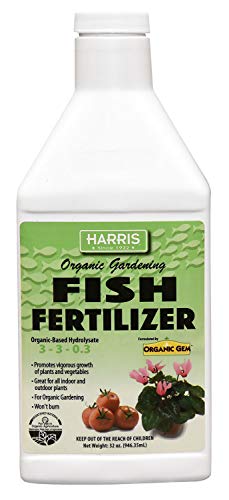 Harris Organic Plant Food & Plant Fertilizer, Hydrolyzed Liquid Fish Fertilizer Emulsion Great for Tomatoes and Vegetables, 3-3-0.3, 32oz

Related Articles
Follow my gardening for beginners board on Pinterest.