How to Can Chokecherry Jelly
This post may contain affiliate links.
If you have ever seen chokecherries, then you know that they are tiny pint sized cherries that are definitely too tart to eat off the tree. They make a great jelly or jam. Our mothers and grandmothers often used chokecherries for canning chokecherry jelly in the old days. Chokecherry jelly is now one of my favorite top 10 easy homemade jelly recipes for beginning canners.
The difference is between chokecherry jam and chokecherry jelly is how well you strain the chokecherries through the jelly bag. If you don't squeeze the bag at all and just let the juice drip through, you should end up with a relatively clear jelly.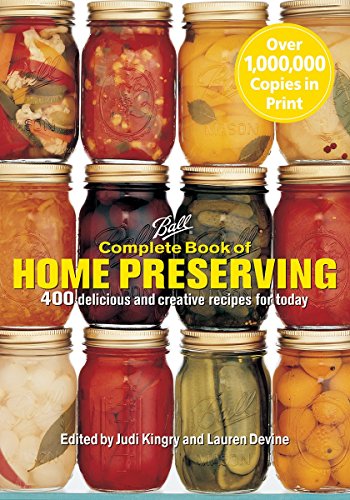 Ball Complete Book of Home Preserving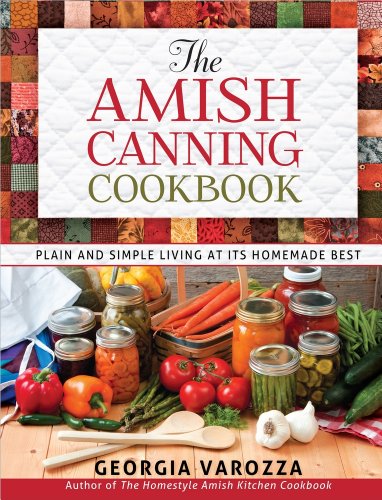 The Amish Canning Cookbook: Plain and Simple Living at Its Homemade Best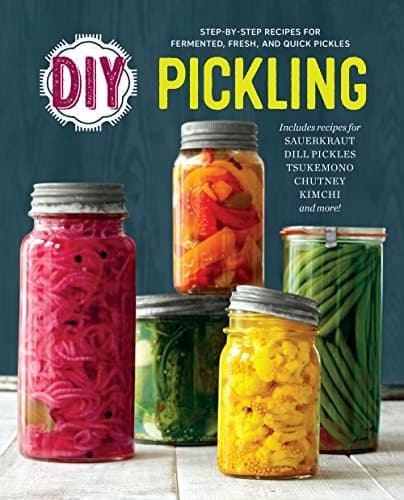 DIY Pickling: Step-By-Step Recipes for Fermented, Fresh, and Quick Pickles

If some of the fruit pulp ends up in the juice, you can still prepare the recipe the same way, the end product will just end up not being as clear and it will look more like a jam than a jelly.
Making jelly isn't hard if you have the right equipment. You too can easily learn how to make chokecherry jelly just like grandma made.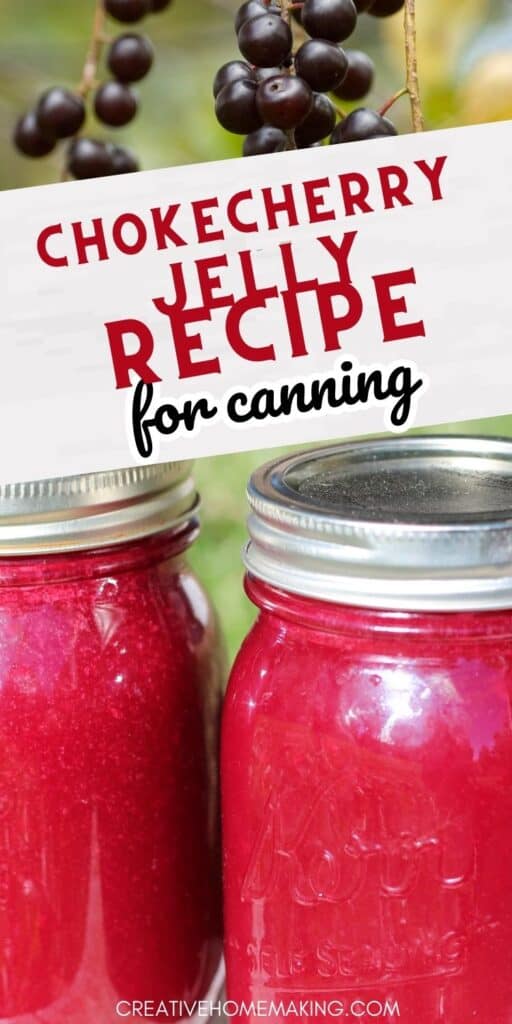 Chokecherry Jelly Recipe
Ingredients:
4 lb. chokecherries
4 1/2 c. sugar
1 pkg. or 6 tbsp. powdered pectin*
1/4 c. lemon juice
1/4 tsp. butter (optional)
Note: If you are going to make a lot of jam and/or jelly, then you HAVE to try this powdered pectin that you can buy in bulk from Amazon. Six tablespoons of this pectin is the equivalent to one box of Suregel pectin. This is the ONLY way to buy pectin inexpensively if you are going to buy a lot of it (like I do!).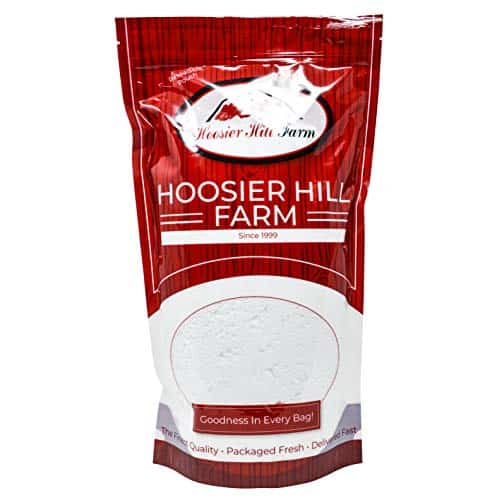 Hoosier Hill Fruit Pectin, 2 lb bag

Rinse chokecherries. Place in a large sauce pan with 1 c. water. Simmer for 10-15 minutes, until chokecherries are soft. Mash chokecherries with a potato masher.
Place chokecherries in a jelly bag to strain juice. Measure 3 c. juice, adding a little of water if necessary to make exactly 3 cups.
Combine chokecherry juice, lemon juice, and pectin in a large sauce pan. Stirring constantly, heat until boiling. Boil for one minute.
Add the butter and return to a boil. Add the sugar to the pot all at one time (measure it and have it ready ahead of time). Stir until sugar is dissolved. Return to a boil and boil for one minute.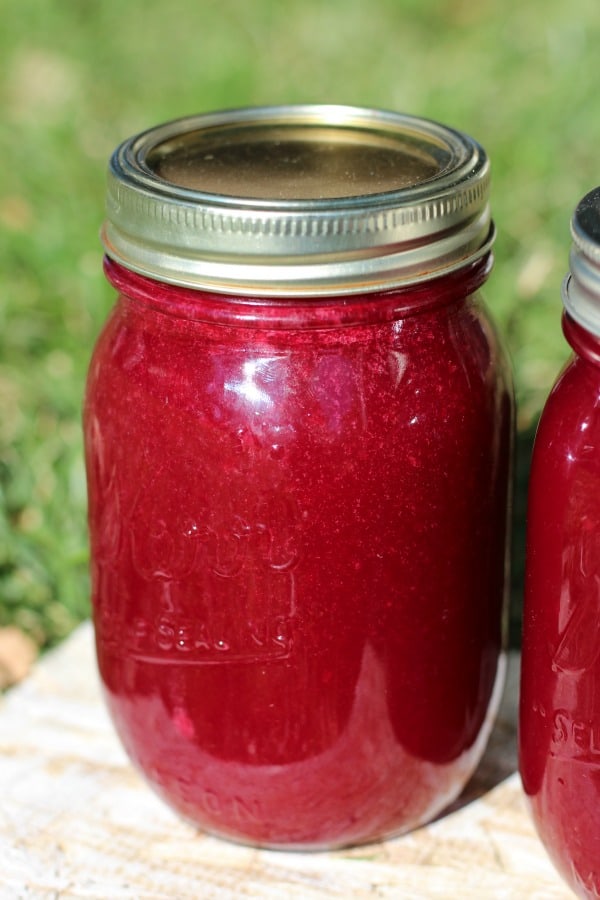 Canning Chokecherry Jelly
Remove the pan from the heat. Remove any foam with a metal spoon. Ladle the jelly into hot sterilized jars, leaving ¼ inch head space. You can easily measure the headspace with this inexpensive canning funnel.
Wipe the rims of the jars with a damp paper towel or kitchen towel. Place the sterilized lids and rings on the jars.
Place the jars in your boiling water canner and make sure the jars are covered with 1-2 inches of water. Bring water to a boil and process jars for 5 minutes.
Remove jars from the boiling water canner and place them on a towel on the kitchen counter to cool. Let jelly sit for at least 24 hours to give it time to set. Sealed jars can be stored in the pantry for 1-2 years. If you have any jars that didn't seal, place them in the refrigerator to eat in the next month or two.
Yield: 3 pints or 6 half-pints
Give this old-fashioned chokecherry jelly recipe a try and see what you think!
Like this recipe? You might also like this recipe for canning cherries or this recipe for canning maraschino cherries.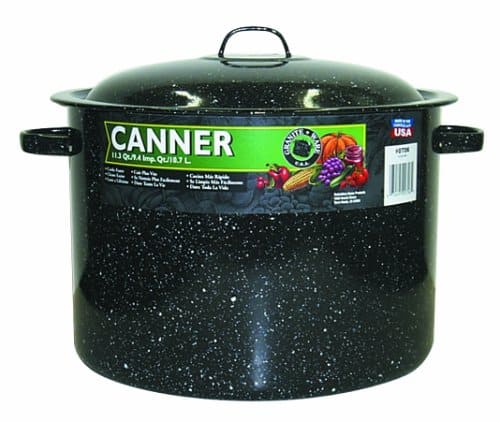 Granite Ware Covered Preserving Canner with Rack, 12-Quart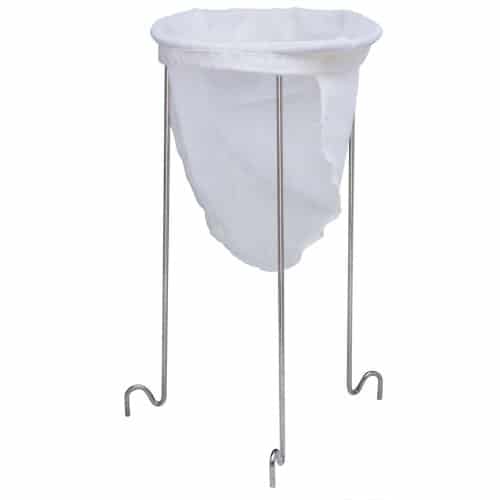 Norpro Jelly Strainer Stand with Bag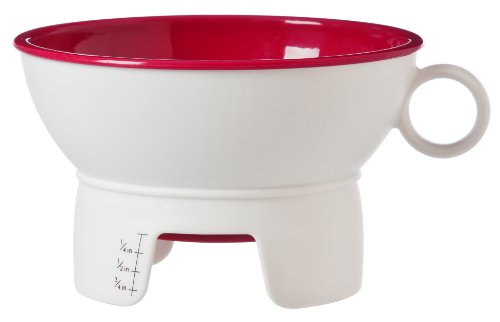 Prepworks by Progressive Canning Funnel for Regular and Wide Mouth Jars

Related Jelly Recipes:
Follow my canning and preserving board on Pinterest.