I've been making bacon wrapped smokies during the holidays for years. I stumbled across the recipe on Pinterest and have been making it ever since. You can cook them in the oven or in your slow cooker or crock pot, and they only have 3 ingredients! These are also great for Super Bowl football parties and get togethers!
This post may contain affiliate links.
Oven Baked Smokies
Ingredients:
1 (16 oz.) pkg. Lil' Smokies
1 package thick cut bacon (we liked peppered bacon)
3/4 c. brown sugar
Preheat oven to 400 degrees. While the oven is heating up, cut each slice of bacon into two or three pieces. Wrap each piece of bacon around a smokie and secure in place with a toothpick.
Place all the bacon wrapped smokies in a 13x9x2-inch baking dish. Sprinkle the brown sugar on top of the smokies and bake until the brown sugar is completely melted and the bacon is browned (about 30 minutes).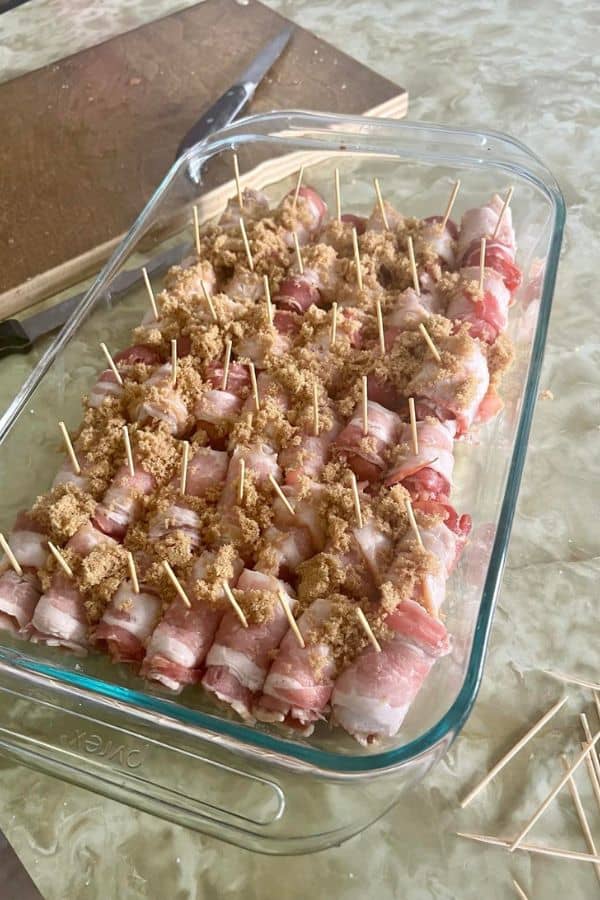 Crock Pot Method
To cook these in a crock pot you'll need a little more brown sugar. Place 1 cup brown sugar in the bottom of your crock pot. Place the bacon-wrapped smokies with the toothpicks secured in them on top of the brown sugar.
Sprinkle an additional 3/4 cup brown sugar on top of the smokies. Cook on high 3 to 4 hours, or until bacon is completely cooked.
Follow my Creative Homemaking board on Pinterest.
Related Recipes