If you like cranberry orange bread, then you have to give this cranberry orange pound cake a try. I'd never tried it before until a couple of years ago, but it quickly became a favorite family recipe during the holiday season. It's a wonderful addition to your Thanksgiving or Christmas dinner table.
This post may contain affiliate links.
You can bake this cranberry pound cake ahead of time and freeze it for the holidays. If you can manage not to eat it all yourself (it is really that good), it is a great gift idea for friends and family.
Cranberry Orange Pound Cake
Ingredients:
1 cup butter
1 3/4 cups sugar
2 tablespoons orange zest
3 eggs
1/2 teaspoon vanilla extract
3/4 cup buttermilk*
2 1/2 cups fresh cranberries
2 1/2 cups flour
2 teaspoons baking powder
1 teaspoon salt
Glaze:
1 1/2 cups powdered sugar
1 tablespoon orange juice
1 tablespoon milk
1/2 teaspoon vanilla extract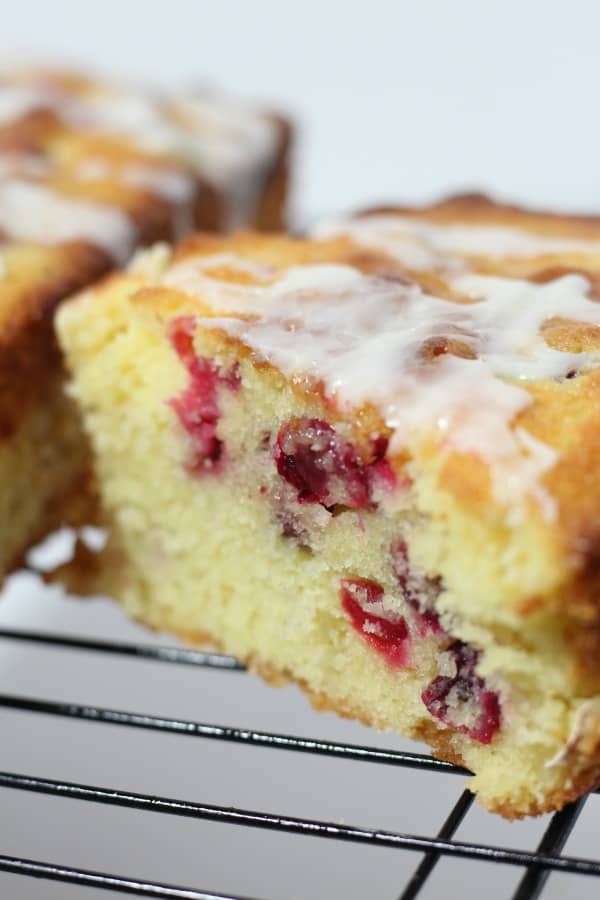 *If you don't have buttermilk, you can make your own buttermilk by adding 1 tablespoon lemon juice to 3/4 cup milk.
Preheat oven to 350 degrees. In a large bowl, cream together butter, sugar, and orange zest for several minutes.
Related Article: Texas Sheet Cake
Add eggs, mixing for another several minutes.
In another bowl, mix dry ingredients together, and then mix flour alternately with buttermilk to butter mixture. Stir in cranberries.
Grease and flour 2 large bread pans or 5 mini loaf pans.
Related Article: 8 Delicious Fall Desserts: Indulge in the Flavors of Fall
Pour batter into prepared pans and bake for about 60 minutes for large loaves or 40 minutes for mini loaves, or until toothpick comes out clean. Let loaves cool in pan for 10 minutes.
Stir glaze ingredients together and pour over cooled loaves. Remove loaves from pans and finish cooling on wire racks.
Like this recipe? You might also like this recipe for cranberry nut bread or this easy recipe for apple fritter bread.
Follow my favorite recipes board on Pinterest.
Related Recipes