These thumbprint cookies are easy to make and a great way to show off some of your homemade jam (although store bought jam is okay too!). These cookies also freeze well. You can use any kind of jam in these cookies. I made some with apricot jam (my favorite) and some with strawberry jam.
This post may contain affiliate links.
Thumbprint Cookies
Ingredients:
1 c. butter
1/4 c. sugar
1 tsp. almond extract
2 c. flour
Ground almonds
Jam
Preheat oven to 350 degrees.
Beat together butter, sugar, and almond extract. Stir in the flour. Form the dough into small balls, about teaspoon size. The smaller the better.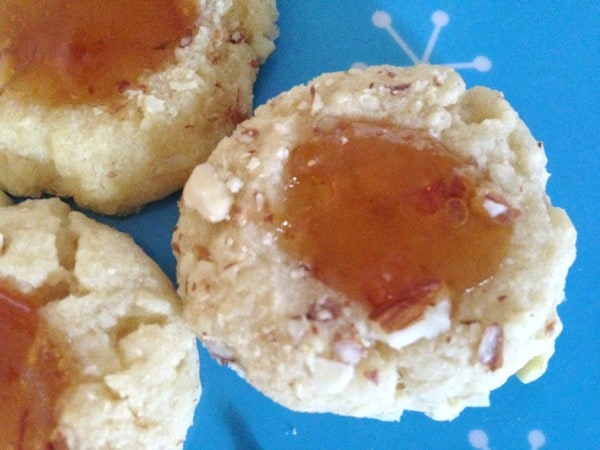 Roll the cookie balls in ground almonds and place on ungreased cookie sheet. Gently press your thumb into the center of each cookie. Place a small amount of jam into the center of each cookie. Don't put in too much jam or it will spread too much in the oven. Just a little drop of jam is fine.
Bake for about 10 minutes or until lightly browned.
Makes about 4 dozen cookies.
Like this recipe? Try my recipes for pinwheel cookies or mint snowball cookies.
Related Recipes
Follow my Christmas board on Pinterest.