Easter is coming up, and it is always fun looking for new Easter treats to make. It amazes me how many different Easter treats people have come up with using everyone's favorite Easter candy, Peeps! These cute pudding cups are no exception.
This post may contain affiliate links.
These pudding cups are really easy to make. They only have a few ingredients and you can make them up and have them ready in less than an hour.
Peeps Pudding Cups Recipe
Ingredients:
1 large package instant vanilla pudding mix
2 c. milk
1 package Peeps chicks
Food coloring
This recipe makes approximately 4 pudding cups, so if you need more than that you can easily double this recipe.
Pour the instant vanilla pudding mix in a large mixing bowl and add cold milk. Stir with a whisk for 2 minutes, until pudding starts to thicken.
Separate the pudding into smaller bowls. I used four bowls. Add food coloring to individual bowls. I used neon food coloring (pink, purple, green, blue) for brighter colors. Add more food coloring if needed to achieve the desired colors.
Next layer the different colors of pudding in small serving cups or glasses. You can use any type of small serving dish. I used short clear disposable drinking cups.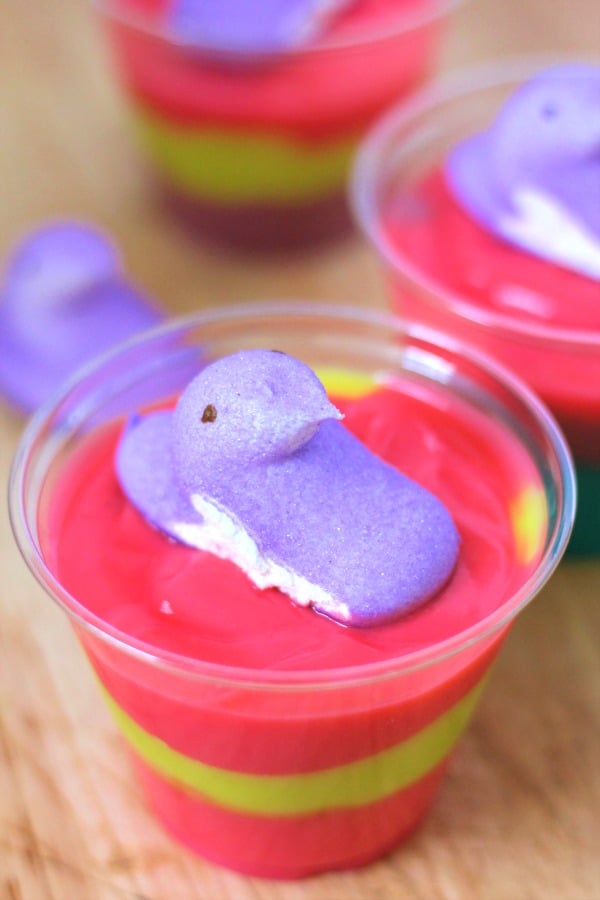 After you add a layer, gently tap the bottom of the cup on the counter to make sure the layer is evenly distributed before you add the next color. Add as few or as many layers as you like. I have seen some pudding cups that were all blue to make it look like the chick was swimming in water.
Lastly, add a marshmallow Peep chick on top. Only add the Peep if you are going to serve these right away. If you are going to serve them later, place the pudding cups in the refrigerator and add the Peep right before you serve it, or the Peep will start to dissolve a little bit into your pudding.
Related Easter Ideas
Follow my Easter board on Pinterest.