Fun Ideas for Hiding Easter Baskets
This post may contain affiliate links.
Kids love hunting for plastic eggs at Easter. In the past my boys haven't been old enough to really hunt for their Easter basket too, so this year I thought I would have some fun and hide their baskets. Here are four different ways to surprise your child by hiding their Easter basket.
Where to Hide Easter Baskets
Hot and Cold
I remember as a child that my parents would sometimes hide our Easter baskets and we would play "Hot and Cold" to find our baskets.
They would hide our baskets in the coat closet or behind our garden shed and our parents would call out "hot!", "cold!", "warm!" or "colder!" until we found our baskets.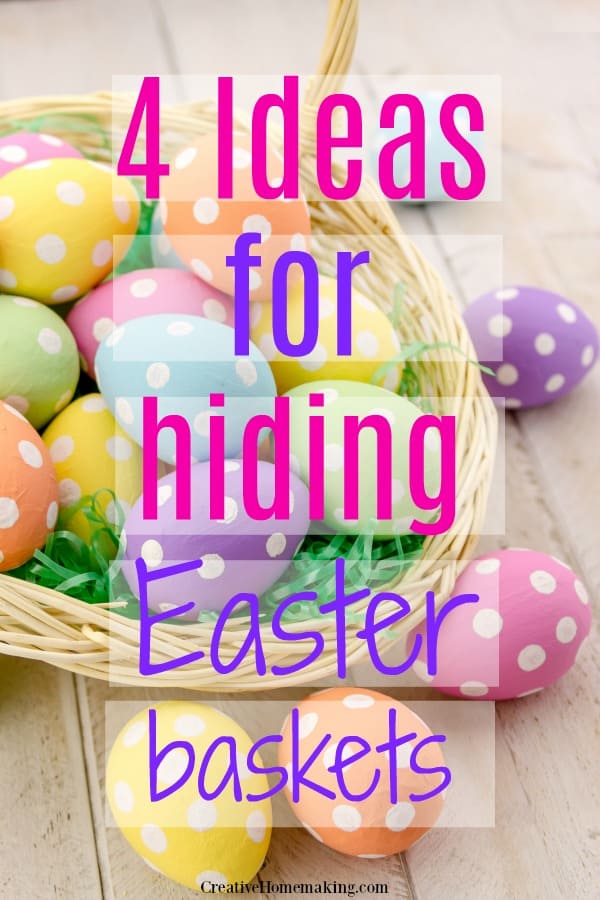 Jelly Bean Trail
Another way to lead your child to their Easter basket is to leave a trail of jelly beans. Start at their bed so when they wake up in the morning they can follow the trail of jelly beans to their basket.
Follow the String
This would be a really fun idea to try. Get a ball of yarn and start at your child's bed. Tie one end of the string to their bed post and then wind the yard in and out of rooms until it gets to their Easter basket.
When they wake up they have to navigate their own piece of yarn to find their basket. Use a different color of yarn for each child.
Follow the Clues
Make finding their basket into a treasure hunt. When they wake up in the morning leave a plastic egg beside their bed with the first clue inside. Have them follow the clue to the next egg, and so on.
Have them follow a trail of 10-12 eggs until they find their Easter basket. For younger children draw pictures instead of using word clues. Leave a different trail of clues for each child to find their own basket.
Related Easter Articles
Follow my Easter Recipes & Crafts board on Pinterest.