This post may contain affiliate links.
Kitchen compost bins are becoming very popular. If you are looking to recycle kitchen waste quickly and easily so that you can compost it for your garden, then you should check out these handy kitchen compost bins. These compost bins are great for helping to keep fruit flies out of your kitchen!
See Today's List of Best Kitchen Compost Bins

The lid locks open while you are scraping food into the caddy. The vented lid minimizes condensation/water accumulation in pail, and it also includes a carbon filter to minimize food odors.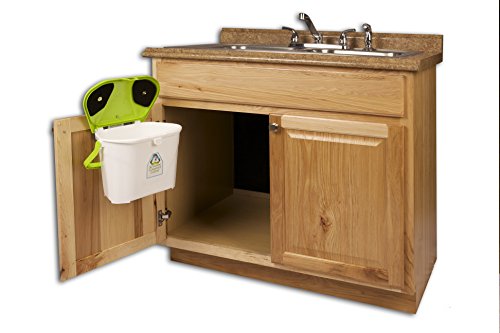 Kitchen Compost Caddy Cabinet Mounted Compost Bin – Pail System with Activated Carbon Filters

✅

Countertop Compost Pail
This is a small countertop compost pail that fits easily on your kitchen counter. This composter has a 3.8 liter capacity.
The countertop compost pail holds vegetable peelings, egg shells, coffee grounds, and comes with a charcoal filter to keep odors in the pail until you have to time to transfer your compost outdoors. Read the reviews for this countertop compost pail on Amazon.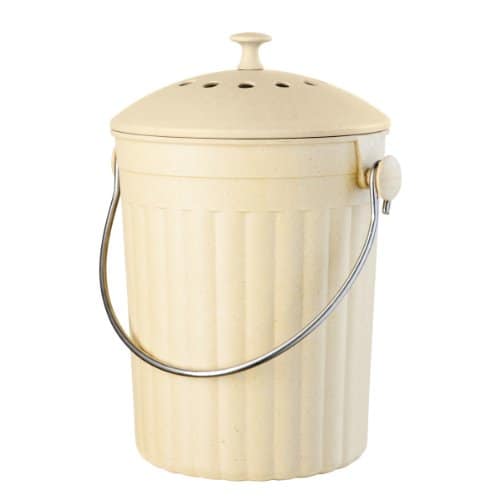 Oggi Countertop Compost Pail with Charcoal Filter, Made from Bamboo Fiber

✅

Metal Kitchen Compost Bin
This is a 1.8 gallon stainless steel kitchen composter made by Abakoo. This stainless steel composter is rust resistant and contains a thick activated charcoal filter that traps odors inside of the canister.
This kitchen composter is easy to clean and fits under your sink, on your counter, or in your pantry. Read the reviews about this composter on Amazon.
This Utopia kitchen stainless steel kitchen compost bin is also popular on Amazon. It has a capacity of 1.3 gallons.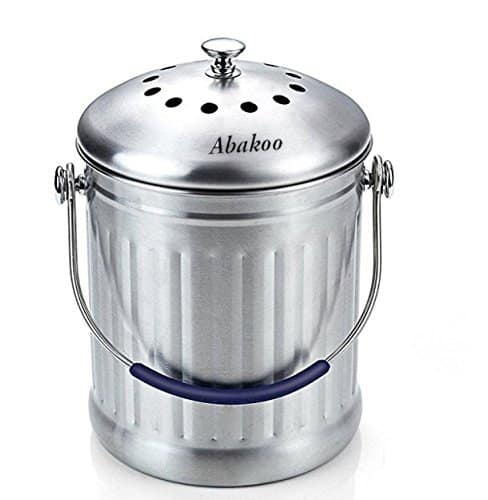 Abakoo Compost Bin 1.8 Gallon Stainless Steel 304 Stainless Steel Kitchen Composter – 2 Charcoal Filter, Indoor Countertop Kitchen Recycling Bin Pail

✅

Farmhouse Style Kitchen Compost Crock
This is another stylish food scrap container for your countertop. It is a farmhouse style compost crock made of stainless steel. This would be a great sized composter for an apartment or other small space.
Add a vintage style to your kitchen with this unique composter. It holds 5 quarts of kitchen compost. Read the reviews on Amazon for this kitchen crock.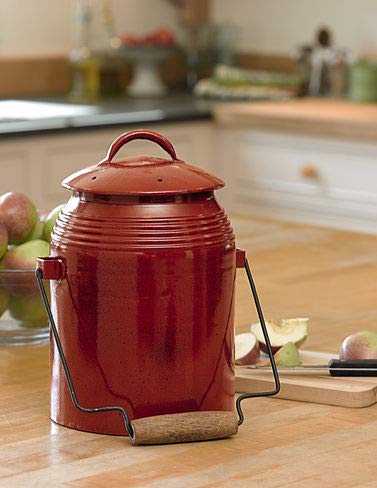 Gardener's Supply Company Rustic Farmhouse Style Kitchen Compost Crock

✅

7 Pack Compost Bin for Kitchen Counter
This product offers you 7 small compost containers, one for every day of the week. The idea is that if it has the day of the week written on it, you will be more likely to remember to take it outside every day.
These are smaller containers, each container holds about 1/2 gallon. The pails are color coded for each day of the week, and each container contains a carbon filter to reduce odors.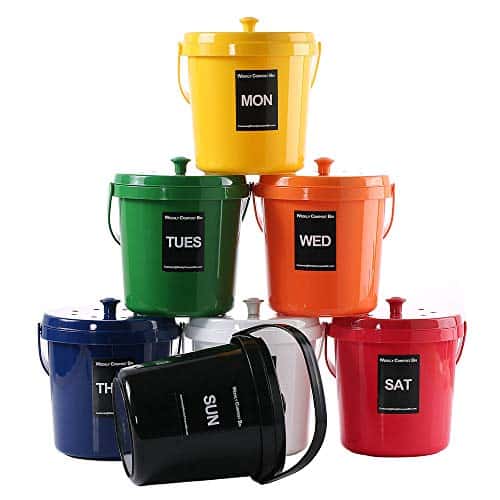 7Pack Compost Bin for Kitchen Counter 4.55 Gallon (7×0.65 Gallon) Compost Caddy Food Waste Scraps Recycling Color Coding Odors Control Charcoal Filter Vented Filtration Compost Bucket Compost Pail

✅

Related Articles