How to Make Baked Potatoes Ahead of Time
This post may contain affiliate links.
Need to bake potatoes for 20, 50, or more people? Need to keep baked potatoes warm for a potluck?
You can actually bake them ahead of time and keep them warm for up to 6 hours before you need to have them ready. Learn how to make baked potatoes for a crowd, the easy way!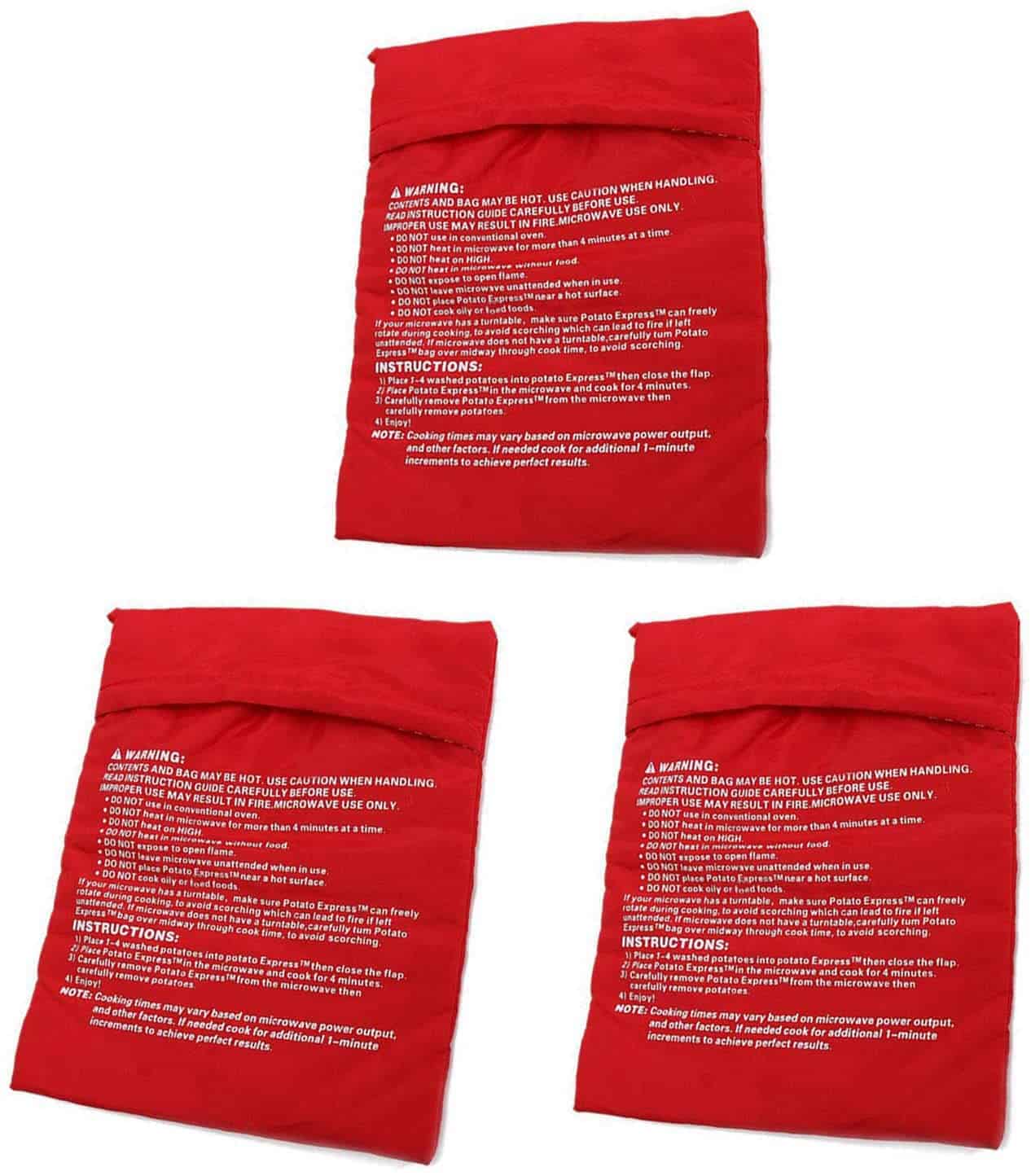 KISEER 3 Pack Reusable Microwave Potato Bag Baked Potato Cooker Pouch, Red

Preparing the Potatoes for Baking
To bake a lot of potatoes at one time, first try to pick out potatoes of similar size so that they will bake evenly in the oven.
Preheat the oven to 500 degrees. Normally you would bake the potatoes at 400 degrees, but when you are cooking this many potatoes at one time it would take them too long to cook at that temperature.
Wash the potatoes well, and scrub them with a vegetable brush. Lightly coat the potatoes with olive oil or vegetable oil, and cover them with a light coating of sea salt. Gently prick each potato with a fork a couple of times.
Baked Potato in Foil or Not?
Many people say it's best to bake potatoes in aluminum foil, but this really isn't necessary. Potatoes do bake a little faster when wrapped in foil, but the result will be slightly different.
Potatoes wrapped in foil will result in more of a steamed or boiled consistency in your baked potato. Baking the potatoes without foil on them will result in a crispier skin. So whether or not you wrap the potatoes in foil to bake them is a personal preference.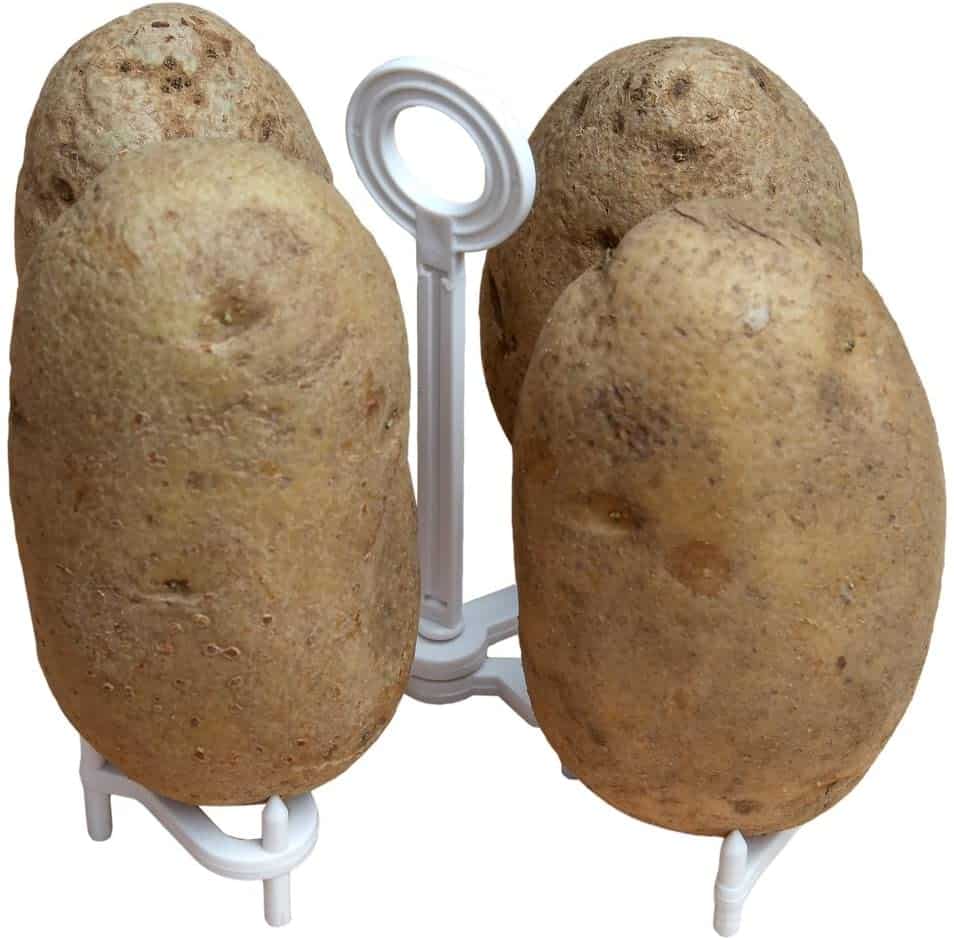 Home-X Microwave Baked Potato Rack, The Perfect Addition to Any Kitchen, White (Up to 4 Potatoes)

Baking the Potatoes
Place the prepared potatoes on a large baking sheet, making sure that none of the potatoes are touching each other. You can cook more than one baking sheet of potatoes at a time, so place as many potatoes in the oven as you have room for.
Bake the potatoes for 30 minutes on one side and then turn them over and bake them for 30 more minutes. The potatoes are done when you can easily stick a fork into them.
While the potatoes are baking fill a cooler half full of hot water and let it sit until the potatoes are done. When the potatoes come out of the oven, pour the hot water out of the cooler and quickly place the baked potatoes in the warmed cooler.
If you need to bake a second batch of potatoes, bake them and then place them in the cooler with the first batch.
How Long Can Baked Potatoes be Kept Warm?
If you keep the cooler closed, the potatoes will stay warm up to 6 hours.
Note: Some people like to bake potatoes with foil wrapped around them. This is fine if you are going to eat the potatoes right away, but it is not a good idea to use foil to store the potatoes in for hours at a time because bacteria can grow in the foil and possibly cause someone to get sick when they eat them.
Can Baked Potatoes be Reheated?
Is it safe to reheat baked potatoes? Yes! It is possible to reheat baked potatoes without them drying. Just heat them up in the oven at 425 degrees for about 10 minutes. Check and see if they need to be reheated a few more minutes.
For best results, remove the potatoes from the foil first if they are still covered in foil from the first time they were baked.
It's also a good idea to let them come to room temperature before reheating them so that they will reheat evenly. Turn them over halfway through reheating to ensure even reheating.
Can You Freeze Baked Potatoes?
Yes! You can definitely freeze baked potatoes. Wrap your leftover baked potatoes in aluminum foil and place them in the freezer for a couple hours until they are frozen solid.
Wrap the frozen potatoes in a second layer of aluminum foil and place them in ziploc freezer bags. When you are ready to reheat the potatoes, remove them from the freezer. No need to de-thaw the potatoes.
Reheat the frozen potatoes at 350 degrees for 45 minutes to an hour, until potatoes are heated through.
Related Articles
Did You Try this Recipe?
Tag @creativehomemaking on Instagram and hashtag it #creativehomemaking
Follow my Favorite Recipes board on Pinterest.
How to Make Baked Potatoes Ahead of Time