If you've never tried canning pickled red onions before, then you really have to give this recipe a try. It is SO easy. It is one of my favorite easy canning recipes. Some canning recipes take hours to prepare and are still worth all the effort taken to prepare them, but this recipe literally takes minutes to make.
This post may contain affiliate links.
This is the first year I've tried growing red onions in my garden. I love red onions. They are so good in salads and on sandwiches, and I thought it would be fun to grow them myself.
My red onions grew so well I was looking for a way to preserve them, and this pickled red onion recipe is perfect. Pickling the red onions preserves them so that they will last all winter, and the added flavor will make all those salads and sandwiches even better!
Pickled Red Onions Recipe
Ingredients:
3 cups white vinegar
1 cup sugar
3 tbsp. pickling salt*
4 lb red onions, thinly sliced
2 tsp. mustard seeds
4 tsp. whole cloves
*Note: you need to use pickling salt for this recipe, not regular table salt. Table salt is not good for pickling, it will make your liquid cloudy after canning.
This recipe makes 4 pints or 8 half pints of pickled red onions.
Prepare your red onions by slicing them in thin slices, the width you would slice them to put them on a sandwich. Thin but not too thin. If you are like me and like nice even slices, you will want to use this mandolin slicer to slice your onions. You will have them all perfectly sliced in minutes. I use my mandolin slicer all the time.
Canning Directions:
Sterilize your canning jars, lids, and rings by running them through a quick rinse cycle in the dishwasher. Just leave them in the dishwasher until you are ready to use them.
Fill your boiling water canner about half way with water and place the pan on the stove on medium heat to start warming up.
Combine the vinegar, sugar, and salt in a large stainless steel pot. Bring mixture to a boil and simmer until sugar is dissolved.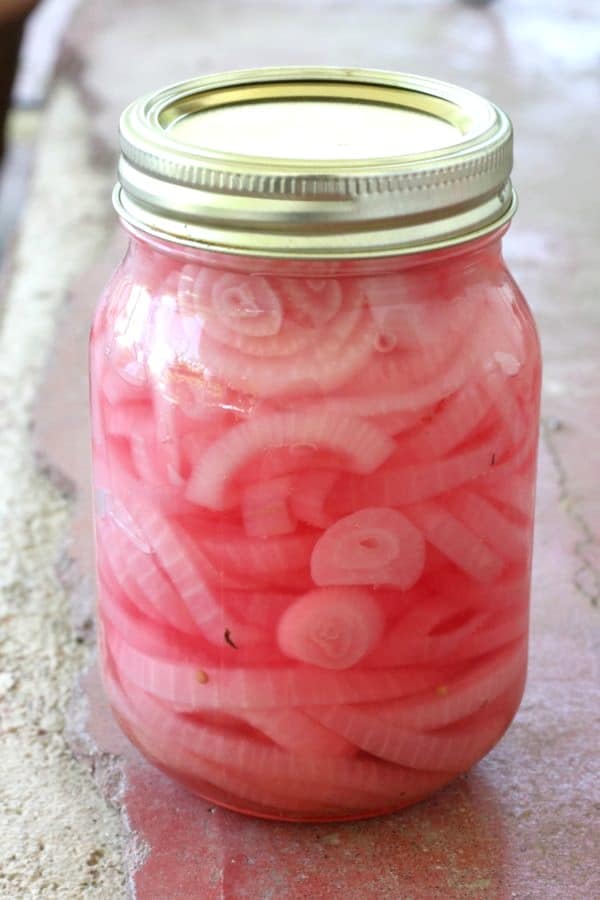 Add the red onion rings. Simmer the red onion rings for about 5 minutes until barely soft, but not limp.
Remove the pan from the heat.
Remove your sterilized jars from the dishwasher and place them on the kitchen counter. For pint jars, place 1/2 tsp. mustard seeds and 1 tsp. whole cloves into each jar. For half pints, cut those measurements in half.
Divide the sliced red onions among the jars.
Pour the hot vinegar into the canning jars, leaving 1/2 inch headspace. You can easily measure the headspace with this inexpensive canning funnel.
Wipe the rims of the jars with a damp paper towel or dish towel.
Place the sterilized lids and rings on the jars finger tight.
Put the jars in the boiling water canner, making sure there is 1-2 inches of water above the tops of the jars. Bring the water to a boil.
Process jars for 15 minutes.
Remove the jars from the canner and place on a towel on the kitchen counter to cool. Let the jars sit until they are completely cooled. Sealed jars can be stored in the pantry for 1-2 years. If you have any jars that didn't seal, place them in the refrigerator to eat in the next couple weeks.
Like this recipe? Try my other popular pickled vegetable recipes: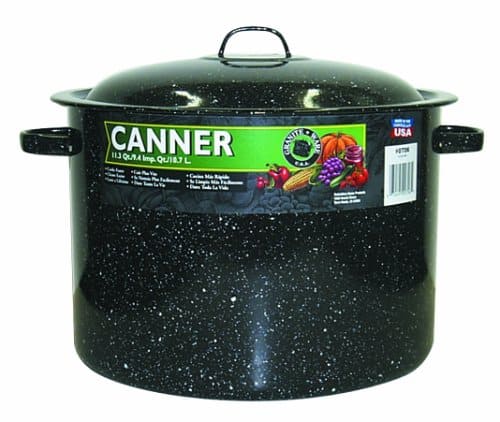 Granite Ware Covered Preserving Canner with Rack, 12-Quart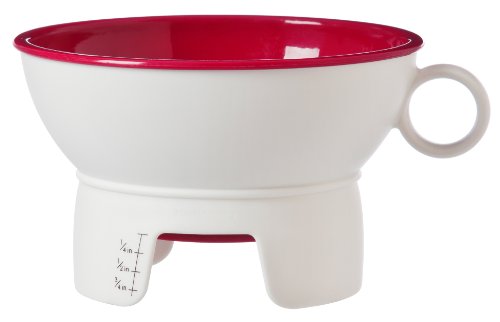 Prepworks by Progressive Canning Funnel for Regular and Wide Mouth Jars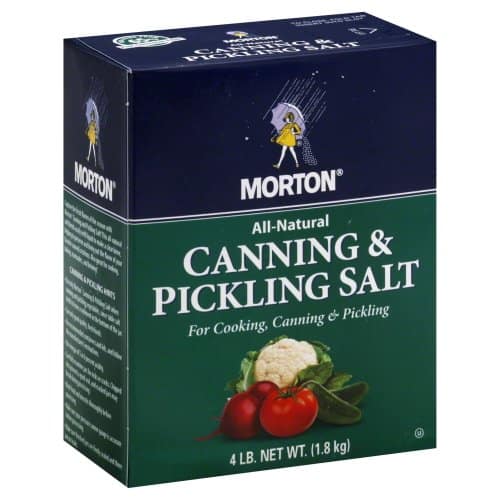 Morton Canning and Pickling Salt 4 Lb Box

Did You Try this Recipe?
Tag @creativehomemaking on Instagram and hashtag it #creativehomemaking
Follow my canning and preserving board on Pinterest.