Our family has been growing a garden for the past couple of years, and one of the vegetables we have enjoyed growing is brussel sprouts. All of my kids actually like brussel sprouts! Hard to believe, I know. I also enjoy making pickles every summer, and I recently saw a recipe for canning pickled brussel sprouts that really intrigued me. I just had to try them.
This post may contain affiliate links.
Pickled brussel sprouts are really easy to make. They are one of my favorite easy pickling recipes. Just like making pickles, you just need some fresh brussel sprouts and a few other simple ingredients, and you are on your way to pickled goodness.
This recipe makes 6 pints of pickled brussel sprouts.
Ingredients:
3 lbs fresh brussel sprouts
5 cups white vinegar
2 cups water
1/3 cup pickling salt*
24 black peppercorns
12 garlic cloves
6 dill heads
1 lemon, cut into 6 slices (optional)
*You want to use pickling salt for this recipe, and not regular table salt. Pickling salt is made just for pickling and preserving. If you use table salt the liquid in your canning jars will become cloudy.
Sterilize the canning jars, lids, and rings by running them through a quick rinse cycle in the dishwasher. Leave them in the dishwasher until you are ready to use them.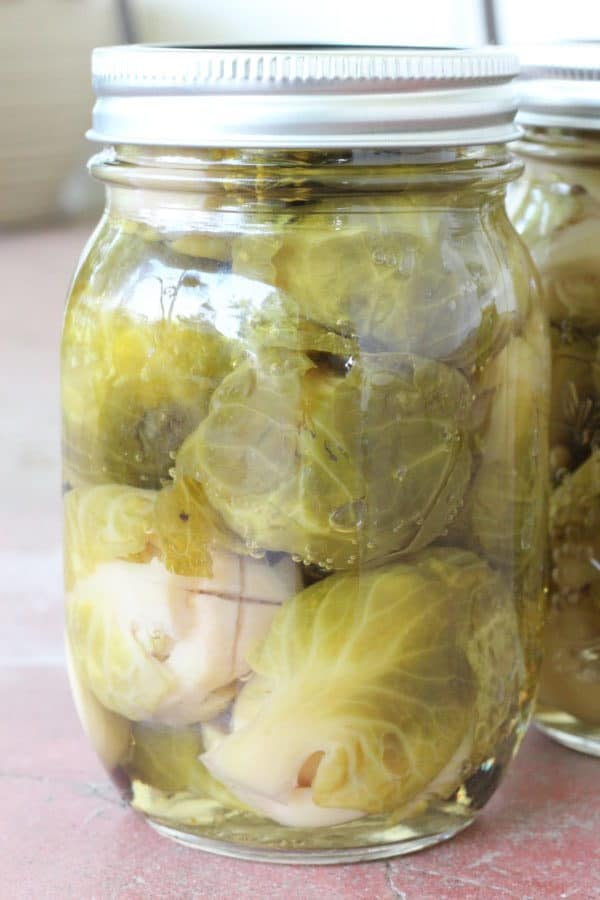 Place your brussel sprouts in a colander and rinse them really well. Remove any discolored or bad looking leaves and throw them away.
Cut the stems off the brussel sprouts and cut a small "X" in the bottom of each brussel sprout. If you have large brussel sprouts you can cut them in half, but that is optional.
Place the washed brussel sprouts in a large stock pot of boiling water and boil for 4 minutes. Remove the pan from the heat and drain.
In a medium sized sauce pan, combine vinegar, water, and salt. Bring to a boil. Reduce the heat and simmer.
Canning Instructions:
Place boiling water canner on the stove and fill half way with water. Bring water to a boil.
Into each canning jar place 4 peppercorns, 2 garlic cloves, 1 head of dill, and one lemon slice.
Gently pack the brussel sprouts into each of the canning jars. Pour vinegar mixture into the canning jars, leaving 1/2 inch head space. You can easily measure the headspace with this inexpensive canning funnel.
Wipe the rims of the jars with a damp paper towel or kitchen towel and place the lids and rings on the jars finger tight.
Place the jars in the boiling water canner. Make sure there is 1-2 inches of water covering the canning jars. Return the water to a boil and process jars for 10 minutes.
Remove jars from the canner and place on a towel on the kitchen counter to cool. Let jars cool overnight to make sure they are sealed. Sealed jars can be stored in the pantry for 1-2 years. Any unsealed jars can be placed in the refrigerator to eat in the next couple of weeks.
Let the brussel sprouts sit about 3 weeks before opening them. It takes a couple of weeks for the vinegar and spices to do their pickling magic.
Like this recipe? Try my other popular pickled vegetable recipes:
Granite Ware Covered Preserving Canner with Rack, 12-Quart

Prepworks by Progressive Canning Funnel for Regular and Wide Mouth Jars

Morton Canning and Pickling Salt 4 Lb Box

T-fal B36262 Specialty Total Nonstick Dishwasher Safe Oven Safe Stockpot Cookware, 12-Quart, Black

Did You Try this Recipe?
Tag @creativehomemaking on Instagram and hashtag it #creativehomemaking
Follow my canning and preserving board on Pinterest.