By your baby's first birthday, she will be eating a wide variety of foods. A 1 yr old may or may not be eating with a spoon or fork yet, but should be able feed herself a lot of different finger foods.
This post may contain affiliate links.
By a year old, your child will be giving you definite opinions about what she does or does not like to eat. If she is becoming a picky eater, don't give up.
You sometimes have to offer a child a new food three or more times before he will accept it. Sometimes she all the sudden won't eat something she has been eating for months. If this happens, don't force her to eat it.
Just offer other foods for a week or two and then offer it to her again. She may decide she likes it again.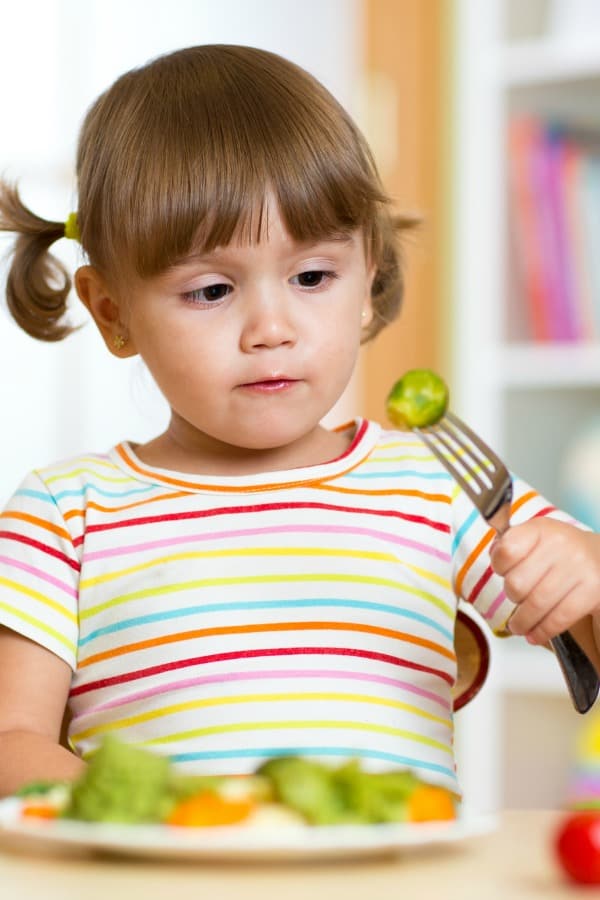 You can now start offering your child the foods that you are not supposed to give to babies under a year old. Some of these foods include eggs, strawberries, peanut butter, and honey. Offer these foods slowly, one at a time, so that you can still monitor whether or not your child is sensitive to them.
When deciding what to feed your child, your biggest concern is whether or not she will choke on what you are feeding her.
Also take into consideration how many teeth your child has to chew her food. There are definitely some things to think about at this age, and you should never let her eat unattended, no matter what she is eating.
If your child is not nursing, she should be drinking whole milk now instead of formula. You can also give your child milk in other forms, such as yogurt and cheese. Yogurt is one of my 12-month-old's favorite treats.
Don't feel like you have to be buying all the jars of baby food they offer at the grocery store. Sure you can buy them for convenience, but why should you need to? Your 12-month-old should be starting to eat what the rest of your family eats. Of course, that is if your family eats healthy meals!
My babies have always eaten better than the rest of us, even without buying store-bought baby food. It is not hard at all to prepare your child's food, and it is also healthier for her. The exception to this is baby cereal.
It is inexpensive and healthier for baby because they add extra vitamins to it. I buy the Earth Best brand because it is organic with no extra additives.
Here are some sample daily menus for a 1 year old that have worked well for our family.
Sample Breakfast Menu for 1 Year Old
Cheerios
Banana, cut into small pieces
Hot cereal (baby cereal) with mashed banana
1/2 piece toast with peanut butter
Milk
Sample Lunch Menu for 1 Year Old
2 chicken nuggets
2 fish sticks
Ravioli, cut up
Canned peas
1/2 peanut butter and honey sandwich
Mandarin oranges (canned, cut up)
Yogurt
Milk
Sample Snack Menu for 1 Year Old
Animal cookies (Costco brand organic animal cookies are the best!)
Apple juice (100% juice, diluted 50/50 with water)
Sample Dinner Menu for 1 Year Old
Cream of vegetable soup (homemade)*
Crackers (Walmart has some great organic crackers)
Applesauce (Motts brand has great unsweetened flavored applesauce)
Milk
* Homemade cream of vegetable soup is so easy to make and my son loves it. It is the only way he will eat his broccoli. I buy the packages of pre-cut carrots, cauliflower, and broccoli.
I put half the package (approx. 2 cups) in just enough water to cover the vegetables and simmer them until they are really tender.
Don't drain the water, it will become part of the soup. After they are done cooking, use a potato masher to mash the vegetables until there are no large lumps. Add a tablespoon of butter and two tablespoons of flour and stir well.
Bring to a boil and slowly add milk until it thickens and reaches the desired consistency. You shouldn't add much seasoning to baby's food, but I add just a tiny bit of sea salt to add to the flavor.
This soup is so good that your family will eat it too! You could make it with any kind of cooked vegetable. I have put spinach in it too.
Related article: Feeding Schedule for 18- to 24-Month-Old