After the holidays, I am always looking for ways to use up holiday leftovers, like ham bones from my Easter, Thanksgiving, or Christmas ham. I like to buy hams when they are on sale during the holidays and keep them in my freezer until I am ready to use them.
This post may contain affiliate links.
After the holidays, it's time to use up that leftover meat and bones. Hams come both boneless and with a bone in them, I like to buy the ones with bones in them so I can make this crock pot ham and bean soup.
Crock Pot Bean and Ham Soup
Ingredients:
1 ham bone, with some ham still attached
1 medium onion, chopped
2 stalks celery, chopped
1 carrot, peeled and chopped
1 tbsp. minced garlic
1 lb. great northern beans, rinsed
6-8 c. chicken broth*
Salt and pepper to taste
*Note: If you are interested in canning your own homemade chicken broth from leftover chicken, check out this easy recipe. Store-bought chicken broth will also work great for this recipe.
Place the chopped onion, celery, and garlic in the bottom of the crock pot.
Place the ham bone on top of the vegetables.
Pour uncooked beans around the ham and sprinkle with salt and pepper.
Add chicken stock and stir gently.
Cook on high for 5-6 hours or low for 8 hours.
Use a fork to pull the remaining ham from the bone. Remove and discard bone. Gently mash some of the beans with the fork. If they don't mash easily they need to cook a little longer.
Soup will thicken as it cools.
This soup can be placed in freezer containers
and frozen. I love these inexpensive freezer containers
I often order from Amazon.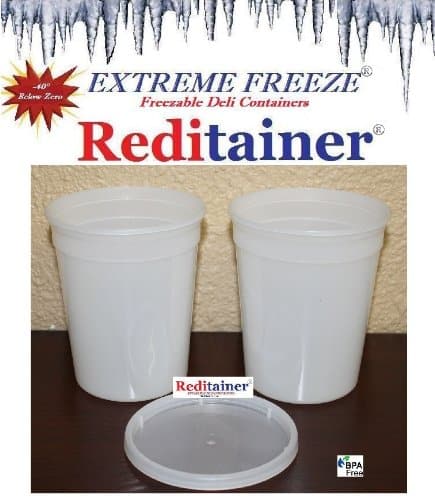 Extreme Freeze Reditainer 32 oz. Freezeable Deli Food Containers w/ Lids – Pack of 24 – Food Storage
Follow my Favorite Recipes and Crock Pot Recipes boards on Pinterest.
Related Recipes