I have to admit I was skeptical about adding cinnamon and spices to blueberry jam. I mean, why ruin a good thing? It turns out that this spiced blueberry jam is really, really good. So good in fact that my son is already working on his second jar of jam.
This post may contain affiliate links.
Spiced Blueberry Jam
Ingredients:
6 c. prepared blueberries
2 tbsp. fresh or bottled lemon juice
7 cups sugar, measured into separate bowl
1 tsp. cinnamon
1/2 tsp. ground allspice
1/4 tsp. ground cloves
1/2 tsp. butter or margarine
2 pouches CERTO Fruit Pectin
This recipe will make approximately 3 pints or 6 half pints of blueberry jam.
Wash and sterilize your jars, lids, and screw bands. The easiest way to do this is run them through the sanitize cycle in the dishwasher and remove them from the dishwasher to use when they are still hot. Place your boiling water canner on the stove to start heating up while you get the fruit ready for the jars.
Rinse the blueberries and remove any stems. Place a layer of blueberries in a bowl and mash with a potato masher. Add another layer of blueberries and continue mashing until all blueberries are crushed. Measure 6 cups of crushed blueberries into a large saucepan.
Stir lemon juice, cinnamon, allspice, and cloves in with the blueberries, and then stir in sugar. Adding butter or margarine is optional but will help reduce foaming.
Bring blueberry mixture to a full rolling boil (a boil that won't stop when you stir it), stirring constantly. Stir in both pouches of liquid pectin, then return mixture to a full rolling boil and cook for 1 minute, stirring constantly. Remove from heat and remove any foam with a metal spoon.
Related Recipe: 6 Easy and Delicious Blueberry Recipes to Try Today!
Canning Directions
Quickly ladle fruit into prepared canning jars, within 1/8 inch from the tops of the jars. You can easily measure the headspace with this inexpensive canning funnel.
Wipe the rims of the jars with a damp cloth. Place canning lids and screw bands on the jars.
Place jars on elevated rack in boiling water canner. Water must cover jars by 1 to 2 inches. Cover, and bring water to a gentle boil. Process jars for 10 minutes.
Remove jars from boiling water canner and place upright on a towel on the kitchen counter to cool completely. Do not disturb the jars for at least 12 hours. After jars are cool, check seals by pressing middle of lid with finger.
Related Article: Optimizing Soil pH for Blueberries: A Guide for Successful Growth
If lid springs back the lid is not sealed. Unsealed jars can be placed in refrigerator to be eaten in the next couple weeks. Sealed jars can be stored for at least 1 year.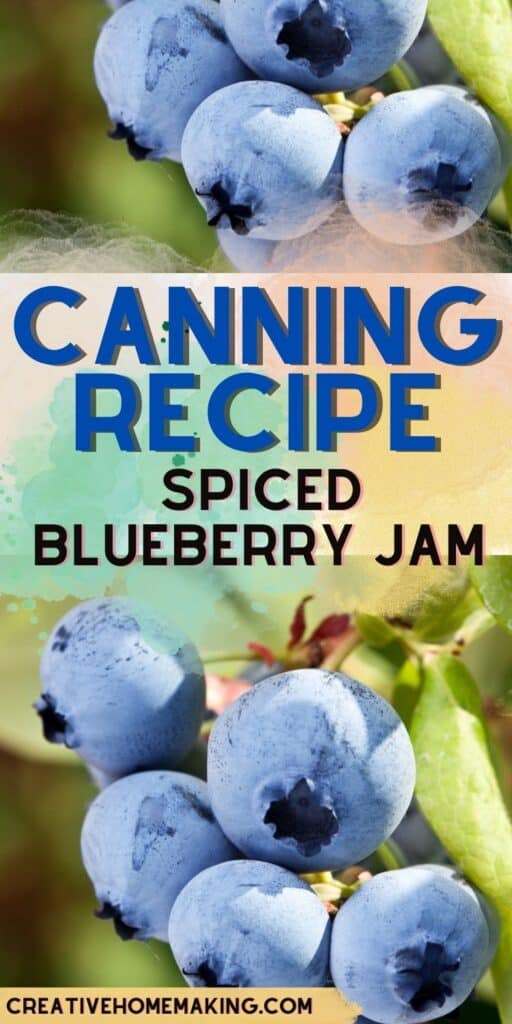 Follow my canning and preserving board on Pinterest.
Related Recipes