This is the first year I have canned asparagus. It is really easy! I first made pickled asparagus, but then I ended up with a whole bunch of little pieces of asparagus that I didn't know what to do with, so I decided to can them. Canning asparagus is easy if you follow these instructions step by step.
This post may contain affiliate links.
Preparing the Asparagus
The little pieces you have left over after making pickled asparagus are perfect for canning. Or you can just cut up any asparagus you have to place into jars and can. Just make sure to discard the thick, tough portions.
If your asparagus has not already been washed, then before you cut it soak it in ice water in your sink for a few minutes first.
Canning Instructions
Place your jars, lids, and screw bands in the dishwasher to sterilize, and put your pressure canner on the stove to start the water heating up.
While you are cutting up the asparagus put a tea kettle of water on to boil, or fill a large sauce pan with water and bring it to a boil.
After you have packed the asparagus pieces into a jar, pour the boiling water into the jars, leaving 1 inch head space. Use a plastic utensil such as a narrow spatula to run around the inside of the jar to remove any air bubbles. You can add 1/2 tsp. salt for pints or 1 tsp. salt for quarts, but that is completely optional.
Wipe off the rims of the jars with a clean towel and place lids and rings on jars.
Bring pressure canner to 11 pounds pressure and process 40 minutes for quarts or 30 minutes for pints.
Let pressure canner completely release pressure before opening it to remove jars. Let jars cool on a towel on the kitchen counter. These can be stored in the pantry for at least a year.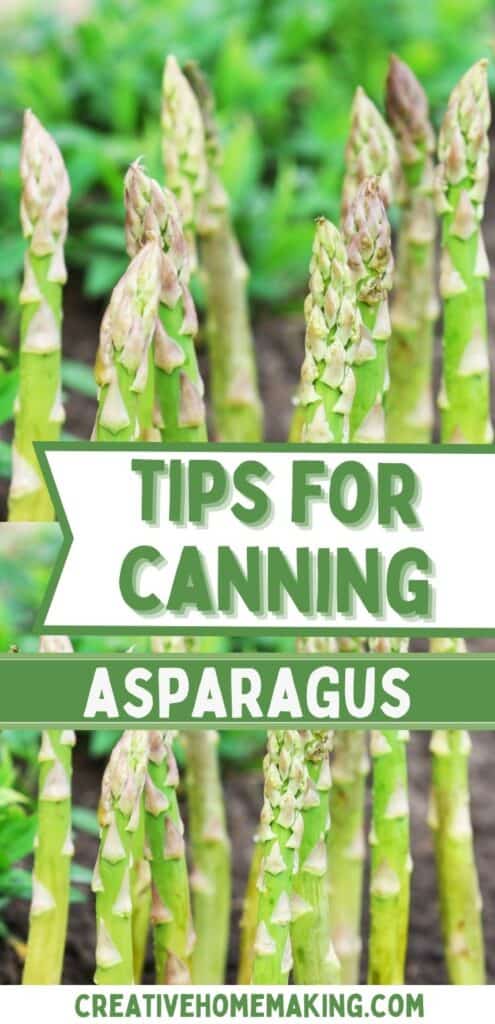 Follow my canning and preserving board on Pinterest.
Related Articles