I love apple pie, but it takes so long to make it that I often choose to make something else instead. My mom used to make apple pies and freeze them, which is a great idea, but still a lot of work. Canning apple filling was always an option, but I didn't know if it would be worth the effort. I decided to go ahead and give it a try. It is now one of my favorite apple canning recipes! It's also one of my favorite pie filling recipes for canning.
This post may contain affiliate links.
Fall is the perfect time to pick up a box of apples for less than grocery store prices. I went to a local orchard and bought 20 lb each of Gala and Fuji apples for only .50 a pound.
Some of the fancier apples cost more, but I have found Gala and Fuji apples to make great cooking apples. They are great just for eating too.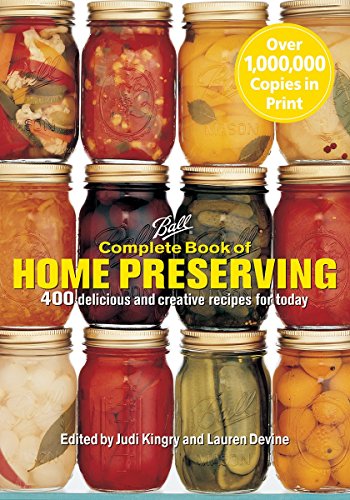 Ball Complete Book of Home Preserving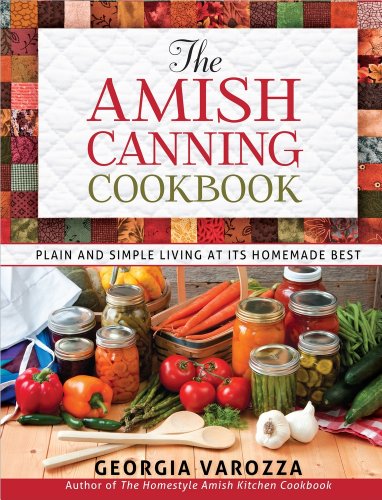 The Amish Canning Cookbook: Plain and Simple Living at Its Homemade Best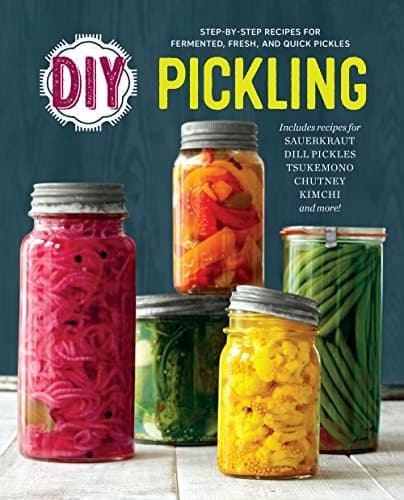 DIY Pickling: Step-By-Step Recipes for Fermented, Fresh, and Quick Pickles

If you are going to freeze the apple pie filling, wash and dry your freezer containers.
If you are going to can the apple pie filling, sterilize the canning jars, screw bands, and lids. I run mine through the dishwasher while I am getting my apples ready, and they are still hot when I am ready to use them.
Fill your boiling water canner with half way with water and set it on the stove to start heating the water.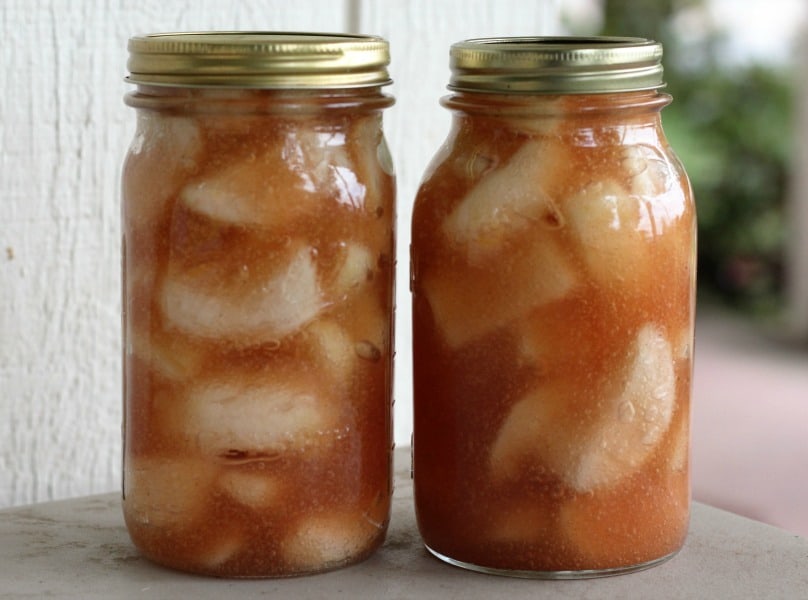 Apple Pie Filling Recipe
Ingredients:
18 c. apples, peeled, cored, and sliced
4 1/2 c. sugar
1 c. Clear Jel
1 tbsp. cinnamon
1/2 tsp. nutmeg
2 tsp. salt
10 c. water
3 tbsp. lemon juice
In a large sauce pan, mix together sugar, Clear Jel, cinnamon, and nutmeg. Add salt and water, mixing well. Bring mixture to a boil and cook until it thickens. Remove pan from heat and stir in 3 tbsp. lemon juice. Stir the apple slices into the sauce pan, heating until apples are heated through.
Related Article: 6 Apple Recipes to Satisfy Your Fall Cravings
Canning Instructions
Pack the sliced apples into the sterilized canning jars, leaving 1 inch headspace. You can easily measure the headspace with this inexpensive canning funnel.
Wipe the tops of the jars and gently remove air bubbles in jars by running a non-metal narrow spatula around the inside of each jar. Place lids and screw bands on jars. Process jars in boiling water canner for 20 minutes.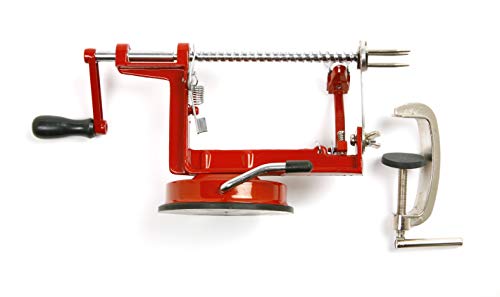 Norpro 865R Apple Master-Apple, Potato, Parer, Slicer & Corer with Vacuum Base & Clamp

Granite Ware Covered Preserving Canner with Rack, 12-Quart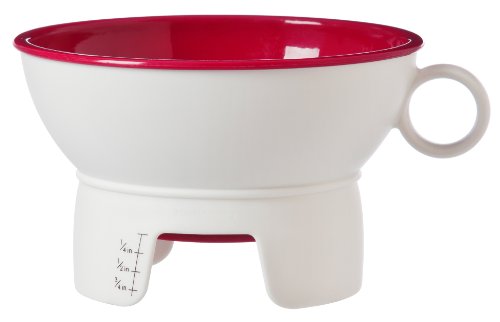 Prepworks by Progressive Canning Funnel for Regular and Wide Mouth Jars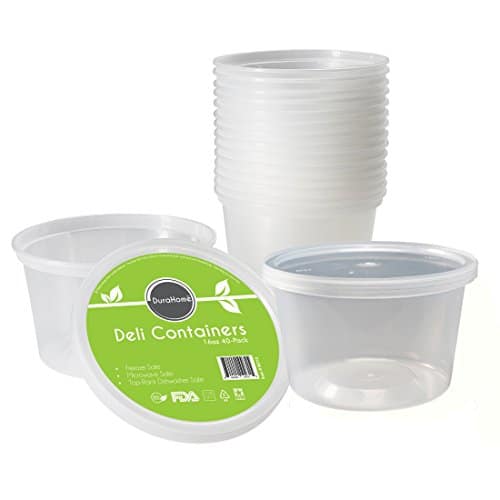 Deli Containers with Lids, 16 oz. Leakproof – Pack of 40 Plastic Microwaveable Clear Food Storage Container BPA Free, Premium Quality – by DuraHome

Remove jars from canner and let them set on a towel on the counter until they cool off. Test lids to make sure they have sealed.
If you would like to freeze your apple pie filling instead of canning it, make the syrup in a bigger pot and after the syrup has thickened, stir in the apples and cook until apples are slightly tender. Pour into prepared freezer containers, and let cool before placing in the freezer.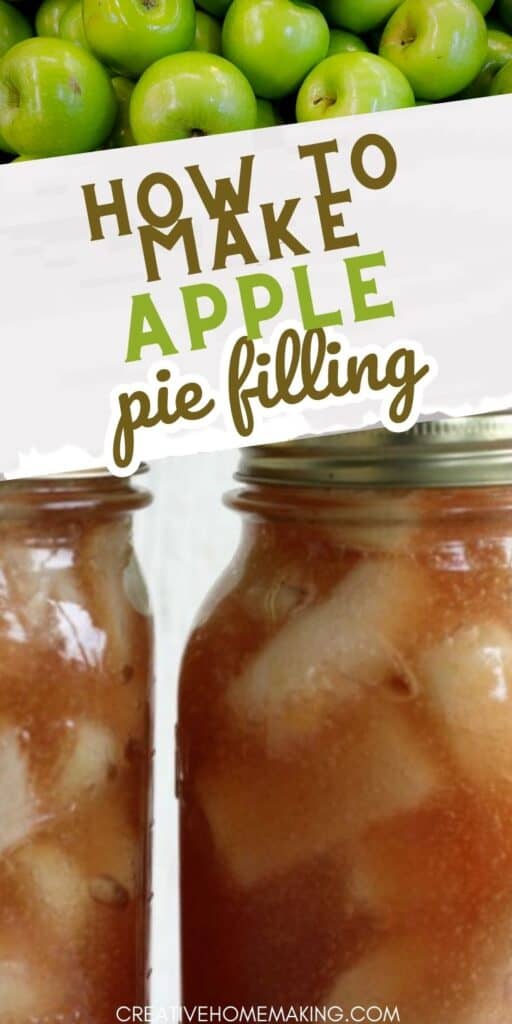 Note: 18 cups of apples will make approximately 6 quarts of apple pie filling. One quart jar of apple pie filling will make one 9-inch apple pie.
And if you don't have one already, invest in a tool like the Apple Master. It makes peeling, coring, and slicing apples a breeze.
Like this recipe? Try my recipes for canning apple pie jam and crock pot apple butter.
Pie Filling Recipes
Follow my canning and preserving board on Pinterest.